How to fix a broken Galaxy S7 screen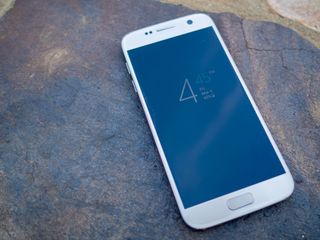 Broken screens happen. Mix a big piece of thin glass (no matter how many Gorillas were involved) and something that will be dropped and bumped and otherwise gently abused and the outcome is broken displays. If this happens to your Galaxy S7, you'll probably want to get it repaired or replaced. There are several different things that can be done depending on how broken your screen is. Let's take a look at what to do to get your Galaxy S7 back in action.
Get a good screen protector
If the display is badly scratched or has hairline cracks but still works, you can usually get away with covering the whole screen with a good glass screen protector. Think of this as a way to delay the inevitable worsening of cracks in the glass or damage to the actual display. Over time the cracks will get bigger and those dark pixels will expand, but a glass screen protector will really slow things down and gives you a smooth surface while you're waiting.
It's important that you get a real glass one. They are stronger and hold the pieces in place. A more flexible screen protector isn't going to do much to help. If you're reading this before your screen breaks, a glass screen protector goes a long way in keeping your display from getting broken in the first place! After looking at a few and asking folks what they have and how they like it, I think the aFilm Bye-Bye Bubble tempered glass screen protector is the one to buy.
See at Amazon (opens in new tab)
Getting it repaired
This is the route that most of us will take. Having people who know what they're doing when it comes to taking expensive phones apart is generally a wise decision. But finding the right people to do the repair can be a little tricky.
The first thing to do is take it back to the place you bought it from and see what they have to say. For most of us in North America, that means a carrier store. No matter the carrier, they will be able to help get the phone repaired or replaced under insurance or a warranty. They can start the official repair process, and even if they need you to call Samsung yourself it's smart to have a record of talking to the folks whose name is on the device first. Be sure to mention any warranty from your credit card or third party program, and let them know if you or purchased the Samsung Protection Plus package.
If you bought your phone outright, you're going to be mostly on your own here. Don't worry, that's not a big deal in this case. Get things started by starting a repair ticket at Samsung.com (opens in new tab) or calling Samsung customer service at 1-800-SAMSUNG (726-7864). They'll get the paperwork started and tell you where and how to send your phone to them, give you an estimate of the cost and let you know approximately how long it's going to take. Generally, it costs about $200 and takes 14 days. The web is full of folks with horror stories, but those aren't the rule and you likely won't have any surprises if you send it off to Samsung.
There are also plenty of other places that repair Samsung screens, and there's a good chance you even have one within driving distance. There are also some good nationwide options for people in the United States, and we can recommend two:
UBREAKIFIX is a well-known company that has both walk-in and mail-in service. Visit their website to see if you have a local store or your options for sending it in. This is also the company Google uses for their Pixel repairs for Project Fi insured phones.
Office Depot

(opens in new tab)

has a lot of locations that do phone repairs for Samsung phones. Their work has a full one-year warranty and they offer a price match guarantee with same-day service in many cases. They don't handle mail-in repairs, but it's worth a look to see if you have one of their repair centers in driving distance.
If you decide to go local, ask around and see which service the local phone reps at your carrier store use. Also, make sure you get a confirmation of any guarantee and warranty up front and in writing from any place that's going to take your phone apart. Most local "fix it" centers for cell phones have a person or two who is pretty good at doing things like fixing screens, but it's always better to be sure of everything in advance.
Do it yourself
If you've got the know-how and the patience, you can repair the screen on your GS7 yourself. Like most newer phones, the Galaxy S7 isn't very repair-friendly but the display can be worked free of the adhesive.
We're not saying it's easy. There's always the chance you'll break something else taking a phone apart or that you won't be able to get it back together again. You'll need to start from the back and disassemble everything between the back cover and the display, including removing the mainboard itself.
There are plenty of in-depth tutorials about changing your GS7 screen on YouTube. You should start with Jerry Rig Everything's video where he repairs the screen and charging port.
You can pick up a kit that includes the complete digitizer and screen assembly and the tools to do the repair for about $150 so you're not saving very much money. But you will save time versus mailing your phone off to a repair center.
See at Amazon (opens in new tab)
Have questions?
Do you have questions about getting your screen repaired? Or if you know of a good repair option in your neck of the woods, or can tell us how your repair went we'd love to hear it!
Senior Editor — Google Ecosystem
Jerry is an amateur woodworker and struggling shade tree mechanic. There's nothing he can't take apart, but many things he can't reassemble. You'll find him writing and speaking his loud opinion on Android Central and occasionally on Twitter.
I've watched this on YouTube a repair on the s7 ...and I'd leave it to Samsung for this one not a easy job for the unexperienced

It's hard to follow Jerry rig everything channel. Makes me want to scratch everything else and burn my phone with a lighter before doing anything. Jokes aside, he makes me chuckle once in a while.

I repair them. Don't do it.

I agree! I shattered the back glass with just a little force of prying!

I had my s6 edge break on me before. Looking around the best place to fix was calling insurance. Because of edge screens it's almost impossible for us to do it, DIY. I have fixed screens before bit didn't want to even try on the s6 edge.

Buying it with the frame pre-attached makes it as simple as a flat screen. Don't try to adhere an edge screen to a frame yourself though.

Can we get confirmation from AC that Samsung will even to the repair? I've been told over the phone numerous times by Samsung reps that they aren't doing ANY non-warranty work. Walked into their "store" in NYC and it was the same deal.

I could be wrong but I think you have to send the phones with broken screens to their Texas facility to be fixed.

I'd also like to know. I have also been told the same thing since the last note 7 recall.

This is actually pretty interesting..I bought the unlocked version from Best buy, and they are not responsible for any repairs and they redirected me to Samsung. Because this is an intl device, you need to send it to a repair center (don't remember when, but here in the US). When I contacted them for an RMA, they told me phone cannot be repaired because it has a hardware problem (cracked screen) thus the warranty is now voided.
Now, if you send it to a local repair center you also void the warranty.. so I'm like WTF! O_o. I have submitted a claim through BBB.
Repair it costs you over$250.00 USD.. Not worth it.
Will Not buy from Samsung again! I'm now Happy with my Pixel XL :)

Home and contents insurance claim for me. Went in for assessment, deemed "too dificult" to repair the display. £150 excess new phone overnighted.

Have someone that specializes in the field of fixing broken screens fix it.

Just pay the deductible and get a new one.

I have a white Note 4 with a broken screen. It's been a little over a week now, and I'm still waiting for the call that they found a replacement screen. They are charging me C $290 installed.

Hum for that price just add $50 and get the note 5 64 gig

Don't do it. It will end in tears.
Android Central Newsletter
Get the best of Android Central in in your inbox, every day!
Thank you for signing up to Android Central. You will receive a verification email shortly.
There was a problem. Please refresh the page and try again.