How does your Pixel 2 look one year later?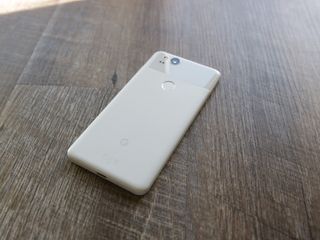 Google's Pixel 2 and 2 XL smartphones are officially a year old, and next Tuesday, we'll be introduced to their successors in the form of the Pixel 3 and 3 XL.
Last year's Pixel phones are still darn good devices, but after a year of use, how do they hold up against general wear and tear?
We checked in with the AC forum community regarding this question and this is what our members had to say.
What about you? How's your Pixel 2 looking all this time later?
Get the Android Central Newsletter
Instant access to breaking news, the hottest reviews, great deals and helpful tips.
Joe Maring was a Senior Editor for Android Central between 2017 and 2021. You can reach him on Twitter at @JoeMaring1.
I have the pixel 2 XL black and white and it's amazing how well it's held up never had a case or screen protector on it still like new. The best thing about it is how much better it runs with pie on it before pie I used my OnePlus 5T much more it was my go-to phone, the 2XL is my go-to phone now.

My refurbished one looks great. Better screen than the original. Had to warranty it out when the USB-c charging port stopped working out of the blue. Looks to be a flaw, as Google's forums are flooded with this issue.

No case on my 2XL. Perfect condition except a very minor chip on the side by the SIM port.

I want to know how it's performing! I am looking to get a 2XL soon since the prices seem pretty reasonable now. I'll hate to lose wireless charging tho :/

The pixels are beasts, especially if you're looking to get the 2XL it's hardware with smooth software is such a nice experience.

The Pixel 2's are good. I just hate Google's software. Prefer Samsung's, honestly. The 2 XL was the big disappointment. That screen. Ugh. Was my "most anticipated" for 2017. Went with the Note 9 this year. Old faithful. What I had before going to iOS (Note 3). Very happy.

Mine is pretty good. Although there are lots of super fine scratches on the front. Been in a case since day one.

Yea; I put a film protector on my Note o before I left the store. On my Note 3 I used nothing, but the screens actually seem less scratch resistant these days than the Gorilla Glass 3 from those days. Maybe is just me Always use a case. Have a clear one but hate how it shows all the dirt and grease on it so easily. Lol. Probably change to something black in a couple/few months. Really i.oressed with Samsung's software these days, though I wish the settings were less deep and overwhelming.

Really good. No scratches on the screen. Only the pointless back glass panel has scratches on it just from setting down. I don't like to use cases or screen protectors either so I feel it has held up pretty well. Glass on the back of a phone is one of the dumbest designs in smartphones (only behind the screen notch)

I disagree. I think it's dumber 😊. The glass back threatens the phone's structural integrity whereas imo the notch is essentially a cosmetic flaw.

My black 2 XL still looks good. I've mostly used it in a slim case and I generally am easy on my phones. I've had no issues and I won't be buying a Pixel 3. My only regret is that I didn't go with the regular Pixel as I'm tired of using large unwieldy slabs. My next phone will definitely be smaller, hopefully next year all phones won't be 6"+.

I have the same feeling. That's why I will be trading in my Pixel 2 XL to Google for the Pixel 3 and will only have to pay maybe about $200 out of pocket to own it outright.

I really admired the build quality of these devices. Now everybody's getting glass for better or worse. Waiting for the Pixel 3 though. The pretty one.

Mint condition here. 50/50 split between no case and the belroy leather case or the moment lens case. Performance wise it's still tops. Still snappy still getting updates of course. Only thing I trade it out for is my p20 pro which takes better photos in all lighting conditions. I swap to the p20 pro when I'm doing something that requires a more serious camera on me.

You're a brave man using it with no case. My only complaint about the Pixel 2 is how slippery it is.

My Panda XL still looks new since March this year but the screen has micro scratches despite babying it.

Pixel 2 here, still looks amazing and runs better than ever after nearly a year later.

Had my Pixel 2 since May of this year. Looking good with a MNML case.

Still looks brand new since I've had a Spigen slim case and the Google screen protector on it since day one.

Had mine in a case and a tempered glass screen protector (gone through 3 of them, now don't have one, waiting for one on the way), still looks immaculate

Mine is still in great shape. It does have some fine scratches on the glass but they aren't noticeable when the screen is on. The performance is great. I've had since launch and I don't see any reason to replace the 2XL with the 3XL. Once 5G is out I will upgrade.