How to change the screen size in PlayStation VR Cinematic Mode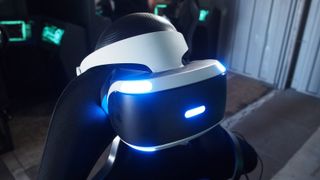 (Image credit: Android Central)
PlayStation VR's Cinematic Mode is basically everything you would see in a 'normal' PlayStation 4 experience, but seen through your headset. Regular, non-VR adapted games and apps can still be viewed through the headset in this mode, which is good since there's a lot of times you'll need to access things that aren't specifically VR. Here's how you can do it!
How to use PSVR's Cinematic settings
It's like looking at a big cinema screen, but you can change how big the screen is for a more pleasant experience that is adapted to your taste. So, whether you want small, medium, or large, here's how you can change your screen to fit your VR experience.
Head to the Settings menu on the far right of the main menu.
Then scroll down to Devices, which is after Video Playback Settings.
Towards the bottom of the Devices screen, you'll want to select PlayStation VR.
Second from the top, after Screen Brightness, you'll click Screen Size.
You have a choice of three different options now, conveniently labeled Small, Medium and Large.
Choose your preferred size and watch the screen change before your eyes!
Conclusion
We've found that the stock medium setting has the best representation of how you'd see the PlayStation 4 on a regular screen. Large is, well, large and basically fills your entire field of view inside the headset. Remember that it's like looking at a large screen, so it's flat and harder to see everything at a glance this way.
If you chose small you get a smaller display but it will follow your head movements and stay central inside the headset. For the other modes, you have to hold down the options button to reset the cinematic mode screen position.
You should look into blackout curtains and a drink cosey for the perfect cinematic experience. The curtains help darken the environment for immersion while the drink cosey keeps your snacks safely in place without the risk of knocking anything over. When you're all done grab a sanitary wipe, clean off the headset, and store it for the next time you want to enjoy the PSVR.
Get the best options
If you're looking to improve your cinematic experience, you should check out any number of these products!
NICETOWN Blackout Curtains ($21 at Amazon)
Stop letting the glare of the outside world ruin your movie. With these blackout curtains, you can block out that evil sun from interrupting your shows! This package comes with two panels that are 42 inches wide and 63 inches long.
Cup Cozy Deluxe Pillow ($32 at Amazon)
Stop spilling your drinks all over the living room floor with this helpful tool. This "pillow" has five sections to hold drinks, snacks, remotes, and more! The holders are even insulated to help keep your drinks hot or colder for longer.
Babyganics Alcohol-Free Sanitizing Wipes ($8 at Amazon)
These disinfectant wipes contain no trace of alcohol in them. That means these wipes won't warp the lenses of your headset *and( they're safe for your face.
Sign up for Black Friday email alerts!
Get the hottest deals available in your inbox plus news, reviews, opinion, analysis and more from the Android Central team.