How to change keyboards on Android Wear 2.0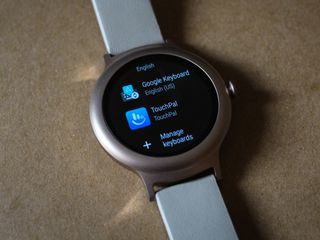 In all seriousness, it's nice to have a backup input method when Android Wear is having trouble understanding your commands. Android Wear 2.0 comes with built-in keyboard input capabilities, so you can tap or swipe around to reply to messages. And if you have other keyboard apps installed, you can switch to those as default input method, too.
Changing the keyboard on Android Wear 2.0
Swipe down.
Tap on Settings.
Tap on Personalization.
Tap on Input methods.
Select the app of your choice.
You can change the settings of each individual keyboard from this menu, too.
Florence Ion was formerly an editor and columnist at Android Central. She writes about Android-powered devices of all types and explores their usefulness in her everyday life. You can follow her on Twitter or watch her Tuesday nights on All About Android.
All these how to's but no update to my fossil q yet..

Same on my Moto 360 2nd gen

Are you going to make this comment on every article about AW 2.0?

Buy the new LG watches which is what they want or else got to wait like it or not.

Yep, great articles but not one watch has been officially updated yet. Sad.

Any idea when android wear 2 will be available for download

According to Fossil Support, the Q watches should see the update in "Mid March." Here's to hoping it rolls out sooner!!

My moto360/2 updated to 2.0 but can't perform any keyboard change - no options for.

When did you receive the update on your moto360?

How to do these keyboards compare to the one of. The Microsoft Band. I find it more accurately predicts my words than my phone's keyboard, so I am curious if the Android Wear keyboards work better as well.

Ok, but is Minuum there yet?
Android Central Newsletter
Get the best of Android Central in in your inbox, every day!
Thank you for signing up to Android Central. You will receive a verification email shortly.
There was a problem. Please refresh the page and try again.