HondaLink brings your Android smartphone into the cockpit, starting with the 2013 Accord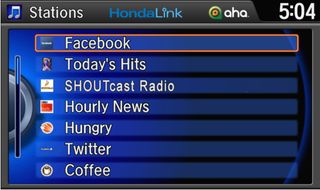 Honda's getting serious about connecting your smartphone with your car, and it'll be launching its new HondaLink system this fall in the 2013 Honda Accord.
HondaLink follows in the footsteps of the Chevy MyLink system we demoed at General Motors' test facilities last summer in that the infotainment system uses the data connection from your phone but is controlled through the traditional in-car systems. Android smartphones will connect over Bluetooth, while iPhones can use Bluetooth or the usual iPhone cable.
Honda has teamed up with Aha by Harman to provide music, podcasts, news, Twitter and Facebook feeds, all of which are to be provided safely hands-free use in mind. Also on board are Pandora and voice-to-text SMS services, which Honda's already unveiled on the 2012 CRV.
The 2013 Accord is just the beginning, Honda said today, and that you can expect to see it on upper trim levels going forward.
Hit the source links below for the full pressers, or check out the promo video after the break.
Source: Honda, Aha
Perfect! Now people won't get tickets for using their phones while they drive because they'll be able to check Facebook/Twitter directly from their dash. ಠ_ಠ

Honda has pretty good gps, but you cant send an address from a computer.......thats a service worth more than all this other stuff put together

Exactly. Why can't I bluetooth an address from my phone to the In-Dash (or even the on-windshield) GPS? (You used to be able to do this with certain models of GPS, but Microsoft discontinued the service. And even when it was working you had to use Bing from your desktop computer.) The problem is that when you try to talk to Chevy or Ford or Chrysler about this capability they have no clue what you are talking about because they subcontract this whole subsystem to someone else.

HondaLink, Chevy MyLink, MirrorLink... That's what we need. More "standards". Well it will make it more difficult for the Feds to regulate driver distraction.

All these 2013 cars that decided to include an iPhone hookup that come October will be obsolete cracked me up!

Honestly, I never saw the point in getting expensive embedded electronics in a car. They always cost three times as much as an aftermarket version and during the lifetime of your car, they are likely to become obsolete. Just plug in your phone or connect to bluetooth if you have it, put it up in a dashboard stand and you're done.

My 5 year old in dash GPS systems in our Chrysler and Acura still do exactly what we need them to do - provide turn by turn directions. They never run out of battery, they never fail to get a GPS lock, they never get left at home, and they are always on and always working. Yes, they do cost a lot of money so I understand that for some that are cost sensitive this is not a good option but I can't see ever buying a car without a factory GPS. IMO.

And I can't ever see paying $1,000 for such a system just for a slight bit of convenience... My phone's maps are more up to date and include worldwide coverage, it's always with me, and a charger + dock stored in the glove compartment neglect pretty much whatever small convenience a car unit offers. Only phones I've seen having massive trouble with GPS lock are the first generation Galaxy, most high end phones actually lock on faster than any car or stand alone unit.

Just what we need. More distracted drivers. People don't know how to drive as I is! So when do you put attention to the road while using all the gadgets, eating, reading the newspaper, doing your make up, etc. Like I see people in their cars all the time?
Android Central Newsletter
Get the best of Android Central in in your inbox, every day!
Thank you for signing up to Android Central. You will receive a verification email shortly.
There was a problem. Please refresh the page and try again.