Everything new about the updated Daydream View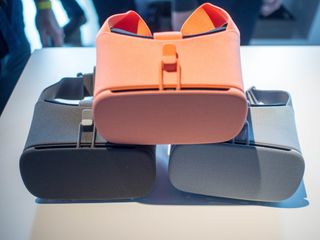 It may only look like a subtle color change from the outside, but Google's VR team has put a ton of effort into improving the Daydream View headset. This new version was designed to really take advantage of the Pixel 2 XL, but like all things Daydream you can use any phone certified to work with Google's VR platform.
I spent a few minutes with the new Daydream View headset, and here's a quick peek at everything Google has improved.
Goodbye light leak
My biggest complaint about the original Daydream View is how much light comes in from the sides of the headset. If you have a bright light behind you, the VR experience becomes quickly compromised and pulls you out of immersion.
This has been largely fixed by the new padding design, and surprisingly the headset is still very glasses-friendly. The padding comes much closer to the sides of the head, but not close enough to squeeze against your face. This means there could still be some light leak depending on how your face fits in the mask, but it's going to be dramatically reduced if you notice it at all.
Hello heat sink
The pad where you place your phone before closing it into the headset is now much grippier and less rigid plastic. This is because there are now magnesium heat pipes running from the top of this hinged section to the bottom. This heat sink even works if your phone is in a case, though obviously not quite as well as if the phone were directly touching the surface.
According to Google, this heat sink allows the Pixel 2 XL to run complex Daydream apps with no heat issues whatsoever, and will stop most Daydream-enabled phones from overheating even after hours of gameplay.
New controller storage
The flat surface created by the heat sink means there's no elastic carrier for your Daydream Controller, so Google moved it elsewhere. You can now find an elastic tether at the back straps, which will hold the controller in place when you're not using it.
While this does expose the controller in a way that was previously impossible, the placement makes getting set up to play something in Daydream a little easier.
Improved head strap
Not only is the controller on the back of the head strap now, but the design has been adjusted to allow for a top strap for added security. This helps distribute the weight of the headset, but if you decide the top strap isn't your favorite you can easily remove it and keep your hair from being messed with.
Better fabrics and padding
The original Daydream View was mostly fabric, and Google has doubled down on that experience with this new design. The outer fabrics feel a little sturdier, so there's no concern for tearing like the predecessor. The inner materials are noticeably softer and more plush, which means the headset itself is going to me more comfortable on your face.
Perhaps more important, Google's new fabric choices make the headset noticeably more comfortable to wear.
Huge custom lenses
The days of circular lenses just like the ones you would see in a Google Cardboard headset have come to an end. Google went all in and have customized hybrid fresnel lenses for Daydream View. This means the "sweet spot" for everything looking crystal clear is larger, and the field of view has been noticeably improved.
These lenses have an irregular shape and you may notice some quirky rings in the design, but as soon as you put the headset on all of that melts away to a much improved viewing experience.
New Colors
Crimson and Snow are out, sadly. Google's new outer fabrics called for an updated color palette, and Google went with dark grey, slightly less grey, and somewhat faded orange. Sorry, I got confused. I meant to say Charcoal, Fog, and Coral.
Even more exciting than new colors is that this year the controllers will match! This means you get a bright happy Coral Daydream Controller to go with your headset, making it much easier to find should you misplace it.
Coming soon to a Pixel 2 near you
Google plans to make this new Daydream View available for $99 alongside the Pixel 2 Pre-Orders starting today, and will be shipping on October 19th.
Get the Android Central Newsletter
Instant access to breaking news, the hottest reviews, great deals and helpful tips.
The first gen day dream wasn't exactly a big seller, so they make a few improvements but also up the price. Should this kind of tech come down in price over time.

This is a surprisingly great update to the original I honestly expected to be underwhelmed... But based on how much I already use my first gen (that I paid $40 for) I don't see me buying another one anytime soon. Maybe I'll pick one up second hand, again, when the novelty wears off for the original buyer.