Here's what Disney's deal with Colin Kaepernick looks like for Disney+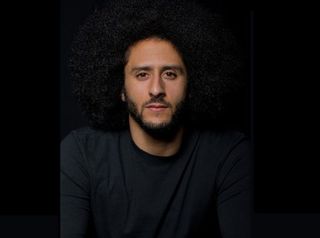 (Image credit: ESPN)
What you need to know
Disney is partnering with former NFL quarterback and civil rights activist Colin Kaepernick to create a documentary series on his life
The exclusive docuseries will utilize new interviews and never-before-seen archives to document Kaepernick's last five years.
The partnership between Walt Disney and Kaepernick's RA Vision Media aims to provide a platform to Black and Brown directors and producers to showcase their work.
Disney has inked a deal with former NFL quarterback and civil rights activist Colin Kaepernick's production arm Ra Vision Media to bring "scripted and unscripted stories that explore race, social injustice, and the quest for equity. As part of the deal, ESPN Films will create an exclusive documentary series that will explore Kaepernick's journey over the last five years.
Bob Iger, Disney's executive chairman, said in a statement:
The overall first-look deal will extend across all major Walt Disney platforms, including ESPN, Hulu, Pixar, Walt Disney Television, and The Undefeated. Kaepernick will be working closely with The Undefeated to bring attention to matters of race in sports across all Disney platforms.
In addition to the exclusive documentary series, Kaepernick's production arm will be working with Disney on a number of other projects as well to "elevate the work of Black and Brown directors and producers."
Disney+
By subscribing to Disney+, you can access all of the content across Disney platforms such as Pixar, Marvel, Lucasfilm, National Geographic, and 20th Century Fox. Those who love sports can save 25% by subscribing to Disney+, Hulu, and ESPN together.
Token position, the guy knows nothing about producing or directing.

All it means to me is I wont ever be getting a Disney+ subscription, LOLOLOL

What a joke! He was raised by rich, white parents, went to top schools and knew nothing of social injustice. He was a starter for 1 yr in the NFL and started his "protesting" when he realized he was about to be cut after being a backup QB for 2-3 seasons, trying to say it was his race that was costing him not his lack of ability.

He was virtually washed up as a pro before the controversy. He has made bank from Nike and now Disney since then....Probably way more than he would have made playing football.

More useless and divisive virtue-signalling.

The documentary will be a self-serving exposee "Boohoo-poor me!". Dude...to make a documentary on your life you must have achieved something of note...hint you are not Michael Jordan or Mohammed Ali... The only thing I want to know from Disney Plus is when the "Star Wars" series ("Rogue One" prequel) and miniseries ("Kenobi") will start filming...and I want a trailer for the second season of "The Mandalorian"...

This won't stop me from having Disney+ or stop me from watching anything Disney related (after all they own a ton of companies). But it is crazy how somebody can makes millions of money off of being a "victim."
Android Central Newsletter
Thank you for signing up to Android Central. You will receive a verification email shortly.
There was a problem. Please refresh the page and try again.