Here's how to check if your phone is compatible with Android Wear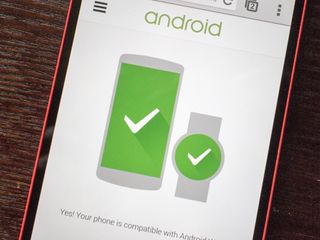 Many of you will soon be picking up new Android Wear devices like the G Watch, Gear Live or Moto 360, but there are a few things you'll need to get out of the way first — like whether or not they'll will work with your phone. Android Wear is compatible with with any Android phone running 4.3 or higher, so if you have a newer device you should be good to go. If you're not sure however, Google has an easy way for you to check.
To check and see if your Android phone is compatible with Android Wear, simply head to g.co/WearCheck from your phone's browser. There, you'll instantly get a "yay" or "nay" on your compatibility.
That's all there is to it!
Get the Android Central Newsletter
Instant access to breaking news, the hottest reviews, great deals and helpful tips.
Editorial Director - High Yield
Getting his start writing about BlackBerry in 2008, Adam is the Editorial Director of High-Yield content at Future. Leading an outstanding team, he oversees many of the articles the publisher produces about subscriptions and services – VPN, TV streaming, and antivirus software. From buying guides and how to watch content, to deal news and in-depth reviews. Adam's work can be seen on numerous Future brands including TechRadar, Tom's Guide, T3, TTR, Android Central, iMore, and Real Homes.
Well, that's a cute and simple way to check compatibility. Posted via AC App on HTC One

Tried putting cash into the disk drive but no Moto 360 dispensed. Posted via Android Central App

Coins in the SD card reader don't work either *sob*

Someone please correct me if I'm wrong, but of the new watches announced, only the LG and Motorola watches are compatible with my HTC One M7, and NOT any of the Samsung watches, right? It appears the Samsung watches are only compatible with the Samsung Galaxy phones. Posted via Android Central App

That is true for Galaxy Gear NOT Gear Live. It will be compatible with all Android Wear Compatible phones. Posted via Android Central App

If you're talking about the new Galaxy Gear Live, then it should be compatible with any device since it's using the new Android Wear OS.

Your wrong. Samsung Android Wear devices will work with any of them. The Galaxy Gear will not. I know it is confusing, and they really need to change something with this, but if you see Android Wear on any of them you should be fine

You're I'm the kind of guy who stops a microwave at one second to feel like a bomb defuser.

Why do people feel the need to point out gramarical errors?

They have nothing better to add...I gave up on dealing with the Neo-Nazi's

Because those of us afflicted with this need, probably a combination of asperger's and OCD, find misspellings and grammar a serious distraction.. imagine when reading a book if someone poked you gently in the eye every so often. And maybe we hope by correcting people they might improve.

LG G2 T-Mobile is compatible ☺ Posted via Android Central App

weird, have a moto x on 4.4.3 and it tells me i don't have android 4.3 or higher.

My 4.4.2 Verizon Moto X reported compatible.

actually, i tried again using chrome instead of firefox and now it reports correctly that i'm compatible. i should've figured that. Hey ANDROIDCENTRAL! You should mention that you need CHROME for this to work correctly.

Worked fine for me on my X with 4.4.3 and dolphin browser.

weird. maybe it's a firefox thing. oh well.

Firefox...? What is it, 2005? Nexus 4 - CM10.1.3

I just tried it. It says my HTC One Max is not compatible. I'm on Verizon and running stock Kit Kat (4.4.2). Strange? I think so. Posted via Android Central App

Did you do it on the chrome browser?

It's says moto g is compatible :) Posted via Android Central App

They should have made this a google query function so i could ask a simple phrase like "is my device compatible with android wear" and it would bring you right to this site or run a check. (i already tried and that page does not come up in one of the top spots.

A good old fashioned list would have been better. Posted via Android Central App

If you don't like this method, it's really not hard to tell if your device is running Android 4.3 or higher, especially if you're on this site. Posted via my M9, X+1, N910, G906, D6653, G4, or G Pro 3

I'm confused, when i check the compatability of my phone, i get a green check over the picture of the phone but then a picture of a Moto 360 with a huge red X over it Posted from the Avengers: Age of Droid Ultra

The test is browser dependent (obviously). Firefox, for example, doesn't send the android version in it's user agent string, and reports that your phone is incompatible.

Check! Winner of the OnePlus Storm of Invites contest thingy... °Sony XPERIA Z2 white
°LG Optimus G Pro white
°LG Optimus L70 black

Nice it has the Nexus 5 as compatible and than a robot marches in and says I have the best phone and I'm a great guy!
I wonder how it knew that ;) Posted via Serenity

I have nexus 4 ;( was going to upgrade but Moto360 Posted via Stock Nexus 4*

Make sure your user agent is set to android in your browser.

I should make a note here, this doesn't work in Firefox for Android. On my Moto X running 4.4.2, it says I'm not compatible if I use Firefox but I am if I use Chrome. Silly Google. The web is open because everyone can access it the way they want, not the way you want.

FYI, the site doesn't seem to read right if you use FireFox Mobile to check. Works with the Chrome browser fine.

Working on a One M7. Frankly, if your phone runs Android 4.3 and above, you should be fine.

and when they say 4.3 do they mean 4.4.3?

No. Jelly Bean 4.3. Also, apparently, you'll need Bluetooth 4.0. Posted via Android Central App

Is it compatible with 1.6 with motoblur Posted from my Nexus 7 2013 or Samsung galaxy S5

Definitely compatible but I am looking to check out the Galaxy Gear Solo in July or upcoming Gear 3 with the Galaxy Note 4 in October. Either way for 199 dollars the Gear Live sold through the play store is a drop in the bucket for me. Definitely a extra item I will purchase down the road. From my Galaxy Note 3 via Android Central App

Lol! You sound just like him! Brought to you by the Nexus M8

I got a yay :) :D Posted With My Amazing Moto G ! :) via Android Central App !!

SGS4 running 4.4.2 is compatible! Posted via Android Central App

i am running 4>4>2 on my htc one 7 should it be compatible? both firefox and chrome say no

Yah for note 3 Posted via Android Central App

I have Galaxy S3, running Android 4.3. On Firefox it says I have Android, but it's not compatible with Android Wear; on Chrome and on Dolphin it says everything is OK.

My wife's Galaxy S2 on 4.3 says yes but it definitely doesn't have Bluetooth 4. Is there a definitive answer on Bluetooth requirements for these watches yet? Are they built with dual mode BT4 chipsets? (Please someone say yes!) Posted via Android Central App

Can't say for sure, but I can tell you if it's going to use anything other than the new low energy standards in 4.0, the watch's battery likely won't last more than a few hours. With the power consumption being anywhere from 1% to 50% max of the old, even if it's a power hog on 4.0, the battery would only last half as long on any older Bluetooth. If it's designed for fairly efficient 4.0 battery use, you're looking at 3 day charge lasting half a day.