HDHomeRun Connect DUO+ adds a hard-drive for an all-in-one cord-cutting solution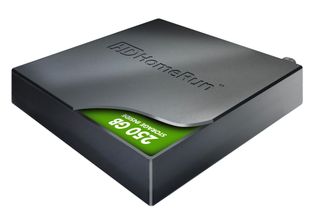 The HDHomeRun Connect is a great product for folks wanting some freedom from cable subscriptions while keeping their entire household entertained with TV. At CES 2018 the latest product in the lineup has been announced, the Connect DUO+. And the big story here is that it comes with a built-in DVR.
At the heart, the Connect DUO+ is the same as the regular Connect DUO, with two tuners allowing two streams on your network at once. That means you can watch two different channels on two different devices or you can watch one channel while recording another. The DUO+ adds 256GB of storage to the mix which is good for up to 60 hours of HD recordings.
To use HDHomeRun DVR you'll still require a subscription (everyone needs a subscription to use the service), but the DUO+ is pre-loaded with the HDHomeRun engine already so all you need to do is hook up your account and you're good to go. And because it's an HDHomeRun, you can use the DUO+ in conjunction with any other HDHomeRun product to get access to more tuners, and more channels at the same time.
One of the things we like the most about the HDHomeRun is its versatility, with support for just about every platform you could want. Android, iOS, Windows 10, Xbox, Kodi, Plex are all great ways to use this hardware, and other services like Plex DVR can be used with the DUO+ storage, too.
The Connect DUO+ is scheduled to go on sale in mid-2018, pricing has yet to be confirmed.
So basically it is going to become a Tablo? What is the difference in the two, I have a Tablo it works flawlessly with my Roku, Fire TV, and Mi Box, I can even use it remotely if desired. Not flaming, just want to see if there is something better or at least different than what I have currently.

Biggest difference number one: Tablo is limited to North America.

Isn't Tablo also more expensive?

Tablo ENGINE is $40/year, HDHomeRun is $35/year. So yes, but they're very close.

One advantage that an HDHomeRun has over Tablo is 5.1 audio support. Tablo's only support stereo audio (except for the USB adapter).

Will it support ATSC 3.0?
Android Central Newsletter
Get the best of Android Central in in your inbox, every day!
Thank you for signing up to Android Central. You will receive a verification email shortly.
There was a problem. Please refresh the page and try again.