Have you enabled RCS chat in Google Messages?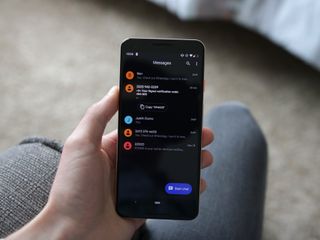 (Image credit: Joe Maring / Android Central)
Yesterday, November 14, was an exciting day for the state of messaging on Android. At long last, Google flipped the switch and began rolling out its RCS chat functionality for everyone in the U.S. — regardless of what phone or carrier you have.
RCS brings a heap of features to the Google Messages app, including typing indicators, better group chats, high-quality photo sharing, and more.
Looking through the AC forums, its rollout has a lot of people talking.
Now, we want to hear from you! Have you enabled RCS chat in Google Messages?
Joe Maring was a Senior Editor for Android Central between 2017 and 2021. You can reach him on Twitter at @JoeMaring1.
No because I use Textra & am unwilling to switch at this point.... And of all the people I text with, the majority use iPhones and those on Android aren't into it enough to enable/use RCS on their end. So I wouldn't be gaining anything from where I am now...

RCS also allows SMS and MMS over Wi-Fi.

I checked it last night and the feature still wasn't there yet. Using a Pixel 3 on Metro TMobile

Not yet, isn't available on my phone

How long till the carriers stop selling pixels now, haha.

I don't use google messages app.

I'm in no rush. No one I know pays enough attention to this stuff to even know about it, let alone enable it by downloading an app to replace the one they're already using.

Yes. I enabled it previously. But I'm glad to see Google take the bull by the horns and force the issue! If we keep waiting on the carriers, RCS will never happen.

I don't use AM, I use Samsung messages, will RCS work between the 2 apps?

Google is rolling it out only to AM messages, but if your carrier supports it you will still be able to message other people that do use AM. My roommate is on Sprint which rolled it out on their network and he uses Samsung's messenger where as I just use Google's roll out through AM and we send messages via RCS just fine

Yes, it's a standard like sms is. Google may be pushing the issue more but as long as universal profile is used which both Samsung and Google use there is 0 problems

As of last night I tried to send my girlfriend an RCS message from my Pixel 2 XL to her Note 8 using Samsung messages and it didn't work. Both through Verizon.

I switched from Samsung Messages to Android Messages.

Yep. Did so months ago. But my carrier deleted or cancelled the features. The RCS Chat Features were not working anyways due lack of carrier support. Now they aren't even available or appear on my device any longer...now the notification I get is "Chat features unavailable on this device"....

Yeah Google is trying to get around this with this rollout but seems the carriers may be able to get their sticky little paws into the stuff .

I'm getting the same message too. Weird though, my wife's phone is accepting but not mine. We're both on Verizon. I have the Pixel 2 XL and she has the Note 9

If you have RCS enabled and the other person doesn't and they send you a text can you still get the text over wifi if your mobile data connection isn't present?

No, Unfortunately, I can't find anywhere in Google Voice to Enable RCS.

Doesn't work on my Pixel 2 XL on AT&T.

I see nothing at this point. AT&T with Pixel 3a XL

Enabled ok on my Nokia 7.1 in the UK on Vodafone.

I have a Note10 on Verizon, installed the latest beta (5.3.074) and enabled chat features. A few minutes later, I went back to the app settings and now it says "chat features unavailable for this device". I have never used the "sandbox" hack/workaround.

I thought I was the only one with this weird thing happening. I actually loaded the latest GA version, said it was unavailable, then after about 5 minutes, it was available and I enabled Wifi, read rcpt, typing...then later it again said it was unavailable.

I uninstalled Messages, turned off Wifi, reinstalled. Initially said chat features unavailable for this device, then a few minutes later it was available. Re-enabled Wifi...and again it's unavailable.

I enabled it from the back from the beginning, still waiting on the official roll out from Google though

I would if updated Google messages was available via Play Store. Hopefully soon.

I used the hack when it first came out and it's still working on Visible Wireless on my Pixel 2 and 3aXL. I bent changed anything so just going to keep moving forward I suppose... Posted via the BlackBerry keyboard from my Pixel 3aXL

It enabled itself on my G6 on Fi. On my AT&T Pixel 3a I'm told that chat features are not available on my device. So much for Google bypassing carriers.

It was working few days ago, it gives me the "chat features unavailable for this device" message. Got the "would you like you turn on chat messages" poop up this morning. Still doesn't have it.

My phone works fine with RCS but I had to be on the Beta for it to work. My wife has an issue where when and leaves WiFi the status goes to "Connecting...", any ideas? Verizon Pixel 2 XL.

5.2.062
Just received an update tonight, when I opened the messaging app, received a message asking for the update to RCS.
also said it would be available soon.
I'm on Verizon, glad Google's is working around "big red"...
Android Central Newsletter
Get the best of Android Central in in your inbox, every day!
Thank you for signing up to Android Central. You will receive a verification email shortly.
There was a problem. Please refresh the page and try again.