Have you considered leaving Google's Pixel phones?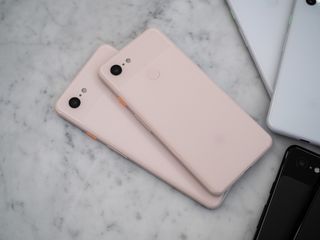 Ever since the original Google Pixel was released in 2016, the Pixel series has represented some of the best Android phones you can buy in the industry — largely due to the outstanding camera performance and super clean software.
We're just a few short days away from the Pixel 4 unveiling, and while there's a lot of excitement surrounding the phone, there's a different conversation taking place in our AC forums.
Some of our members are talking about their itch to leave the Pixel family in favor of something else. Here's what they have to say.
What about you? Have you considered leaving Google's Pixel phones?
Get the Android Central Newsletter
Instant access to breaking news, the hottest reviews, great deals and helpful tips.
Joe Maring was a Senior Editor for Android Central between 2017 and 2021. You can reach him on Twitter at @JoeMaring1.
I have tried other phones but I always come back to my Pixel 3 XL. The camera, always on display, and streamlined operating system are hard to get away from.

I came to the pixel line with the OG pixel and now I have a Pixel 3. Before that I had my ultimate favorite phone to date HTC One M8. It was hard to give up HTC but I had to move and Google was saying all the right things for me, so I made the jump over. I don't see myself moving on from what Google is offering and as long as they keep an under 6" display option, I'm good

Pixel 4 & 4 XL battery rumored capacities have me open to the possibility of leaving. Even Apple figured out that consumers want larger batteries while Android OEMs like Samsung and OnePlus are packing 4000mAh batteries. I want to lose the portable charger.

My biggest thing isn't so much the camera capacity but the storage. The leaked Canadian pricing claims it's only up to 128gb for the most expensive model and it's 150 more than the 64gb one. But uhh, I just bought a microSD card that has 128gb for half that. Really makes you wonder why that storage is so low. That said, if it has a microSD slot that would be fine but Google has never put one on a pixel before so my hopes are not held high.

As someone who uses the Google Pixel 3 XL currently and worked selling devices at T-Mobile. If battery life and good software is what you're after the 4 XL is the one you'll want. The 3 XL was a step back from the 2 XL which had excellent battery life. The 4 XL is supposed to be much better. My family has the 6T and 7 Pro from OnePlus and they regret not listening to me as OnePlus might have near stock Android but they're definitely not not and are missing some basic thing that stock has already they used daily.

Google is not known for battery optimization so I think a 2800mamp battery in the base model pixal4 is way to small especially with a 90hz refresh, yikes! Come on Google wake up & smell the roses. Your software is very good but the 855processer is not that power efficient!

I have had every small Pixel that's been out and currently have 3a. I also have a Samsung S9 I go between but something always brings me back to the Pixel. Battery life has been good for me but I am not a heavy video watcher or gamer. My favorite phone before the Pixel was the Moto X 2nd gen. Moto just hasn't made one as all around solid to me since then.

Yes, and I did, for the Samsung S10e, which is a great phone. However, I miss stock Android, and the move was more about getting something new and shiny. So I'm interested in the next version of Pixel. I could easily move back when I'm ready to upgrade again.

Never had one to begin with. I considered getting one years ago, but honestly I don't find them that compelling as devices. With the addition of Android One, and being able to purchase devices from other manufacturers which are basically running stock Android has been a blessing in disguise. Hence my current handset. I really hope Google sticks with the Android One programme and expands the available number of devices running it. It really is a good alternative to have.

The Nexus 6P was my last "google" phone. The reality is is that there is no such thing as "stock" Android anymore as we used to call it back in the Nexus days. Google has a skin on android just like any OEM. and frankly, it's not the best one. I much prefer One UI to Google's take on Android 9 and 10. I don't like the fact that Samsung still includes duplicate apps for a lot of things, but the overall UI is just.... better. As Android updates have become more iterative, the jump to a new version on day 1 becomes less important. And, frankly, Google has pushed out a lot of very unstable day 1 updates. Google is far from the best Android OEM.

Never really had a compelling reason to buy one in the first place... Pixel phones always seem to have far too many compromises to justify their price.

Yep, and I have in the past. The problem is other manufacturers are making decisions I like even less like giant phablet phones, curved displays and things like that. I don't care about Google's version of Android. It is skinned just like any other. As long as I can have the apps I want the manufacturer version of the OS doesn't matter to me.

Had a Pixel 2. Poor build quality, poor battery and buggy. Got rid of it.

Using a Pixel 2 right now and had no issues with it... Now I will wait to see what the prices are for the Pixel 4, I kept my Nexus 4 until this phone came out and I have not missed a beat...

Seriously considering an iPhone. I have had either a blackberry and it's various OS's or a Samsung. My kids have an iPhone. I can still get the various Google services as well as Microsoft on an iPhone. The convergence between the two platforms make them very similar. I may consider a surface phone. We will see.

But you'll lose a lot of functionality when going to an iPhone

What exactly would you be losing these days? Expandable storage is a dying breed on Android. Most of the phones that matter don't have it anymore anyway. Customization is great until you install a launcher that breaks Google Assistant. This actually happened to me, Apex launcher was using the mic and for whatever reason made so much noise in the mic that GA couldn't hear me. Being able to install apps outside the playstore is great, but is it really worth the drawbacks like limited software support meaning that you likely won't see the latest version of Android for up to a year after its release, and if your device it more than two years old forget about getting even the previous version of Android. On top of that you have Google's own incompetence with their services. Their continued cycle of launching a service, revamping it, and then retiring it really tested my patience. The final straw was what they have done with Google Play Music. Not only did they neglect the issues it had they discontinued the Google Music desktop app that allowed you to upload music to the service and added that functionality to the website via Chrome. So now you could drag and drop folders from your desktop directly into chrome for upload to GPM. Unfortunately and to the surprise of no one this doesn't work well at all and pales in comparison to the old glitchy desktop app in both upload speed and reliability. I won't get into the mess that is Youtube Music this comment is already to long, but yeah in short an iPhone really isn't that different from an Android anymore. The major difference is that Apple is seemingly more competent when it comes to software releases, device support, bug fixes, and services.

I had the Pixel XL and now use the Pixel 3 XL, neither were all that great. I love the cameras but the battery life is a solid meh. I still have the microphone issue on the Pixel 3 and no help from Google on it besides "try a factory reset" has left a bad taste in my mouth. I doubt I will get a new Pixel of any flavor in the future but I would like to keep Google Fi and have a phone made for Fi.

Had the OG Pixel and I didn't notice any issues. Skipped the pixel 2 for the Razer 2, then went back to pixel 3 (small one). I don't know where all these people are getting issues from, but my works like a champ. Will probably skip the pixel 4 (probably not, haha) to get the surface pro x, since my pixel 3 is still great. I am liking how pixel 4 is coming out (don't understand all the hate I've seen online), so I'll probably just wait until I pay off my surface pro x.

Switched to an iPhone last week. Every generation of Pixels had warranty issues in my experience (screen burn, flashing green screen) and abysmal battery life. I miss Android but I like knowing I can make it to the end of the day without hunting for a charger.

iPhone it's even more so like that. I've made it through multiple work days with my v40 and never had to hunt for a charger.

I've been with Pixel from years back. Currently the Pixel 3. Will buy a One+, most likely, in my next go 'round. Buh, bye Pixel. Kind of wish I could leave Google. But... what are you going to do?

haven't given it any thought. been enjoying my 3a XL and it should hold me til whatever is next in couple yrs.

I've migrated from my Pixel 2XL to the Note 10+. I have nothing really against the Pixel. It served me well. I'm just looking for more power, features, flexibility, and polish. Samsung's Note 10+ finally showed me enough this year to make the switch. I've pushed aside most of the non-Note-specific bloat and am using the Google apps I've always used; but now I've got the extra features I've been craving (including the S-Pen), expandable storage, and Samsung Pay's MST support. One UI is toned down enough that I can deal with it (although I did install Nova). Overall, I'm very happy with the Note 10+ and don't really miss my Pixel 2XL. Going back to Android 9 was a little jarring, but One UI already has much of what Android 10 offers in terms of UX. Essentially, Android is mature enough that I'm still satisfied with performance even moving up or down a version.

I have owned quite a few phones over the years and bought a refurb Pixel 2 XL for a very good price. Pros: camera is just fantastic. Battery is average but not a deal breaker. Fluid OS but missing features other OS' have. Cons: Boring design, apps close too aggressively in background while some stay open even after I reset my phone. Spotify does not work that well in my car, my other phones did not have this issue, cannot switch tracks using my car controls. Phone switches from LTE to LTE+ randomly after Android 10 update. Always had LTE+ before update. Double tap to wake does not always work. Was thinking about going to a OnePlus 6T but the in screen fingerprint scanner turned me off. Pixel phones need a bit more polish to justify the price but so far, I will stay with Pixel.

Had Google Phones since I switched from BB10 to the Nexus 6P. My Pixel 2XL is starting to show poor battery life especially since Android 10. Battery life is going to be make or break for me for the Pixel 4XL. I'm looking at One Plus and the only things it doesn't have that are on my "want list" is wireless charging, and that's something I don't have now. So I'll wait and see what the reviews say about the battery life.

Actually, considered but decided to stay. I wish the price could come down but love the fact they stand behind their product. There is a couple of things I wish was different like the headphone jack but overall have been satisfied. Thanks for sharing and reading.

I love the Pixel camera and user experience, but the rumored price and only a 64gb entry level storage have me looking hard at OnePlus as my next phone.

I've got the Pixel 2 XL and I still like it.
But.
The good - frequent updates and smooth operation.
The bad - 3rd party devs have a problem keeping up (so much for a huge selection of apps.). Google has introduced ads into so many things - every time I do a search on the internet for something - I get ads on it. Continually. It's hard to let the Google Assistant in when everything is based on adds.
Maybe it is time to try Apple...?

I will be leaving. No fingerprint reader means no upgrade. I'm a die hard Google fan but this phone is a ****.

Yes, I will probably be leaving for an iPhone. My Nexus 5X died in less than 2 years. My Pixel 1 died in less than 2 years. My spouse's Pixel 2 died in less than 2 years. I'm done with Google's ****** hardware quality.

I've been buying Android since the Moto Droid on Verizon. Had a Samsung(hated the bloatware)Nexus 5, 6, 6p (loved all the Nexus) Now have a pixel 2xl. I love the Google experience, but wonder what all the sheep(apple fanbois) are doing too … So right now deciding on the new iPhone or hold for the new pixel.

What are you missing with an iPhone... It is a good question, having tried an iPhone for 6 months I can tell you there are a few things that I would miss, iPhone is still great but these things are more important for me: I have a pixel 2 and it takes better photos than my wife's XS Max. This is real world photos and everyone always prefers the pixel 2 version of the same scene. The video recording on the iPhone is better. Better Bluetooth codecs for better sound. Still wish it had a headphone socket though. Pulling down the notifications does not pause videos like it does on the iPhone. Pixel switches WiFi network better (slightly more aggressive roaming) Sharing multiple files is easier on pixel. Voice recognition is better on Android and more functional. (Although the windows phone os voice control was better than both at the time...) I tried a Samsung 10+ as I thought the photos would be better, but despite the inferior hardware the pixel 2 takes better photos, spent 3 hours trying to beat it in different conditions, even trying to fix the overbearing yellow in lightroom but pixel managed to always get better exposure and colour despite online reviews suggesting otherwise. Waiting for pixel 4 but might consider a one plus 7t Pro...

Already left them. Had an OG Pixel for two years. Then had the iPhone Xr. Just got a Note 10+ and it's getting returned today or tomorrow. Thought I'd use all the cool stuff the Note could do, but I already don't. Surprisingly going back to the iPhone. My wife was shocked when I told her. I think phones like the Note 10+ have a lot more options/features, as does android in general, however I feel like the iPhone is still more of a phone. It does a better job at communicating - especially when all of your wife's family has them, and the the majority of your coworkers. I think that's why a lot of people like the iPhone.

I've been Google-phone only since the Galaxy Nexus. The biggest reason is that I love the stock Android experience. Never liked anybody else's version of Android. I have a Pixel 3XL now and my next will probably a OnePlus. I have always just gritted my teeth and dealt with the various bugs and issues that come with the Pixel line, but the biggest reason I probably won't buy another Pixel is the huge middle finger I got last year when I purchased my Pixel 3 XL as soon as it was released only to see Google offer a $300+ discount a month later. That was the last straw for me.

I'm a GFi user and since their phones utilize that technology the best compared to low-midrange Fi devices the consideration to leave a Pixel device is short-lived. Sure, there are other great cameras, expandable storage, faster, display ratios and the list continues but when I need a connection where one fails the ability to connect to one of the 3 has my ultimate support.

Something I've realized is: it's not hard to abandon the Pixel line. You can switch to any other Android phone and not bat an eyelid. That's where Samsung and Apple differ: their unique set of features and ecosystems make them hard, if not impossible, too replicate.

Nope, not considering leaving. Never will I switch to iPhone. Samsung is convoluted. Pixel simply works and the camera is simply the best. I have a 2XL now and it's a beast. Not sure when I will replace it as she nears her 2nd birthday.

I have had all 3 Pixel phones and will continue to buy Pixel phones. If Google ever quits making them, I'll switch to iPhone. simple as that.

I do love my pixel 2XL but I have leaning towards the new iPhone 11 pro max, mainly because I can get an Apple watch... One main reason that I may stay with the pixel 4 xl is the unlimited photo storage at full res for free. With a new son, I have been taking crazy amounts of pictures, having the unlimited storage is almost too good to leave! I guess I'll have to see what happens in the next few weeks and if any good trade in deals come up to see what I pull the trigger on...

I've been buying Google phones since the Nexus 6 and absolutely love them. I've never had any problems with software or glitches or anything else that people have complained about. They've been solid and reliable phones and I'm on the pixel 3XL now and it's great. I don't know if it's better than the 2XL but I had to get one. I could have waited for the 4XL but I'm not comfortable with it not having a fingerprint scanner or front firing speakers but I will inevitably get one when I upgrade my 3XL. I've had Samsung galaxy and an LG G6 but I went back to the Pixel.