A closer look at Android running on the Microsoft Surface Duo (video)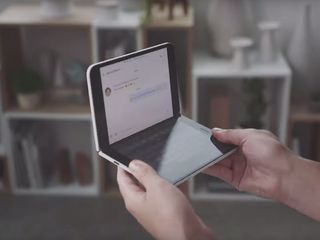 (Image credit: Microsoft)
Microsoft's Surface Duo is coming soon, and the company has been working hard on finalizing the version of Android that will be shipping on Surface Duo later this year. Microsoft has released several emulator builds over the last few months, with each one progressing with new changes, bug fixes, and overall polish.
Not only that, but Microsoft has been working behind the scenes to update most of its own Android apps with support for Surface Duo, this includes Microsoft Launcher, Outlook, OneDrive, OneNote, Office, and many more. To showcase these new features and changes, Windows Central has gone hands-on with the latest emulator build and customized it extensively to make it look and feel like an actual Surface Duo.
Now, this still isn't final, so more features and changes could show up between now and when the product ships.
Keep in mind that many of the features and app experiences seen in the video aren't part of the emulator by default. We showcase new features such as app groups in Microsoft Launcher, that lets you open two apps at the same time under one icon, as well as app spanning in OneDrive, Edge, and Office. We also showcase the updated gesture animations and demo how dual-screens can enhance your workflow.
Surface Duo itself is launching later this year with a Snapdragon 855, 6GB RAM, and up to 256GB storage. It has two 5.6-inch AMOLED displays joined together by a 360-degree hinge that makes this foldable unique from the other mainstream foldable devices out there. What are your thoughts on Surface Duo so far? Let us know in the comments.
Looks impressive. Unfortunately I could not wait to get a new phone and went with the p40 Pro. That said I am very interested in seeing how thos device pans out over the next 2 years and the upgrade to the 2 or 3 if huawei can't keep me attached next time.

I probably won't get gen 1, but would be very interested in gen 2. Although I'd be tempted to pick up a used gen 1 for fun

Won't mean anything until Apple (the greatest thing since God) releases a similar device. Only than will the industry take notice!

It looks fantastic 👌, I know I'm still pissed that the Duo want have NFC... But I may have to bite my tongue 😏 and still pick up a Duo, and go back to carrying my wallet lol 🤣

Nah, just pair a watch up with it and use the watch for payments.

I currently use NFC payments pretty much daily, even for public transportation, I don't think you can tap to go on a watch for that 😉, what I currently do is double tap the power button, on my galaxy fold, to bring up Google pay, which Then I just swipe to Miki transport card, tap to go is pretty much everywhere in Australia.

On the Galaxy Watch Active2, you just hold the upper physical button and it will activate the tap to pay on the watch. No phone opening required.

I know it takes tome to develop devices, but the Duo comes without the latest processor, too little ram and not enough storage space. I wish it had a stylus. I won't buy one until the next gen, too see if MS can catch up on thise areas, but also to wait and see what their OS upgrade policy will be. I'm thinking about not getting the Note20 (despite having used one for years and I love it) because of Samsung's policy of only doing two OS upgrade cycles. Or, I'll get one and keep it way beyond its "obsolesence" period).

Looks uncomfortable to use as a phone.. It's not tall as most phones coming out these days but it sure looks wider. How are you supposed to make calls? I guess the screens fold backwards? Meaning you'll have one screen in your face and the other in your palm? Seems like a disaster in the making for breaking your screens. But I guess that's how all these dual screen phones are. With pen support it might be better than the galaxy notes! I hope this product works but something inside tells me it will be a flop (I guess the price is going to determine that). What's the big difference between this and the dual screen lg g8? Just a couple of tweaks to the g8 and you have a surface duo. A galaxy Fold - Note version is what I'm dreaming of but won't be able to afford anyway.

LG did not have the resources to make the dual screen beneficial. Things don't span the screens etc. Read the reviews. Night and day here. This is obviously a device for business people. But so was blackberry that so many people ended up "needing". Dead now. Yes. But had its heyday.

Cannot wait for this device. So many uses for me. The people saying "who is is for" are the same people that didn't understand how an IPad was useful but now bring iPads into my business trying to sell me stuff everyday. I have to admit to me the iPad was just a bigger iPhone. And it actually is.
Android Central Newsletter
Thank you for signing up to Android Central. You will receive a verification email shortly.
There was a problem. Please refresh the page and try again.