Grim Quest is a great throwback to classic dungeon crawler RPGs [Android Game of the Week]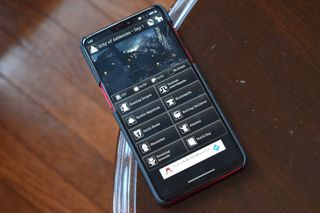 (Image credit: Jordan Palmer / Android Central)
I recently had the chance to play and write about an RPG for one of our sister sites, iMore. Called CrossCode, it was a throwback to classic RPGs like Secret of Mana, Chrono Trigger, with even some A Link to the Past thrown in. It was a blast and made me feel like a kid again.
So when looking for a game for this week, I stumbled across one that I'd seen before but set aside for later and then promptly forgot about (I'm really bad about that). It's called Grim Quest, and it's an old school game. We're talking really old school — Grim Quest is a grid- and turn-based dungeon crawler RPG that can be quite challenging. Since I was in such a retro mood, I thought this was perfect for our Game of the Week.
Grim Quest
Grim Quest is an old school throwback to the days of grid- and turn-based dungeon crawler RPGs. It's a solid game that does a lot of things well and is, overall, great.
First and foremost, Grim Quest takes cues from games that are really old; so old that I barely remember playing them when I was younger, and the names escape me. However, the point is that some of you who do remember these types of games will find a lot to like with Grim Quest. Better yet, younger people who are less familiar with them can also find plenty to enjoy with it. It's designed in such a way to be welcoming to all players.
The basic premise is that you're a freelancer who arrives in the city of Ashborne amidst a global crisis. Unscrupulous mages of the past played with powers beyond their ken and tore a hole in the very fabric of reality. From that tear came the Dark, an evil that consumed the old empire. You're tasked with slaying devilish creatures of the Dark and nefarious bandits who have seized advantage of the chaos (as they do).
With a focus on the Dark, which acts as both a source of Lovecraftian horror and a commentary on human psychology, Grim Quest actually has a lot to say. Everything about the game is foreboding, like the text, font options, simplistic visuals, and music. It all melds together so well that you can't believe one person did all of this. Though the story itself isn't super groundbreaking or anything, I think you'll enjoy what it has to say, and it's engaging enough to keep you going for a while.
The tutorials are very helpful, and I recommend you pay attention to them. They explain everything from navigation to spells to collecting bounties. Grim Quest isn't a walk in the park by any means, so you'll need all the help you can get.
Honestly, the distracting ads are all I can complain about. They're not that bad, but they definitely take your attention away from the game itself and end up being annoying. You can pay $2.99 to remove them entirely, and I'm more than okay with that. I don't mind throwing a few bucks to a developer to help them along when I really like their product. Other IAPs include bulking up your coin purse with gold (from $0.99 up to $13.99) and donor packs that unlock some class items for $21.99 each.
So be sure to check out Grim Quest if you're looking for a new old school RPG/dungeon crawler. It's an enjoyable time and easily played in small chunks. When you're done with that, be sure to head over to our roundup of the best Android games. And don't forget our catalog of previous Games of the Week, too!
Game of the Week

Grim Quest is an old school throwback to the days of grid- and turn-based dungeon crawler RPGs. It looks fantastic, sounds great, and is overall a fantastic piece of work for a one-person development team. You can support the developer and remove ads if you really enjoy the game, too.
Get the Android Central Newsletter
Instant access to breaking news, the hottest reviews, great deals and helpful tips.