Google's Project Brillo has gained a whole lot of partners to help make IOT less terrible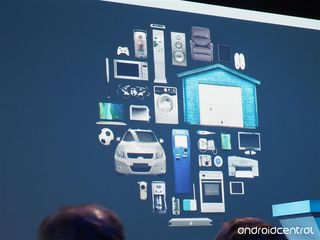 If there's one thing the disconnected reject pile of internet-connected toothbrushes and refrigerators we begrudgingly refer to as the Internet of Things is in need of, it's direction. Some kind of grand, unifying force that will make using all of these potentially interesting products actually useful when bound together as a single household of objects. Google's Project Brillo, which we first heard about during their most recent developer conference, seems to have all the bits in place to offer that guidance. All we need now is some hardware partners willing to jump into bed with Google and support both Brillo and the Weave networking protocol that will help pull it all together.
Fortunately, this is CES and that's exactly what we have now.
Aside from Nest, who will be using Weave for their own purposes and will almost assuredly play nice with their Alphabet-supported sister company, we now know of six different companies who will be releasing Brillo and/or Weave-supported hardware over the next year. Included in that list is:
Marvell: The EZ-Connect MW300 and MW302 microcontrollers will support Weave, which means any company can buy them and add Weave support to their line of products with relative ease.
Harman: A the "first systems integration partner" for Brillo and Weave, their speakers line will be updated to support the protocol this year. Additionally, Harman pledges to "simplify the design process for manufacturers by providing support throughout the entire development cycle" to make getting other products to market less problematic. Sounds cool, right?
Asus: In a move that should surprise exactly no one, the second company to make Google's OnHub routers — which will work directly with Brillo and Weave once the feature is activated — has pledges support for their products in this new IOT setup.
Kwikset: As one of the biggest of several "smart lock" companies that have been evolving their product line over the last couple of years, Kwikset is well positioned to work with Google on a line of smart locks that plays nice with every Android phone.
LG: We've seen LG try "smart" appliances for a couple of years now, and the one big problem with their products has always been how limited the ability to access those features has been. Brillo and Weave will help make their appliances less reliant on specific apps and phones for control, which will be a good thing for everyone.
As you can see, there's quite a bit going on right now. Google's Project Brillo will create a unifies place for all of this hardware to play nice on your phone, and will do so with things like encryption and privacy in mind while you build your connected home. It'll be a little while before we actually see any of this hit shelves, but it couldn't be more clear that Google is taking the connected home seriously with these new partners.
Get the Android Central Newsletter
Instant access to breaking news, the hottest reviews, great deals and helpful tips.