Google Voice is running an open beta for Wi-Fi calling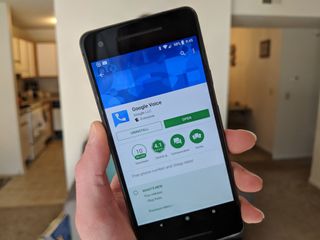 Google Voice received a long-overdue redesign in January of 2017, and this updated it with much-needed features and a modern UI. However, there was something that was still missing – VoIP.
After years of patiently waiting, it looks like our day has finally come. On the Google Voice Help Forum, Google's announced that it's running an open beta for Wi-Fi/data calling that's integrated directly into Google Voice.
VoIP with Google Voice allows you to make and receive calls using Wi-Fi or your mobile data connection in addition to your regular cell signal, and the big benefit to this is still being able to make calls even when you're in a dead-zone but still connected to Wi-Fi.
This feature is currently supported on the Google Voice Android app and on the web, and signing up for the beta is as easy as filling out a form, updating the Google Voice app, and following instructions on an email you'll be sent with more info on how to get everything working.
Since this is a beta, however, there are a few known issues, including:
Obihai devices won't work if you enable calling over Wi-Fi
You won't be able to use incoming call options when you enable calling over Wi-Fi and mobile data
If using Google Voice from your computer, Wi-Fi calling only works in Google Chrome (support for Firefox, Edge, and Safari is coming soon)
While using Bluetooth on Android – Buttons on your Bluetooth device won't work for accepting/declining calls, earpiece mode won't work, and calls may drop when switching between Bluetooth and speakerphone depending on your Android version
If you've got Google Voice, are you going to be signing up for this beta?
Download: Google Voice (free) (opens in new tab)
Joe Maring was a Senior Editor for Android Central between 2017 and 2021. You can reach him on Twitter at @JoeMaring1.
Just went I ported my number out of GV smh

Can't we already make Wi-Fi calls from Google Hangouts?

Yes, I too am confused...

whats so confusing? this is calls using google voice app itself

Yeah. And that leaves Obihai still working so not opting in to this just going to keep using hangouts while I still can.

So, I use Google voice primarily for visual voicemail. I occasionally use it as a landline at the house. However, when used it to make a call the other day if asked me if I wanted to complete the call via hangouts. I wish Google would make up there mind--voice, hangouts, allo or is it duo? Enough already..

I am very confused. We set my daughter up with a GV number on an old phone. She is able to call and text from Wi-Fi with hangouts. She doesn't have service if she doesn't have Wi-Fi so I'm not sure what this is fixing.

Welcome to Google's poor handle on communication services!

I suspect this is "fixing" the fact that you have to use Hangouts at all. Google's still working to phase out the "public" Hangouts - Hangouts Meet and whatnot will be the business-focused platform (their version of Slack, etc); Allo will be their Whatsapp competitor; Duo is their video-calling service; and Google Voice is turning into its own standalone service again (not depending on Hangouts integration). (Gee, how could that be confusing? [/sarcasm]) Eventually - someday - Google is going to sunset the standard Hangouts platform. That's when you're going to want to want these features in the Google Voice app, and that's why they're putting this together now. Until then, you should be able to just keep using Hangouts as you currently are. I preferred the all-in-one approach that Hangouts was, but it was surely absolutely massive and harder to support / integrate new features when there were so many things going on under the hood.

No. I will not be signing up for this beta. I use Obihai with a Google Voice number to make calls for no additional cost over my internet service (DSL from CentruyLink). I think anyone that pays for internet should be able to make VOIP calls for no additional cost instead of relying on an advertising company like Google to throw us a bone. Thank you for that Google, but please don't abuse my data that you take as payment.

I'm guessing this is for when someone has a GV number and travels overseas and can make a wifi call instead of having to make a call while roaming

Haven't used Google voice since I went with Fi. Something happened with my number that couldn't be fixed by anyone at Google, I tried. I ended up loosing that number forever. Was a sad day for sure.

I signed up, how does Google voice beta work? I see no changes

Go to settings then Make and Receive calls.

Has anyone gotten the email, or actually used wifi calling via Google Voice? It's been a few days now, and so far, no email, and no wifi option in the Voice app. This could be a good thing for me, as i work in the basement, and have no cell reception (which makes GV essential; cell phone calls ring my work phone, and I can see texts on my computer). As an aside, I've used Sprint's Google Voice integration for years now, so my GV number and my carrier number are the same. I have also used wifi calling on another phone abroad, and it is very useful for making calls without using international roaming.

I just got it today. Check it again should be working.

No problem making calls from the voice app after ticking "prefer wifi and mobile data" but I can't receive calls through the voice app. If I route incoming calls to my mobile number the phone app rings but I assume this is not a wifi call?

That is correct you would have to forward the calls to another calling app if you still want VoIP. So you might want to stick with Hangouts Dailer.

I'm in. Hangouts is a pretty big app, and having to use Hangouts Dailer means using two apps. Works well. I wasn't able to make calls at work so I figure they're blocking it on their end. Never had that situation using Hangouts Dailer so something has changed on the backend. But whatever, worked fine over mobile data. Most phones this shouldn't be a deal breaker but on smaller phones with 8 GB of storage I would recommend doing this and disabling Hangouts (or not installing it in the first place). Never liked Hangouts as the Google Voice integration was confusing and always required me to opt in when I installed the app, should have already been turned on. If you don't know what you're doing you'll be able to place calls but you won't be able to recieve calls, and you won't know why. I also unlinked my cellular number, so I'm not getting the call in both places. Not sure if you have to do that with the Google Voice app but I had to do it with Hangouts so I'm just in the habit. Google needs to fix the not being able to use buttons while on Bluetooth thing. Not really surprised because my calling apps never work when I'm driving anyway, as the car doesn't recognize those calls as coming through the phone's built in dailer, but I am curious that they even made mention of it.
Android Central Newsletter
Thank you for signing up to Android Central. You will receive a verification email shortly.
There was a problem. Please refresh the page and try again.