Google+ updated, includes bug fixes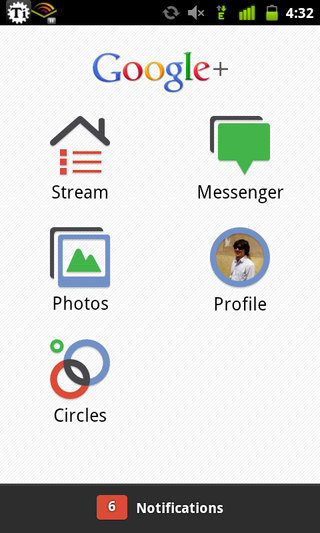 An update for the Google+ app is hitting the Market today that includes mainly bug fixes. There was a sizeable update a few weeks ago and while this one is not as feature-rich, it is just as important.
Here is the changelog:
Fixed a bug that prevented installation on some devices
Improved messenger notification reliability
Numerous crash fixes
Disable speakerphone when headset is plugged in for hangouts
New translations
If you don't see the update now, it will be rolling out to more users this afternoon. If you don't have the app yet, check the links after the break and make sure to follow your favorite writers from Android Central!
As always, if you have questions or comments about the app, please visit our Android App Forum.
Android Central Newsletter
Get instant access to breaking news, the hottest reviews, great deals and helpful tips
I have a DInc2 and whenever I receive a message through Messenger my notification light does not illuminate. Is this the same for other phones or is there a glitch with my install?

If we have the leaked G+ for ICS... are the bug fixes worth the update? or just wait for the official version numbers to catch up to the leaked version?

Thanks for asking :)
anyone?
+Jerry?

I'm on the leaked ICS build, so I'm not upgrading on my phone or tablet. However, I have also noticed that the iPhone app on my iPad has +1 enabled for post comments, but it's now enabled for the Android app. I'm pretty ticked about that.

I wish they would fix the dam auto upload issue. Every couple weeks it just stops uploading any pictures or video. Only way to fix it is to uninstall and reinstall again, but then you can upload what you missed without uploading anything else you already have. Wish they would have a way to pick folders rather then all or non.

I have the leak 2.0 version too so no reason to update it now :)

Actually the reverse is true. A Story on TheInquirer.net claims that Google plus has lost 60 percent of its active users, most of which are returning to facebook.
http://www.theinquirer.net/inquirer/news/2115879/google-loses-cent-activ...

Nobody is using Google+ and the app is such a fatass so I uninstalled it. I don't like moving things to SD for performance reasons. Apps on SD seem to lag a bit, IME.
Android Central Newsletter
Get instant access to breaking news, the hottest reviews, great deals and helpful tips
Thank you for signing up to Android Central. You will receive a verification email shortly.
There was a problem. Please refresh the page and try again.