Google TV - Sing your heart out with the new karoke channel!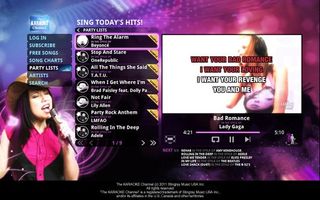 Since Google TV 2.0 has been rolling out, a lot of new apps are being added to the mix. One of those apps will help you channel your inner rock star or maybe your inner pop star. Yes, the Karoke channel is now available for Google TV.
With the app you'll have access to the Karoke channels library of over 8,000 licensed, high-quality songs available for streaming to your TV with full video in HD. A subscription will be required to access the full library of content but the free song list is updated often so that you always have some fresh songs to be rocking out to. Full press release is past the break for you or you can hit the source link for more details.
Source: The Karaoke Channel
GOOGLE TV SINGS KARAOKE!
The KARAOKE Channel App now available for Google TV
Montreal, November 2nd, 2011-Stingray Digital, an innovative Montreal-based media and technology company, officially announced today the availability of The KARAOKE Channel App for Google TV. Designed and optimized for the large screen experience, this easy-to-use app delivers 1000s of high-quality HD karaoke videos to television sets instantly through Internet streaming.
"Stingray is thrilled to launch The KARAOKE Channel App for Google TV", says Eric Boyko, President and CEO of Stingray Digital, owner of The KARAOKE Channel. "Google TV owners will be the first to experience the best karaoke experience of both worlds: HD karaoke videos displayed on large screen tvs with the catalog, features and convenience that Internet streaming allows on the Google TV platform".
The KARAOKE Channel App is designed for large screen TVs and is optimized with a streamlined interface to ensure ease-of-use. The refined navigation makes it quick and easy to browse, search and play songs. The app is perfect for a party night, with a full screen mode for the full karaoke experience, as well as the ability to queue songs and a selection of playlists to keep the party going and going. The app instantly streams content to TVs connected to the Internet via computers, game consoles, set-top boxes or web enabled TVs, thus taking full advantage of The KARAOKE Channel's library of 8000+ licensed, high-quality songs.
The app offers a selection of complimentary songs in the style of such artists as Lady GaGa, Michael Jackson and Taylor Swift, to name only a few. The free song list is updated regularly to ensure there will always be new and popular songs for everyone to sing. The entire catalog of more than 8,000 songs is available by subscription.
About The KARAOKE Channel
The KARAOKE Channel, with a library of more than 18,000 professional quality karaoke songs, has been spreading the fun of karaoke on TV as a video on demand service available in more than 50 million homes worldwide, online with The KARAOKE Channel ONLINE community and download store, and as a mobile app for iPhone and iPod touch. Major television service providers offering The KARAOKE Channel Video On Demand include: Comcast, Verizon, AT&T, Charter, Cox and many others in the US; Rogers, Shaw, Videotron, Cogeco in Canada; and Virgin Media in the UK among others worldwide.
For more information, visit www.thekaraokechannel.com
About Stingray Digital Group
Stingray Digital is a leader in interactive music distribution. Our properties include:
Galaxie, the leading digital music service on TV in 10 million homes in Canada and in the US,
Music Choice Europe, a digital music service delivered to over 10 million homes in Europe and Africa,
The KARAOKE Channel, the world's largest licensed karaoke library and karaoke service on TV with 50 million subscribers and on the Internet,
Concert TV, a VOD service distributed to 30 million homes in the US and in Canada,
Stingray360, a leader in sensorial marketing solutions for businesses,
Stingray Music, music licensing for film, television, advertising and other uses.
Stingray Digital is financially backed by Telesystem and Novacap and headquartered in Montreal. Stingray Digital has 136 employees in offices across Canada and additional offices in Los Angeles, Budapest and London, England.
For more information, visit www.stingraydigital.com.
Get the Android Central Newsletter
Instant access to breaking news, the hottest reviews, great deals and helpful tips.