Google rolls out Live Transit Updates for Maps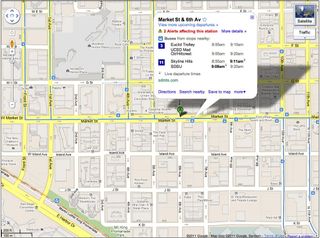 Starting today, users of Google Maps (desktop and mobile versions) will be able to see live transit updates, informing them if their ride is actually going to show up on time. Google's managed to make this magic happen by partnering with transit agencies in four US cities and two in Europe.
If you're living in Boston; Portland, Ore.; San Diego; San Francisco; Madrid; or Turin, Italy; you'll be able to take advantage of this service immediately.
Getting live data is as easy as clicking on a transit station or planning a transit route with Google Maps. Pretty cool, no?
If you live in a launch city, hop on your app and let us know how it performs. I'm sure this will be nothing but a boon to those who rely on public transit in their everyday lives.
Source: Google Mobile Blog
Android Central Newsletter
Get instant access to breaking news, the hottest reviews, great deals and helpful tips
Chicago please! do it, DO IT NOW

Fourth thru 1,000,000th. This would be a great app in a city that has such a massive rapid transit system as Chi-town.

New York here please make it happen ASAP!

IF ALL OF YOU THINK THAT UR CITY NEED THIS ....I CAN SAY THAT U NEVER HAS BEEN DRIVING IN MIAMI.......PLEASE DO FOR MIAMI LIKE NOW :)

Google just called me, they said they don't care.

Seriously? Miami? Florida's biggest problem is seniors who don't know how to drive! FL is the place where old people go to die.

Drove in Miami for a long time. New York is a helluva lot more congested than anywhere over there. Hell, Long Island is even more so than Miami. I'm sure it's the same for chi-town.

Sure you're right about Chi-town. Even our suburbs, serviced by a massive rapid transit Metra system, are a driving nightmare.

i never been in NY but i guess that 36 celcius driving (miami)....its not fun

awesome, i live in San Diego so thats cool

Shweeet! Very helpful especially in Downtown San Diego. It's featured in the video too.

Easy one for Boston - The subway is always running late!

Portland here, works nice. Take that LA and NYC. :)

Minneapolis/St Paul needs this. Our Metro Transit has NexTrip...and it's OK, but integrating that info with google maps would be so much awesome!!

I'm going to move to Boston just so I don't have to own a car. And I can use this app to get where I need to go on time. That's a pretty excellent concept.

I don't know about Chi-town. The CTA might not want it documented how the L sucks so badly.

This is pretty awesome, I already use Google Maps to plot trips via Trimet in Portland. Now I wont have to visit the mobile site for Trimet to see arrival times. Google rocks!

Come on Chicago! This is a must have? I have apps on my phone that give me live Chicago Transit Authority (CTA) updates. Google Maps should be able to implement this easily.

Virginia beach please and charlotte

Awesome. Now I can get rid of Anystop, which never actually had the correct time. So glad that SD was in the initial cities. Awesome idea Google!

Has anyone actually used this yet? I can't imagine it's going to be as useful as it could be, at least not yet.

I tried it about an hour ago. It was right on the money. That's probably why they only rolled it out in 4 cities though...to make sure that real time tracking wouldn't be to difficult to do.

Can't wait to try it! Glad I'm in SD.

I live in NYC. Our Train system caries over 4 Million people per day. And at least half of the system is underground. The MTA does provide "live" service alerts by email. Integration into Google maps should be easy yes????.......right.

Does this mean that it will also improve road transit and perhaps reroute in anticipation of trains that block intersections for a long period of time? That would be absolutely AWSOME!
Android Central Newsletter
Get instant access to breaking news, the hottest reviews, great deals and helpful tips
Thank you for signing up to Android Central. You will receive a verification email shortly.
There was a problem. Please refresh the page and try again.