Google is rolling out RCS to all Android users in the U.S. today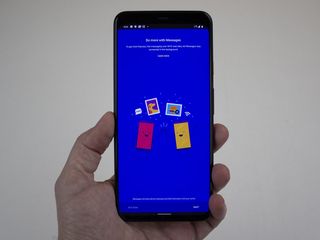 (Image credit: Android Central)
What you need to know
Android users in the U.S. should start seeing an option to enable RCS starting today.
RCS functionality will require using the Messages app from Google.
It provides users a richer messaging experience with the ability to send messages over Wi-Fi, see typing and read receipts, share high-quality images, and more.
RCS is finally coming to Android users in the U.S. This time, officially, and without the need to wait for carriers to stop dragging their heels and finally supporting it. Google's finally putting its foot down, and sidestepping carriers in the U.S., nearly five months after it tried the same thing in the U.K. and France.
With the new way to chat, you can send messages over Wi-Fi instead of SMS, and can also share higher quality images and videos with your friends. RCS even enables group chats, and shows typing and read receipts, à la iMessage. There are a number of other features that will remind you of full-fledged messaging applications like WhatsApp and Telegram, though the difference here is that Google's implementation does not require you to be tied into any single app or platform. It'll work across devices and carriers; think of it as SMS on steroids.
RCS functionality will roll out to users in the U.S. starting today, with Google saying it'll be broadly available across the country by the end of the year. You will need Google's Messages app in order to partake in the new messaging experience, and the Android maker will start prompting users to enable RCS on Messages in the coming weeks. If you don't want to wait till that happens and want to get started right now, though, head over to the Messages app and see if you get a 'Do More with Messages' alert. Click on it and follow the steps below to turn on RCS:
Open Messages Messages Logo Round.
On the notification that you can "Do more with Messages," tap Get Started and then Next.
You'll be asked to let Messages stay connected in the background. Tap Yes.
If you don't have Messages on your phone already, you should be able to download it from the Play Store.
The company ended the announcement by stating it will continue to work with its partners, including carriers, to ensure consistency and interoperability, meaning Google's RCS implementation will work with whatever Verizon, AT&T, T-Mobile, and Sprint's Cross-Carrier Messaging Initiative (CCMI) cooks up by next year. It also promised that while RCS is currently only supported in France, Mexico, the U.S., and the U.K., Google will start rolling out its revamped messaging experience to users around the world soon.
Get the Android Central Newsletter
Instant access to breaking news, the hottest reviews, great deals and helpful tips.
Finally! No waiting for, or having to use crappy CCMI.

Has anyone received this update yet?

Yes, I have. Note 10+ running Android 10 (beta)...

Was a tad surprised when I saw the notification in my Messages app considering I'd been using that beta "hack" from a few weeks back. Good of Google to make it mainstream regardless of carriers' support, or the lack thereof. This is how it should have been done not just for RCS, but for their OS and security updates as well...

Ok, so I won't have to revert the "hack" to get this (whenever they decide to roll it out to me)?

Would love to know this also...

I hacked mine weeks ago and today received the update. I didn't have to undo anything.

No, I didn't have to revert anything. Got the RCS setup pop-up again once I opened the Messages app even though I had the "hack" and went through a quick "install" as if I never had it before...

Do we know which phones will support it or is it based on your Android version?

Not sure if it's been like this all this time but Verizon Note 8 in settings under Chat Features "Chat Features unavailable for this device. Your carrier does not currently support this feature.

I've gotten that same error message too

Up and running S10 on Sprint.

Sprint always had it past 3 years.. I have it with Samsung app

'bout time.
I have the Note 10+ with the beta "hack" for messeges. I have not received an update. I uninstalled messeges and reinstalled it. That reset the "hack" but no official RCS yet for me.

If you uninstall the beta version to the prod version do you lose your messages or are they backed up and appear in the prod version

You should keep all your messages since they should also be kept on your device locally in a 'cache' as well.

You will not lose your messeges. Even if you delete the app and install another messenger app, you messages will transfer.

I spoke too soon. I am able to enable chat now.

Do you guys know if you need voice over LTE and Wi-Fi calling in order to be able to use RCS features

Can read receipts be disabled? Hate dry snitching.

You should be able to buy going into chat features

When I opened my messages app I was able to turn on chat features but when I went back to it, it says chat features are unavailable, anyone wise having this problem?

Same problem here with my OP7P.

I wish there was end to end encryption, but that's just not a Google thing.

Let me get out of the beta program and see what will happen

You shouldn't have to get out of the beta. The beta app just gives you new features soon within the app. RCS is present in the background regardless.

Can somebody explain to me how this is any different then WhatsApp or telegram?? If I use Samsung's SMS app would it work? Or if I would sent from Google's app a rcs message to somebody using a Huawei or xiaomi phone that also use their own stuff. How would they get it? For me this is just another messaging app that Google releases, that nobody is really using

What about thouse of us who you google voice sms ?

> What about thouse of us who you google voice sms ? I don't get any answer to this question on any Google-loving site, so I suspect, we are not getting it... I guess carriers suck and that includes Google-with-the-carrier-hat-on.

******* yes! I'm glad Google is doing this! I always hoped they'd see how many of us flipped the switch ourselves and just bypass the carriers!

What about Canadians? Does the Google Play Store in Canada have a different version of the app? Or does it just not work with CDN carriers?

only select carriers do, Bell only supports the samsung phones, Rogers has it across the board , as does Freedom, i heard the other day Telus has it now too. Im stuck on bell with a Pixel 2 XL

Some carriers in Canada do support RCS in Android Messages, Freedom Mobile for example and Rogers, I believe. What no one seems to be mentioning though is that Android Messages doesn't seem to support Emergency Alerts. There are no settings in the App for them. I had to resort back to Samsung Messages in order to setup the Emergency Alerts.

yes it does, go into settings, press advanced and emergency alerts is right there

I beg to differ as when I go to Advanced under Settings in my Samsung S10, there is nothing referring to Emergency Alerts. Thanks

I don't know what to tell you then. I'm on my Pixel 2 xl and it's right there. Maybe it's a Samsung issue. Maybe it's handled OS wide

I think it is a Sansung issue. The settings show up in the Samsung Messages app, but if you don't like or use their app, in this case, you won't get the alerts. If it was under the phones system settings, then it wouldn't be an issue. Just shows you how different vendors work to have you use there apps, whether they are good or not. Thanks

So USA and Mexico have it? so they skipped over canada ?

"I can see you typing on my phone". It's like the old days of IM.

How do I get this? I'm on ATT. When I go to chat features if just tells me my carrier doesn't support it. I am in Google messages app

Gotta wait probably couple days. Only 1% of users has it day 1

I had to install the beta for RCS to work on ATT.

So I installed the beta. Still nothing... I actually got it to prompt me, but never shower up.. weird

Too bad they did it after I switched to iPhone from Android :) but messaging wasn't only the reason I switched and I am still keeping my older Pixel 2 XL as backup and navigation device because built-in Google Assistant run circles around Siri or iOS GA.

Do you enjoy the new iPhone? I am thinking of jumping ship also

Not working on Cricket. I got the prompt to enable chat features last night and since then it's been stuck on trying to verify phone number. Running a OnePlus 5T by the way.

I wasn't able to enable it yesterday, got the your carrier doesn't support. Late last night I was. This morning I was checking to see how I did it to tell a friend, now it's back to your carrier doesn't support. Odd

how do i know if i already have rcs?
I've been able to see 'sent', 'delivered' typing indicators, chat in settings, etc for months. i dont think i have full res pix or videos though

I had it but then lost it. Now it says my carrier is unsupported.

I couldn't get it (am on VZW). Joined the beta which downloaded the beta, then was able to switch it on. Within a minute (probably as soon as it hit VZW) I get the "is not supported " message. FU VZW

I am on VZW and am on the beta and I have no issues with it. What I want to know is if these features will be coming to 3rd party app.