Google Play Store now accepting PayPal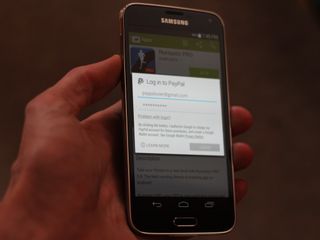 Google is adding PayPal as a payment option for Play Store purchases starting today! Just tap through on a purchase and pick your new payment option. The roll-out is just starting today though, so it might take awhile to to live in your area. These are available in 12 countries, including U.S., Germany, and Canada. In addition, carrier billing and Play Store gift cards are getting expanded international support, so they're now available in 24 and 13 countries respectively. Speaking of currency and going international, developers can now sell in 13 new countries and added 28 new currencies.
Getting PayPal as a Play Store payment option is a big deal and a long time coming. Between this, carrier billing, and Google Wallet, there's just about every method of paying for apps you could possibly want. Increased international support is great too, of course.
Source: Android Developers Blog
Simon has been covering mobile since before the first iPhone came out. After producing news articles, podcasts, review videos, and everything in between, he's now helping industry partners get the word about their latest products. Get in touch with him at simon@futurenet.com.
Does this mean you can now purchase from Google Play using the S5 finger scanner?

The first thing that popped into my mind.

Can we make purchases with Google wallet at a store that will be paid with our PayPal account?

If you get the PayPal debit card, you can do this already.

Ditto. Hasn't rolled out to me yet so I'm not sure. Would love this. Posted via Android Central App

Will you be able to use it to purchase hardware though?

No hardware or accessories - so meh..

oh my, this is trouble. anyone with bill me later will go on a never ending shopping spree. until they tap out.

Lol! Posted via Android Central App

S5 with soft screen buttons.. Posted via my HTC One M8

There are plenty of custom ROMs that allow for on screen keys.

I can't think of any custom ROM that gets rid of the physical buttons.

Paranoid allowed me to have soft keys on my old galaxy s4

But did it make that physical home button fade away?

That'd be impossible. Not sure the point you're trying to make.

I thing he's saying he wants Samsung to finally make phones without hardware buttons. Getting rid of them gives more space for screen real estate while keeping the phone the same size.

Bingo! Yep, I was just proving a point. No software can get rid of those hideous and unnecessary physical buttons.

I prefer hadware then soft ones.
Always accessible even in full screen apps and doesn't take useful screen space. Posted via Android Central App

I think i have seen something like that in gravitybox on android, give it a try. i can't remember what it was called like but i think i have something what you are looking for.

You don't even need a custom rom, if you have root you can install an app like softkey enabler. I was just pointing it out. Posted via my HTC One M8

So everyone who was complaining about comiXology dropping Google wallet can stop now right? Posted via Android Central App

My main complaint with comiXology dropping Google Wallet support was the fact that I can no long use my gift cards for Google Play to purchase comics. Google adding PayPal as a payment option does nothing for me.

But what does this actually mean? Paypal is everywhere, how does it help having it in Google wallet? Serious question. Posted via Android Central App

You can now buy apps without a credit card; that opens up the Play Store to a large new group of customers in Europe Posted via Android Central App

Did they stop the Free Song of the Day thing? I haven't seen any on the Music home page for about a week now.

I was wondering what I was going to do with my left over PayPal balance... To the Play Store! Posted via Android Central App

In the UK you can't use Amex as a direct payment method with the Play Store.
If PayPal is coming to Play in the UK, this means I can now use Amex - ace!

I was waiting for this, now I don't have to buy Google gift cards for my family account. via android central app

Meh?
Get a PayPal debit card and use your PayPal balance.
Allow it to pull from a credit or debit card and you can use PayPal to buy hardware from Google.
I've had a PayPal debit card link to my Google account for a while. No money in PayPal means no purchases since I don't connect it to a credit card. So this is a story, why?

Awesome, one less place to share my credit/debit card info. Or I can just buy a gift card when needed and not have more risk of someone buying with my money. Posted via Android Central App

Interesting that eBay doesn't allow Google Wallet for payments (just PayPal and a few other things most people don't even know exist), but that Google will now allow PayPal (eBay) on their Play Store.

Google had much more to gain by allowing PayPal. Posted via Android Central App

nice. haven't used my PayPal in years.. been using Google play cards. Posted via Android Central App

Yeah, great. Now we just require the 'purchase app for others' facility and all will be well.

Sideloaded the new Play Store and the Paypal option is not there on my Verizon Note 3. SO I loaded it on my Wi-FI Note 10.1 and set up Paypal option. Now I have the Paypal method available that I set up on my tablet but not Paypal option at the very bottom.
Android Central Newsletter
Get the best of Android Central in in your inbox, every day!
Thank you for signing up to Android Central. You will receive a verification email shortly.
There was a problem. Please refresh the page and try again.