Google Play Movies & TV now available for Vizio smart TVs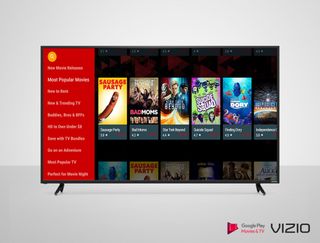 Google has announced its Movies and TV application is now available to Vizio TV owners.
Vizio previously used Google Cast as the only smarts for its TVs, but the company rolled out an actual interface for the TVs earlier this month following customer feedback. The company was also fined $2.2 million by the U.S. Federal Trade Commission for improperly collecting customer data and selling that data to data brokers.
Google Play Movies and TV is also available for Samsung's smart TVs, LG's WebOS TVs, Roku and of course, Android TV and Chromecast. Play Movies and TV also integrates with Disney Movies Anywhere, and most recent Disney releases come with a code for a digital version of the movie that can be added to a Play Movies and TV library.
Learn more about Google Play Movies and TV
Android Central Newsletter
Get instant access to breaking news, the hottest reviews, great deals and helpful tips
Are there age/model limitations to this?

So far only 2016/2017 models are getting the new interface. But who knows.

I noticed this app on my 2014 E-series about a week ago.

So while we're on the topic of Google Play Movies - can I tell you how frustrating and bad it is to try and buy UHD content for streaming services right now - Google Play included. One, nothing is clearly marked as having UHD support - it relies on you clicking the movie and then reading the icons to figure out if it even has UHD support. HDR is mentioned similarly - but now, you have the wonderful predicament of figuring out which type of HDR is involved and Google doesn't make that easy. Here's an example: Guardians of the Galaxy 2 went on sale this week for digital. You can't actually buy it anywhere but Vudu if you want the UHD version - and the UHD version only supports Dolby Vision (which limits you to having 2 types of TV's that can play Dolby Vision content both are super high end, so I'm not sure why this was even included in the early release). As I mentioned, you can't actually buy the UHD version on the Google Play Store (which is frustrating since that's where all my Disney/Marvel movies are because the family share thing owns all), so fine - I remember that Vudu is purported to sell the HDR version - which is only going to work on one TV in my house - so I buy it, and since I have it show up in my Google Play account - because dumb me forgot I linked the two accounts because Disney. So I go play it on my Google Play app...but no...I can only watch it there in HD with no HDR. Flip over the the Vudu app - yep, 4k HDR. Curious, I go look at my non-LG TV that's HDR equipped (a Samsung KS9k) and I can stream it from Vudu, but no HDR - since Dolby Vision is supported - there's no HDR10 support...what the actual hell? So let me outlined what I learned about Guardians of the Galaxy 2's release schedule and all of the different versions you're going to have to choose from: DVD - No brainer, worst format but that makes sense Blue Ray - 1080p, no bells, no whistles - just a straight BR UHD BR - this one will come out end of august - true 2160p support with HDR10 only - wait what? Dolbyvision isn't supported on the disk? Nope - you have to buy... UHD DIgital "VUDU" - will be the only way to get Dolbyvision support at all - none of the disc versions have Dolbyvision UHD Digital "everyone else" - like the UHD BR - only HDR10 support - that's right, the only way to get Dolbyvision HDR is through VUDU and here's the real kicker When you buy the UHD BR - which normally, automatically you get a digital copy - you're only going to get the HD version of that when you log into your streaming app. Holy cow...can this be more confusing and/or dumb... Z

Yeah, the current setup to find UHD/HDR content is a hot mess right now. I wanted to add that the TCL P605/607 is probably the best budget tv right now; it supports dolby vision and HDR 10.

Still no YouTube TV app for Android TV. How is this still a thing Google?

There's a YouTube app on my Android TV box.

I don't know the year of my Vizio's manufacture because it's already third-hand (it identifies on the network as "Vizio_D24-D1" if it helps. I wish I could give it a personalized network name.), but I noticed the Play Movies & TV app in the "store", and watched a movie on it. Well, most of a movie. The stream collapsed in the third act and I switched back to streaming to my Chromecast (which annoyingly takes up the one HDMI port on the thing, but I need it for Videostream because the LAN videos application is garbage as well as other things there aren't apps for). I'd love it if my tv had Chromecast inside as well as its own apps, because I hadn't realized how much I missed being able to navigate on screen with the remote, but I also like being able to throw a stream from my computer or phone if the apps can't cut it.

I hope the audio quality is better than it is on LGs WebOS TV's. Google hasn't fixed the problems in over a year. You tube is the same. Google is still struggling when it come to streaming media in my opinion. Netflix really has it down, everything is smooth, their are previews. It is more immersive than Google Play on any platform.

We have internet at the river and it's not the best. Netflix works and Google Play movies does not...I get error 315 on Google Play

If only Vizio were on sale outside the US
Android Central Newsletter
Get instant access to breaking news, the hottest reviews, great deals and helpful tips
Thank you for signing up to Android Central. You will receive a verification email shortly.
There was a problem. Please refresh the page and try again.