Google Play Movies expands to over a dozen new countries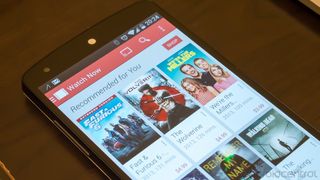 27 countries in total now have access to the expansive movie collection
Google Play is expanding its reach for Google Play Movies to 13 new countries today. That brings the total number of countries served by the movie service to 27, which is a solid number considering the deals that likely have to take place to make that happen.
Antigua and Barbuda
Belize
Botswana
Fiji
Hong Kong
Jamaica
Nepal
New Zealand
Papua New Guinea
Sri Lanka
Tanzania
Trinidad and Tobago
Zimbabwe
Unfortunately, Google Play TV shows is still lacking in its distribution, only being available in the U.S., U.K. and Japan at this time.
Source: Google Support
Andrew was an Executive Editor, U.S. at Android Central between 2012 and 2020.
Ay another Trini! The movie selection is horrible though, I am just glad to see we are getting more Google services though.

Trinis unite! :) i saw the movies selection mysteriously pop up in the Play store last night, I was wondering how come. Now it's confirmed.

Hopefully, if it ever comes to Denmark, it will have a wider movie selection than Netflix. Then again, Netflix wouldn't take too much effort to beat. Still hoping. Posted via Android Central App

It's not a subscription service.. Any single film will cost you more than a month of netflix (2 months for HD movies) so it doesn't really compete even though it has a much better selection. Netflix is cheap but you pay for that in that it's 90% straight to DVD filler (unless you VPN to the US and use their catalogue, which is somewhat better, although doing that is legally suspect). I wait patiently for something in between.. Costing a little more but having recent (ish) movies. Posted via Android Central App

Thanks, I wasn't aware of that. Re: US proxies etc., at least the mass media here in Denmark claim it to be legal as long as you pay the bills, of course. Not that you can always trust those, though. But I find it to be quite cumbersome to use, or perhaps I'm doing something wrong :-) Posted via Android Central App

Seeing New Zealand in this list made me audibly utter "holy shit!".
You could say I'm impressed... Posted via the app, expect typos.

Finally a service available in Fiji! Posted via Android Central App

ZIMBABWE gets Play Movies before South Africa?!
So much for all those sanctions lol
Few Zimbabweans can even afford to buy food let alone Android phones and movies.

im equally pissed and disappointed too. zim before sa and botswana is in there..no fair

Lol yeah, and they have fiji but not Singapore o.O Posted via Android Central App

New Zealand :D Posted via Android Central App

Why doesn't any of these legal streaming/download sites like Google (books/magazines/movies/...), Netflix, Watchever, etc. come to LUXEMBURG...? Are there any weird laws that prohibit those things or are we just too small...? EDIT: Just as information: Luxemburg is a country in between France, Germany and Belgium, so it's in the centre of Europe.

9th! Posted via Android Central App

I agree with Simonicus..It doesnt make sense why South Africa with millions of Android users dont have access to it :-(

Google should make all their play services available everywhere. I know that it's not just on them but these slow staged rollouts are kinda frustrating.

Pretty sure that if they had that choice, they would make all content available everywhere. Posted via Android Central App

Jamaica. Finally. But what's up with Google servers, nothing syncs. I can't use the play store or sign in YouTube. Posted via Android Central App

Do they have an adult section? -----------------------------------------
Dammit man, I am a commenter not a clairvoyant!

Still not in Belgium. Google really seems to have an issue with Belgium. I had to drive to Holland to get a chrome book! No devices at all here.... What gives? Posted via Android Central App

Hell Yeah service in Jamaica ,thanks Tessanne!!!!!!!!!!

Too bad The Netherlands still doesn't have Movies and TV Shows, we've got the best network speeds over here, infrastructure is perfect. We should be on the forefront of new technologies imho.

Unfortunately, technology isn't all in these cases. Laws play a big part in it.

NEXT MOVE, RELEASE GOOGLE PLAY MUSIC IN JA!!

This is the exact reason why I like Google more than any other company like Apple or Microsoft as they actually believe there is a world outside of USA.Keep up the good work Google ;-) Posted via Android Central App from Nexus 7 2013

And still zero support for the middle east :/
We can't even publish paid apps. Basically Google's support is pathetic compared to Apple's itunes store. unfortunately.

Maybe it wasn't so hard for Google to get all of them at once. Perhaps they stayed at Holiday Inn last night.

Play Movies has a TERRIBLE library of movies and TV shows. Amazon , Netflix and iTunes for me. Sorry Google. the big print giveth, the small print taketh

Finally in New Zealand. Pity about no TV shows. Guess the local content providers guard their treasure chest like it was full of gold. Now all we need is access to the Play Store hardware. You hearing us Google??
Android Central Newsletter
Thank you for signing up to Android Central. You will receive a verification email shortly.
There was a problem. Please refresh the page and try again.