Audiobooks now available on Google Play without a monthly subscription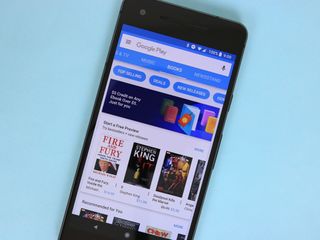 The Google Play Store is already Android's one-stop-shop for apps, games, movies, TV shows, and e-books, and now the digital marketplace is officially stepping into the world of audiobooks. There was a rumor back in November that this was in the works, but now you can head to the Play Store and start listening to your favorite titles.
Audiobooks will be offered alongside e-books within Google Play Books, and they'll be accessible on Android, iOS, and the web. Even better, if you have a Google Home or another smart speaker that's powered by the Google Assistant, you can just say "Ok, Google, read my book" to start listening right away.
In celebration of audiobooks hitting the Play Store, Google is offering tons of titles for $10 or less and is letting you get your very first audiobook for 50% off. Some of the discounted books include Fire & Fury, The Girl on the Train, 1984, and my personal favorite, Ready Player One.
Unlike services such as Audible, Google Play doesn't require a monthly subscription of any kind in order to purchase and listen to audiobooks. For someone that's been curious about trying out audiobooks but doesn't want to worry about another bill, that's a huge plus.
Audiobooks are available on the Play Store now in 45 countries and nine languages.
YouTube TV already has 300,000 users less than a year after launch
Android Central Newsletter
Get instant access to breaking news, the hottest reviews, great deals and helpful tips
Joe Maring was a Senior Editor for Android Central between 2017 and 2021. You can reach him on Twitter at @JoeMaring1.
You don't need an Audible subscription to get audiobooks. Amazon lets you purchase an audiobook at a steep discount if you buy the equivalent Kindle book.

Yeah, this.
You only need the subscription to Audible if you want the free book credits each month or the limited content they provide to subscribers. I own (and listen to) a bunch of audiobooks in Audible and I haven't had a subscription for many years.

Unfortunately it doesn't look like Google is offering a similar deal for their ebooks and audiobooks.

Yes, you can get the audiobook from Audible for a discount if you buy the ebook for Kindle, but the cost of the ebook and the audiobook is usually more expensive than the cost of the Audible subscription. Since I don't have time to sit and read, the ebook would be wasted on me and it doesn't save me any money to buy it. I do love Audible and my audiobooks. If Google has per book pricing that is similar or cheaper than Audible's 1-credit subscription pricing, I may consider switching to Google Play Books. It's hard to beat the pricing on some of Audible's subscriber-only audiobook prices though.

I looked at the book "IT" by Stephen King. It's $9.99 on Google Books, $37.99 on Audible.

"IT" is currently on sale at Google Play. Their regular price seems to be 39.99. Who knows what it actually will be after the sale. With a $15/month Audible subscription, you get one "free" book per month. Depending on how much time you put into "reading", it may or may not be a better deal for you. My guess is the optimal strategy would be to use Audible credits for long, expensive books, and Google Play for shorter, less expensive books. You don't want to use an Audible credit for a 2 hour recording, for example.

That's what I do with Audible. If I can get the book cheaper than what it cost me for the 1-credit subscription, I'll just pay for the book. I'm not going to waste a credit that cost almost $16 on a book that I can get for $10 out of pocket. This Google service now gives me another avenue to save money. I'm not going to use the credit or spend the money at Audible if I can get it at Google cheaper. Like I said in another comment, I'll be curious to see if they can keep their per book prices competitive with Audible's subscription pricing. That's the only way I can see them selling some of those audiobooks.

I think individual usage comes into play here too. $25 for a book you listen to over 3 months is probably better than $15 for that book plus $30 for credits you didn't use. It is worth knowing too that on Audible, if you have an unused credit, you can buy 3 more for ~$35. That brings the cost per book down further.

Interesting.... I just checked and I can't seem to find any audiobooks... Maybe need a store update?

Same here but mine is up to date.

Audiobooks are within the books section for me, no store update needed.

You don't need an Audible subscription to purchase audiobooks. Just buy any Kindle book and get the equivalent audiobook at a steep discount through Amazon.

How many times are you going to post this?

I pulled up Google Books and Audible and so far all of the audiobooks on Google Books are SIGNIFICANTLY cheaper than on Audible.

It's still cheaper to buy the Kindle book and audiobook together. You get a big discount on the audiobook that way.

Hopefully Google offers audiobooks at a discount if you own the equivalent ebook. I have a lot of books on Google Books and would hate to buy the audiobook at full price. Google has a long way to go to topple Amazon's ebook and audiobook monopoly.

Or get ebooks and e-audiobooks for free from your public library.

I do this all the time but depending on your library the selection might be limited and there is often a wait for popular titles so it's nice to have more options when you want.
Having said that support your local library.

Great that Google is offering another option for audiobooks. As much as I'd like to buy from Google, I'll be sticking with Audible as they offer an annual membership (24 books for £110) that's significantly cheaper than purchasing individually from Google. If Google were to offer a similar subscription then I'd go with them.

Well I had gotten a great deal on the Ready Player One ebook. I just bought the audiobook for $5 and change (Google Opinion Rewards credits applied - it was $6.99). Too bad the ebook and audiobook do not sync.

Audible does not require a subscription.

Audible also has a daily deal with a feature book at a very cheap price.
Android Central Newsletter
Get instant access to breaking news, the hottest reviews, great deals and helpful tips
Thank you for signing up to Android Central. You will receive a verification email shortly.
There was a problem. Please refresh the page and try again.