Google Play adds Game of Thrones, True Blood and other HBO programming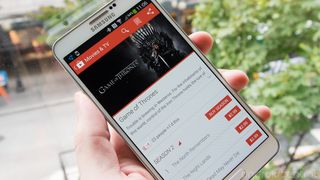 Google Play has added several HBO programs to its library, filling one of the larger gaps in its offerings up to this point. Starting today, you can purchase individual episodes or entire seasons of the most popular HBO shows such as Game of Thrones, True Blood, Boardwalk Empire, The Newsroom, Veep, Girls and The Wire. Prices seem to land in the range of $2.99 per episode and $34.99 for a complete season down to $1.99 per episode and $14.99 per season.
Although it has hit many of the big names in this initial release, Google Play says that it has even more TV, movie and documentary content coming from HBO in the future. For now, you can go get your hands on all of the newly released content at the source link below.
Source: +Google Play; Google Play Store (opens in new tab)
Get the Android Central Newsletter
Instant access to breaking news, the hottest reviews, great deals and helpful tips.
Andrew was an Executive Editor, U.S. at Android Central between 2012 and 2020.
Awesome! Love Game of Thrones. Hope we get up to date content though.

I love GoT. cant wait for S4

You won't. Most of the titles they mentioned are incomplete. For instance, GOT seasons 1 or 2 are only available. I don't understand why blogs simply regurgitate press releases without asking the most basic questions about what is going on.

I think it's because season 3 isn't "for sale" yet in any form. Amazon has the season being released for purchase in Feb 2014. The shows are current for what is available to buy.

I just wish we were able to use Google Play to see movies on our SDcards. I own those shows on bluray already and have them ripped to view on my phone already.

"ripped" therein lies the very reason for lack of SD card support Posted via Android Central App

open play movies-->menu-->personal videos

Strange but I'm not seeing this "personal videos" option on my N4 as I'd like to play movies from Google Drive. Running Cynanogenmod so I wonder if a rooted device doesn't see the full menu?

I've got it on my N4 running 4.3. Posted via Android Central App

Thanks. I'm only seeing the following options:
Refresh
Settings
Help
Contact Us
Send Feedback Under settings, still no personal video option.

Same here. Under settings. Personal Videos Posted via Android Central App and my Nexus 4 or 7

If not, well, a 3rd party video player takes up very little space.

Google Play movies works for me to see videos on my SD card. It's hidden but it does work (via the gallery) Posted via Android Central App

I wish we could rent them for half these prices. I don't need to own this digital content.

Half? When I can get 200 channels for a month for the price of one season on google play it'd need to be *way* less than half. Posted via Android Central App

Not sure what planet you're living on where you can get a month of cable with 200 channels for $35 per month (the price of a season of GoT on GP). And that especially isn't going to include the premium add-on of HBO, which is required to watch this programming. I see where you're going with this, but there's clearly two different value propositions at play here. One is a rental model where you're paying monthly and you stop getting content when you stop paying, and the other is a pay once own (essentially) forever. Posted via Android Central App

Excellent! That's one more set of content viewable via Chromecast! Posted via Android Central App

Yeah! This! Posted via Android Central App

Until they provide current content (Not currently doing so for Boardwalk Empire.) they will not stem the tide of pirating. I don't mind paying HBO for content but I will not pay a cable provider stupid amounts of money for content I don't want to watch just for the privilege of paying HBO for current content.

Now if only HBO would update HBO GO to make it compatible with 4.3. Posted via Android Central App

Now if only HBO would update HBO Go with a direct subscription model.

Maybe it's the reason why HBO GO doesn't work on 4.3?

This. We're used to Amazon telling Android users to go intercourse themselves, but where is HBO GO for 4.3? It's been out for months. It already sucks that you can't get HBO GO on PS3, just Xbox meaning paying the Gold toll, too. Transmitted via sheer force of will.

Seems a bit ridiculous to pay half the price of a months worth of netflix for one episode. The industry needs to reassess their entire monetising practices Posted via Android Central App

These aren't available on Netflix. Should the movie industry charge less because of what Netflix charges? Of course not. Netflix is a great deal, but it has very limited selections. When you purchase something on Play, you can watch it while offline. Good luck doing that with Netflix, or getting the latest movies or shows. They're different products in different conditions, what Netflix does is irrelevant.

Can you download TV and films to your PC HDD from the Play Store in the same way you can music? Posted via Android Central App

No idea, I've never tried.

Not really. I'm happy to pay netflix, but won't pay the extortionate prices for individual episodes or seasons. So I get them for nothing instead. As far as GOT is concerned, there is no way for me to watch other than torrenting. In the UK it's a sky exclusive. But that's a separate argument Posted via Android Central App

$30 for a season of GoT(9 hours of viewing) is extortionate? $3-4 for a video rental is extortionate?
That's not extortionate, those are pretty darn reasonable prices, well in line with old school video rentals or video prices. Are you actually THAT cheap? Or are you just a miserable thief looking for some justification?

Really good news. Now if they could catch up to Amazon in free individual TV episodes (the ones that Netflix doesn't carry), I could pretty much ditch my Kindle Fire. Paying $14.99 for the season of Game of Thrones (the only thing on HBO I really watch) is a lot cheaper than paying $15/month for HBO, too.

"Now if they could catch up to Amazon in free individual TV episodes (the ones that Netflix doesn't carry)"
There's a pretty god chance Amazon has exclusivity deals on those.

wish google play videos were subtitled as i'm hard of hearing. oh well, thank goodness for netflix and hulu plus and i'll just wait to rent the blu ray of GoT when it comes out.

Google Play videos do have closed captioning. I've used it before when watching Downton Abbey. Perhaps whether or not a show has captions depends on the network or studio who released it.

Ah, weird, guess the few things I've bought just haven't been lucky. I know that's another issue is it doesn't state what has cc and what doesn't prior to buying that I'm aware of.

Is this the reason why the HBOGo App still does not work with 4.3?!

Nice piece of kit you have there, friend.

Very nice! Posted via Android Central App on my Moto X

Great news. Posted via Android Central App and my Nexus 4 or 7

I just wish HBO Go was compatible with my Nexus 7 and/or my Note 3

If they would just make HBO GO compatible with Android 4.3 and Chrome Cast, this $hit would be irrelevant--for me at least. Posted via the Android Central App on my Note 2

Just get Google Music and Movies and Google Now to Sweden this century...

Looks like most the series are at least one season behind in terms of availability. Even seasons that ended months ago...uh, hm...GoT. But, at least its a starting point for HBO. Hopefully, HBO will see the demand for their programming in the Market. I know quite a few people in the last year or so that have cut the cord with cable and satellite companies over their expensive and overpriced service. This approach at least leaves the option for non-cable/satellite subscribers to still purchase programming legally and on a piece-meal basis to their own tastes.

Hrm... I would like to make the jump to digital, but I van pick up the blu ray for the same price and get bonus content with cast and crew commentaries. Why don't any of these digital offerings ever have the bonus audio tracks? Posted via Android Central App

Don't mean to sound like a dick but probably bc most folks probably don't care about em. Loving my ultraviolet database! Wonder if Google will ever jump on the UV bandwagon. It d be a nail in the Itunes coffin imho Posted via Android Central App

I agree, the only extra content I ever got on a DVD that was worth half a damn was the Making Of... stuff for Lord of the Rings. Posted via Android Central App

Whether you care about the special features or not more stuff > less stuff for the same price. Posted via Android Central App

Winter is coming. Posted via Android Central App

Yes she is, I could hear her from here. Posted via Android Central App

They need to make shows and movies that I have to watch on my phone or tablet cheaper or it won't be worth it. Posted via Android Central App

Was a time when these great shows were seen on youtube. Now it is their tube not our tube. Prices are sky high. I just don't understand 15-30$ a season? What do they drive and eat and sleep in over at Googleland? Has anyone ever told them about the pirates? Oh, the are the pirates lol. Forget that. I have been lovingthe torrents for 15 years man...Oh ya.