Google Pixel 3 XL vs. Samsung Galaxy Note 9: Which should you buy?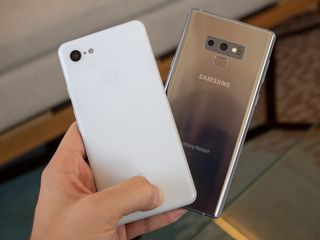 Google Pixel 3 XL
Google improved its hardware and jumped to a 6.3-inch 18.5:9 display. It's not just about size though since the display is dramatically better as well. The rest of the phone builds on all of Google's strengths: simple hardware, capable specs, smooth software, and an amazing camera experience front and back. It also added wireless charging and kept stereo speakers.
Google Pixel 3 XL
Large, high-quality screen
Great camera
Dual selfie cameras
Wireless charging
Guaranteed software updates
No headphone jack
Display notch
Samsung Galaxy Note 9
This is Samsung's absolute top-of-the-line phone, and it shows. It has a best-in-class display, top-end specs across the board and loads of hardware features. The cameras are great, too, and the S Pen is truly unique. You just have to take the time to configure and tame Samsung's software.
Samsung Galaxy Note 9
Best screen in the business
Great cameras
Headphone jack
Wireless charging
S Pen stylus
Cumbersome software
Slow ongoing software support
Though they're both high-end phones that command an equally high price, Google and Samsung have entirely different philosophies about what makes a great phone, so a lot of it comes down to personal preference. We compare the two in detail below.
What's the difference between the Google Pixel 3 and Samsung Galaxy Note 9?
With a handful of improvements this year, Google's Pixel 3 XL is more of a competitor to the Galaxy Note 9 than the 2 XL was to the Note 8. The Pixel 3 XL's screen is almost as big as the Note 9 and almost as good — it's indistinguishable in all respects except total brightness. Google has added wireless charging, a staple Samsung feature, and is IP68 water- and dust-resistant, just like the Note 9. They run on the same Snapdragon 845 processor and have all of the same supporting radios and chips elsewhere inside.
But still, Samsung wins in the spec battle in a few ways. The Note 9 has 6 or 8GB of RAM to the Pixel's 4GB, giving it more runway for performance with taxing apps in the future. Its 128 or 512GB of storage also beats the Pixel's 64 or 128GB, and Samsung still offers a microSD card slot. The Note has a regular 3.5 mm headphone jack, which is still preferable to using Google's in-box USB-C headphones — and the Pixel's better stereo speakers don't make up the difference. The Note 9's 4000mAh battery is a clear winner over the Pixel 3 XL's 3430mAh, both in capacity and overall battery longevity.
Image 1 of 7
Design-wise, these phones are very similar — they're panes of glass sandwiching metal frames. There are just two main differences here: the Pixel 3 XL is smaller and lighter, while the Note 9 has a curved screen on the sides that some people find it tough to handle. Being smaller and lighter is certainly a win every time, but whether the Note 9's curved sides bother you will be something you have to experience for yourself.
Swipe to scroll horizontally
Category
Pixel 3 XL
Note 9
Operating system
Android 9 Pie
Android 8.1 Oreo
Display
6.3-inch OLED
2960x1440 (18.5:9)
Gorilla Glass 5
6.4-inch Super AMOLED
2960x1440 (18.5:9)
Gorilla Glass 5
Processor
Qualcomm Snapdragon 845
Pixel Visual Core
Qualcomm Snapdragon 845
RAM
4GB
6/8GB
Storage
64/128GB
128/512GB
Expandable
No
microSD
Rear camera 1
12.2MP, 1.4-micron
f/1.8, OIS, PDAF
12MP, 1.4-micron
f/1.5 or f/2.4, OIS, PDAF
Rear camera 2
n/a
12MP
f/2.4, OIS, telephoto lens
Front camera 1
8MP, f/1.8, auto focus
75-degree lens
8MP, f/1.7, auto focus
Front camera 2
8MP, f/2.2, fixed focus
97-degree lens
n/a
Connectivity
Wi-Fi 802.11ac 2x2 MIMO, Bluetooth 5.0 LE, NFC, GPS
Wi-Fi 802.11ac 2x2 MIMO, Bluetooth 5.0 LE, NFC, GPS
Audio
Stereo speakers
USB-C
Stereo speakers
3.5 mm headphone jack
Battery
3430mAh
Non-removable
4000mAh
Non-removable
Charging
18W USB-C PD
Qi wireless
Quick Charge 2.0
Qi wireless
Water resistance
IP68
IP68
Security
Fingerprint sensor
Fingerprint sensor
Iris scanning
Dimensions
158 x 76.7 x 7.9 mm
184 g
161.9 x 76.4 x 8.8 mm
201g
Colors
Just Black, Very White, Not Pink
Midnight Black, Ocean Blue, Cloud Silver, Lavender Purple
The bigger differences between the phones are more nuanced ones: camera performance and software experience.
Right off the top, I'll recognize that both phones have fantastic cameras and take really good photos. Any differences noted between the two are either small, minimally consequential, or simply a matter of preference. That being said, if I have to put my foot down on one I'll say the Pixel 3 XL takes better photos overall, the reason being that the Pixel consistently takes more eye-pleasing photos with more accuracy and more lifelike representation of scenes. The Note 9 is certainly capable of these kinds of shots, but tends more toward upping the colors unnaturally and overly smoothing details to an unrealistic level of sharpness. The photos look amazing, and you may even prefer them that way, which is why it's really tough to pick between these two.
When it comes to portrait mode and zooming, things are about a wash even though the Note 9 has a second camera to work with. Google does amazing things with just one camera, making digital zoom and portrait mode look just as good as what Samsung does with a single lens. Where Google has an upper hand is in selfies, where its secondary camera provides an actual portrait mode for front-facing shots, as well as a wide-angle view, whereas Samsung sticks with a single camera — but in either case, you get great selfies with a high resolution and auto focus.
Now, software. It's no secret that Google goes with a simpler, cleaner approach than Samsung. You don't get as many features, but you definitely get an easier-to-understand software experience that's faster to pick up and figure out whether you're a novice or a pro. The features Google chooses to include are easy to "set and forget" so they're not getting in your way, and you don't feel like you're spending time in menus and settings to get the phone to just work. On the other hand, those are all things you have to tread through with the Note 9 — the upside, of course, is the customization angle, so you can get the exact experience you want. If you work at it, you can leverage the dozens of features to accomplish even more without installing apps. And that dovetails right into the discussion of the S Pen, which is something without equal on the Pixel side.
With either one of these phones, you get a high-end hardware experience with the latest specs and hardware features. You get a great camera, plenty of power, really nice design and so much more. The question is whether you want the extra bump in specs and features on the hardware side, and are willing to give up Google's preferable software experience to get it.
Pure Google
Google's best-ever phone
Phones are large nowadays, and Google's Pixel 3 XL is no exception. A 6.3-inch OLED screen is dramatically improved from the Pixel 2 XL, and the rest of the experience builds on Google's strengths: awesome software, great performance, innovative camera features, and guaranteed updates.
Mighty S Pen
The do-everything flagship
Samsung's "more is better" approach is in full effect with the Note 9. It has a packed spec sheet, all of the hardware features you want, and tons of extra software to support it. Plus, it has an S Pen stylus and a huge battery. It just lacks some of the polish you get from Google's Pixel line.
Be an expert in 5 minutes
Get the latest news from Android Central, your trusted companion in the world of Android
Andrew was an Executive Editor, U.S. at Android Central between 2012 and 2020.