Google Photos can now help you save space on your phone by easily deleting backed up photos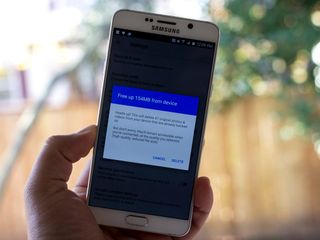 Google Photos now makes it even easier to find the pictures on your phone that are using the built-in storage and are already backed up to the cloud. The process is super simple, all you've got to do is update the app to version 1.9, then head to the Settings. A tap on "free up space" will begin the search, and then the assistant will tell you how much space can be saved.
From here, you'll be able to take action and delete the local copies of these files to save some internal storage, or cancel to keep them locally. Once deleted from the phone, they will remain in the cloud, and you can redownload them at any point if you need.
Whether your smartphone has limited storage, or you just don't see the need for the duplicates, this makes cleaning them up a whole lot easier. You will need to download the latest update, version 1.9, from Google Play (opens in new tab) to enable the functionality. How much space can you save with this feature? Let us know in the comments below.
Source: +Google Photos
Jared started off writing about mobile phones back when BlackBerry ruled the market, and Windows Mobile was kinda cool. Now, with a family, mortgage and other responsibilities he has no choice but to look for the best deals, and he's here to share them with you.
I really like this photos app. Keeps getting better and better. Posted via the Android Central App

Not seeing the update here on my Moto X 2014 - but this will be a welcomed addition for sure!

No update available for me yet. Looking forward to this one. I hate sorting through the internal storage and figuring out whats local and whats in the cloud.

Why does the device folders take like a minute to load each time

I wonder if this update will prevent Photos from mysteriously re-downloading pictures that were previously deleted from my phone. Has anyone else experienced this?

It downloads them, or it merely makes them visible for you? I've never seen Photos download anything. But everything I have backed up since the beginning is immediately accessible via any device.

It downloads them directly to my phone. I'll look back and see photos I have deleted months prior. Looks like I'm not the only one :/ Posted via the Android Central App

I have. It's so annoying. Posted via the Android Central App

I had the problem on my Moto X and also have it on my Nexus 5x. It's rare but annoying.

Darn. I'm on a Moto X 2014. I was hoping it might have been a device-specific bug. But if it's doing that on a Nexus then.... nope. Posted via the Android Central App

Just got the update on my Note 5. I really like this option Posted via the Android Central App

Looks like its available for android tv now as well

Another score for Google. I really like their services and apps. I'm on an S6 Active with only 32GB of internal memory, and after the search, I can free up 4.29GB.

Thanks for this. Update is not yet available for me...but I'll be looking out for it.

I just got it and It's nice!!

6.86GB!! While I don't need the space on my 32GB Droid Turbo (at least, not yet!), this will be a super handy feature for my wife's paltry 16GB Moto X that has maxed out its storage multiple times the last few weeks.

It's a shame we even need to talk about saving space. Perhaps if the trend weren't going towards eliminating expandable storage...

Consumers have spoken. They don't care. Posted via the Android Central App

Well it might make a comeback now with Storage Adoption in Marshmallow. Especially with low to mid-range phones where cheap extra storage is needed. Posted via the Android Central App

I don't want the pictures in two places. I love the update. Thanks Google. Samsung Galaxy Note 5 AT&T

Quick question...I'm android through and through, but does anyone know if this feature is built into the google photos app for iOS? My kid takes a gazillion pictures and video on her ipad and runs out of space quickly. I got her the google photo's app to back them up, but periodically we still have to go through and delete them on her device. It would be nice if it could do that for her....but given the limitations of app permissions on iOS I'm guessing the answer is probably NO. As a NEXUS owner, this is not an issue as the photos app is the only gallery on the phone.

Not an option on iOS yet... I have the iphone 6plus and sadly can't do that... yet

So I downloaded the 1.9 APK but I am not seeing this option in settings.

Likewise on Nexus6P Posted via the Android Central App

On my Nexus 6, it's in the Settings and you click on the "Free up device storage" tab. I'm not sure why it's not showing up for you. Posted via the Android Central App

Nope, no tabs in settings at all?? Perhaps not rolled out in the UK at the moment, other half's Nexus6P doesn't have the option either. Oh well, perhaps needs enabling Google end, sometimes takes time as I'm a google apps user. Posted via the Android Central App

Same for me on the 6P here in the US, no option listed to do this and confirmed on 1.9 version of photos app.

US 6P here and I've got it. It's the 3rd item in the settings beneath Backup & Sync and Assistant Cards. Posted via sheer force of will from my Nexus 6P!

On one of my tablets it's there... All other devices not so.... So not account based then... And yes it's the third option underneath the Assistant Cards option... Posted via the Android Central App

It's after announces like this that I ask myself: is the Nextbit Robin really necessary? I mean, it looks cool and all, but does it really serve a purpose?

I love the updated feature, but I wish there was a way to lock/favorite select videos so you don't have to re-download them. Or limit the cleanout to photos/videos older than a specified date (e.g., 30 days or even better--a user-defined date).

Right. Posted via the Android Central App

Got 1.9, but doesn't show the option anywhere for it? Looked in settings and the assistant (where a similar thing has shown up before), on Nexus6P, so unsure. Posted via the Android Central App

All sorted now, just had to wait till I got up this morning and all working. Posted via the Android Central App

It's always done this, at least it does on my Samsung Galaxy Tab 4 7.0 and its piddily 8GB of storage. Posted using SwiftKey on my LG G4 via the Android Central App

I hate to bring the party down but you might not want to enable this feature if you chose the unlimited option for your Google Photos storage. if you chose that mode some of your photos in the cloud have likely been recompressed by Google. Deleting the original on your phone means that you will never have the best quality version of your photo, just the Google recompressed version. Some might care but others, like me, would find this unacceptable. Luckily, I have two things going for me. I didn't choose unlimited as I pay Google for 80GB of extra cloud storage and have for years. Secondly, I have a 128GB micro SD card in my G4.

Yea I'm glad Photos is giving us this option but the reason you mentioned is why I won't be using it.

I've had Dropbox set for camera uploads for years, and it saves the original-quality files. Photos is a good and quick way to view photos I want to keep on my phone, but it will be nice to be able feeling comfortable with nuking most of the shots I've taken from local storage.

What could possibly go wrong?

It's been able to do this for months already. I remember it asking me a couple times and I always say no. I don't want ALL of my pics & videos deleted from my device. Maybe certain ones but it doesn't give u any options for that. Posted via the Android Central App

This is a superb feature and I was actually just thinking about it recently. The only thing that I don't like is that they do not show you what they are about to delete. So that should be definitely a feature they included in the next release so that you can unselect certain things from being deleted from the device. Reason is because Facebook does not let you upload anything in a cloud storage if you choose to attach a picture from within the app. If you go to photos and share it then it will post to Facebook that way. From within the app that does not do it though. Posted via my Nexus 5X

Yes, please. But do ask me which photos I want gone, though The new Hamilton Beach SD toaster. Powered by the Snapdragon 810.

I have never found that option in Google Photo. I checked a few times though. Posted via the Android Central App

Not sure why they just announced this now, since I've been using the feature for a couple months on my Galaxy S6. A Photos notification will usually appear asking me if I want to free up storage space by deleting photos that were already backed up to the cloud. Maybe it was an unofficial beta? With Google who knows... The only problem is that it's a leap of faith. When you press "ok" your assuming the Photo app isn't going to delete a single photo that isn't backed up elsewhere. Posted via the Android Central App

I'm so psyched for this update. I have been storing my photos using the old picasa forever and love the new Google photos. Transferring all my old picasa uploads from full res to high quality just saved my 83 gigs. Very happy cuz I thought I might need to up my storage plan with Google but now I'll stick with the 2 bucks a month... Posted via the Android Central App

O.K., I have answers for some people here who posted comments and I have some complaints for Google. First, the answers:
1. "The option to delete photos from the device has been there for months, so why has nobody seen it until now?"
A.) While this is true, what is new about deleting is, until this latest update, you could only choose the "saving space" option when your device was running low on storage. Now you have the option to save space on your device any time you want, not just when the storage gets low.
2. "But I don't want an ALL OR NOTHING delete, I would like to choose which photos are deleted off of my device."
A.) While this may not be optimal, you do have a choice. If you long press on the photo, or press the hamburger button in the top right of said photo, you will see in the menu that pops up, "Delete from this device" (or something similar to that). Now, on to the problems that I'm having. I have received the official v1.9 from the Google Play Store, and in the change log, it refers to being able to delete backed up photos from the device to save space. It also refers to fixing the bug that kept Google Photos from accessing the SD card. I was fortunate enough to get this update on both my HTC One M8 and my wife's LG G3 today. After downloading and installing, the app still DOES NOT have access to the SD card on either phone. It still tells me I will have to go through Gallery to delete those photos. I'm sure I haven't tried them all, but I have tried many of the fixes that have been recommended for this problem. I did see when reading up on it that even with the update, there is apparently still no guarantee that the app will have access to the SD card on ALL phones. If that's the case, can Google tell us which phones that might be, or is it a crap shoot? I don't understand why it's so difficult for this app to delete something of the SD card or why it would have this problem on some of the biggest smartphone manufacturers out there, namely, HTC and LG. Can Google fix this please? Posted via the Android Central App

I just updated my Google photos to the new version and freed up over 600mbs of room, but my question is. Now that i cleaned it up how do I get to those backed up pics that are not on my phone e but are still in the cloud? Please help cause I feel like I just lost all those photos?
Android Central Newsletter
Thank you for signing up to Android Central. You will receive a verification email shortly.
There was a problem. Please refresh the page and try again.