Google Now gets integration with 40 third-party apps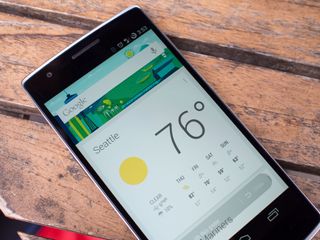 If you were looking to pick a little more information in your Google Now cards, there's some good news today: Google has rolled out integration with third-party apps, enabling them to surface information within their own Now cards.
Google says it worked with a wide variety of developers to initially add support for 40 different apps. From its blog post:
We haven't yet seen any cards from third-party apps on our devices, but Google notes that you should make sure you're on the latest version of its Google app to start seeing the new cards. Still, Now cards just got a whole lot more convenient. If you'd like to browse a list of currently supported apps, you can find that here. For more information on the integration itself, you can hit up that source link below.
Source: Google
Awesome! It just keeps getting better!

+1 Posted via the Android Central App

+1 Posted via the Android Central App

still short against Cortana, give me more please

In what way? Cortana is a limited search tool with a poor record of returning what was actually searched for.

Cortana shows information like news, commute, calendar, getting around, best nearby, sport scores, trip planner, etc. etc. but depends on initial configuration based on your interests, it reads your calendar an email but obeys to your initial configuration and your recent search is not considered as an interest. Integration of Google Now with apps and cards is great, but from my 140 apps installed on my android I only found one app in that list. useless. Voice commands integrated with 3rd party apps is superior using Cortana, the APIs from Google Now were released just 3 months ago and you still cannot do the same, I have almost the same apps on my Lumia Icon and my Note 4 and cannot do the same using voice commands. Using cortana I can say "insteon turn on the lights on the living room", "set temperature 70 degrees", etc. etc. and I have the same app in both devices. you can make Cortana to read wikipedia articles if you have the app installed, or post to facebook, or do multiple thing inside the app like "Netflix find House of Cards". or commands not limited to play music like "Pandora create Metallica station", and the list continues... all the apps with multiple options, trust me is a big list of apps, IMDB, flixter, hulu, skype, endgadget, etc. etc. My primary phone is the Note 4 but I don't understand why Cortana is superior integrating voice commands with 3rd party apps... With the release of the APIs on Google Now must be nice to do better integration than just cards integration with 40 apps that nobody knows...

Fair points but nonetheless Google Now and Cortana aren't exactly in the same boat. Posted via the Android Central App

"like news, commute, calendar, getting around, best nearby, sport scores, trip planner, etc. etc. but depends on initial configuration based on your interests, it reads your calendar an email but obeys to your initial configuration and your recent search is not considered as an interest." Obviously you've never actually used Google Now since Google Now does ALL of that and more. Please go home troll.

I know Google Now can do that because I'm using it everyday, that post was a response to your comment saying that Cortana is a limited search tool, and I agree with you in the "search" part, Google Now is better in that part, I'm using Google Now everyday, more than a regular android user, but I moved from WP two months ago and I can make a real comparison, I know exactly what is good and bad with Cortana and also with Google Now.
And I expect more from Google Now, if I were a troll I will say bs about gnow and Im not doing that, but talking about 3rd party app integration my experience with gnow is not better than cortana, GNow is absolutely better for search and showing information with cards, but I expect more with 3rd party app integration, at least at the same level of cortana. sorry folks, that's my personal case.

It's 1 year later. Google got their lunch eaten by Amazon Echo and they still don't get it. Pffft

Does Google now not have open api's for any app to use it? Why not? That would get everyone on then bandwagon much easier... Posted via the Android Central App

They opened the APIs 3 months ago, I think at the end of october2014

I like that they did but I can also see apps spamming google now like crazy. Posted via the Android Central App

I love G Now functionality, but it slightly worries me about them opening the floodgates to everyone. If the Now feed turns into a long list of basically spam, I won't be a happy camper!

I agree, it could get real ugly if they let games in. I will have to turn it off.

You have control on the cards that you want to be displayed. If people start using Google Now to spam I will mute them in a blink!

Exactly. No reason to worry about it.

It's true but if you want an app to give information in google now and if they start to spam it then yes putting it cool but at the same time I still want that information they shouldn't spam it at all simple as that. Its bs that they have to feel the need to do that. Posted via the Android Central App

Hopefully it'll be mainly for productivity and won't turn into push ads and popup notifications all day, and if it's not just for productivity hopefully disabling cards all the time doesn't become a nuisance. It will get annoying if you have to remember to turn cards off every time you install a new app. Posted via Android Central App

One thing they need to do is allow you to choose which cards also send notifications. I want a weather card to be there on Now, but I don't want notifications from it. I use Yahoo Weather for that. But if I turn on Google Now notifications, I end up with two weather notifications.

You usually can then off notification per app in android or just from the app. I UAW yahoo weather and I turn the notification off. Posted via the Android Central App

How about gmail cards for Google Apps accounts? I still don't get any cards for shipped items, flights, etc...you know, the useful things you implemented first that many still can't use... Posted via the Android Central App

Me neither. Posted via the Android Central App

I've been getting cards for shipped items, and tracking info, for months.

Do you have a Google Apps account (paid account, not free gmail)? Everyone using regular gmail gets these cards, but nobody who pays for the service (or got in early with the Google Apps for Small Business that was free). I get all the fun of gmail, but with my own domain name. Unfortunately that means no Google Now cards for anything in my email...

It may have to do with business privacy laws. Since Google essentially reads your email to give you those cards, they may not have cards for paid accounts because of the nature of those accounts. Posted on my Galaxy S5

Really? I didn't know that, I don't use my Gmail account for anything but having a smartphone. I use other email providers. No wonder my cards are kinda lame LOL Posted via the Android Central App

Someone that finally understands why Google Apps are so often not included in new features! If you want Google Now cards to show up, set rules in your Google Apps account to forward relevant emails to a special Gmail account for that specific use.

At the risk of sounding "out-dated" their sure is a lot to learn about this stuff. I thought Google Now gave you cards based off of what you researched in Chrome? Posted via the Android Central App

It does that as well, including sites you visit regularly in Chrome. Posted via Android Central App

Ridiculous that Google Apps accounts don't work without workarounds.. I an dissapointed with any update that does not address this issue. Posted via Android Central App

I have been getting them for items that I buy from Amazon, but I don't fly so i have never gotten any for that.

I had a friend that I had to pick up from the airport. After the second or third lookup for the flight, Google now caught on and the a card up. I know if mostly goes off confirmation emails, but it goes a bit deeper as well Posted by my soon to be retired Note 3

Geniunely, I have non of these apps installed. This update will add nothing to my experience and that's OK.

more than 140 apps and from that list only pandora, however looks like the list is showing probably only integration with cards, not integration with voice commands.

Not true, I can tell my phone to play music using Spotify as opposed to Google Play Music (the default).

that's what I mean, the list is for integration with cards and the list is not showing integration with apps and voice commands, because spotify and other apps can do things and aren't in that list.

Ah, I see what you are saying.

Hmmm... Out of that list, I use ... Waze. And not so much anymore because I have HERE.

I would really like to know how to activate Google Now features through apps. There have been other articles talking about this upcoming feature with no explanation of how to activate it. Now that Google has released this update how do we set it up? For example how do I integrate Pandora with it. I went through all of my Google Now settings and haven't seen anything for app integration? Will Google Now plug in compatible apps automatically then? Or are they going to be releasing a newer version of Google Now with these features that I just haven't seen yet? Posted via the Android Central App

Did you try telling Google Now to play song with Pandora? I don't use Pandora so I've never tried it but there's something in the settings where you can click which apps you want Google Now to use. Posted via Android Central App

"Ok Google, play Tori Amos from Spotify" Worked like a charm. Love this.

And when you click on that card, that's when the data sucking and tracking begins... What a way to increase revenue.

Omg it works! I just used Google Now to open spotify and play a song. This is impressive Posted via the Android Central App

This sounds good as long as it doesn't drain my battery and use up a bunch of ram. Posted via Android Central App

Lol I don't use any of the 40 apps Posted via the Android Central App

Catch up on "news" from The Guardian? That's funny! Only if ya want yer Now Cards displaying an endless stream of liberal propaganda. Posted via the Android Central App

I love this in principle. In practice, I didn't see a single app that I use on the list of supported apps. Love to see the NY Times, Ingress and Gas Buddy integrated.

I have been getting a lot of extra cards for days now.(pun intended) But AC will be happy to know they are showing up in several cards for articles,and with my app picker I can open them in the AC app,or any other browser I have.

I only use the hootsuite, but no card yet! But, yes, one long waited card - "contacts birthday" is now available!

Happy times Posted via the Android Central App
Android Central Newsletter
Thank you for signing up to Android Central. You will receive a verification email shortly.
There was a problem. Please refresh the page and try again.