Google News to be revamped with elements from Play Newsstand and YouTube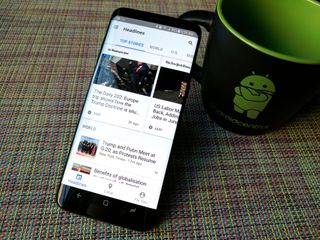 Amidst all of the Android P talk at Google I/O next week, one topic that's said to come up is Google News.
Google News works fine in its current state, but Google's apparently working on a massive overhaul that'll incorporate parts of YouTube and Play Newsstand.
AdAge says it's spoken to people familiar with these plans, with one publishing executive who's aware of the Google News revamp saying –
With the new Google News, Google will feature digital newspapers and magazines like it currently does with Play Newsstand in addition to YouTube's news feature – incorporating text and video news under one umbrella.
The current Google News & Weather app will reportedly get an all-new look, as will its mobile and desktop sites. Unfortunately, since all things must come to an end, this Google News update will also see Play Newsstand get shut down.
As someone who's never felt compelled to use Google News or Play Newsstand in their current forms, this seems like a good move for Google to make. AdAge notes that we should hear more about these plans at I/O on Tuesday, so we won't have to wait too much longer for all the official details.
Google I/O 2018 preview: All of the big announcements you can expect
Joe Maring was a Senior Editor for Android Central between 2017 and 2021. You can reach him on Twitter at @JoeMaring1.
Kind of off topic but how can people like that curved display shown in the OP? It distorts the sides of the display so bad and looks like it would be annoying to hold.

But it looks cool. Yeah, I don't understand it myself.

Yeah, not a fan of the large curves with content on them. Samsung dialed back the curve on recent phones but the S7 Edge did not appeal to me when there was a flat option.

Never really bothered me honestly don't notice it much. Own a note 8.....

I have an S8+ and I've never noticed any distorting. I actually kind of like how the image blends into the sides of the phone. That said, Google play Music was not created with curved screens in mind. Selecting the the overflow menu for albums or artists on the right could replace Chinese water torture.

I like Google news. I even like the local section. The only issue I have ever had is there is no way I can find to remove specific news agencies or a way to sort.

And this why I don't use it.

You can do it via the desktop version by clicking on the gear icon and selecting sources. You can add ones you prefer and block ones you dont want.

Yeah I don't do Google on desktop I run Linux and use Firefox

I was just starting to get to like newstand

Sounds good, roll them up together and let's see what comes of it.

This needs to be what replaces Google Now to the left of your home screen, and then just put all the remaining Now features into Assistant and finally sunset Now. I'd love to have a Facebook type experience of getting my news without all the other Facebook BS

Yeah, the first thing I do when I set up my phone is turn off the "swipe to get to Google Now" and just use Google News (and Assistant for all the other stuff).
Android Central Newsletter
Get the best of Android Central in in your inbox, every day!
Thank you for signing up to Android Central. You will receive a verification email shortly.
There was a problem. Please refresh the page and try again.