Google Maps brings live traffic info to 13 European countries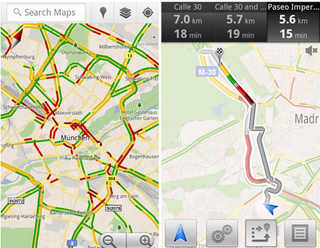 While I don't do much traveling on European roads myself, I know a lot of people who have to do it daily and just like everywhere else in the World, traffic is always an issue. Luckily for them, Google Maps has now added 13 European countries to Google Maps from which they can now obtain live traffic info and hopefully avoid traffic jams:
Live traffic information gets updated every 5-10 minutes and is then piped down to Google Maps users. Changing the view allows you to even break traffic down by specific times and days of the week.
Source: Google LatLong
Is there a way to stop Google Maps from updating?
It always updates the minute I open the Market & no manner what I do I can't stop it , the only way to remove it is by uninstall it from the setting
Its like the Google Maps is using force to download
The thing is the update is 10.7MB & I don't have enough space to download it without "Low storage" pops up

untick "allow automatic updating" in the application screen in the market

I tried, but every time I open the app in the market, I get "application not found"

I've been expecting this. Time will tell if it's any use in the real world :P

Don't you mean 12 European countries and Israel?

You're right! We all know that Israel is a part of the US of A !!! :-P

You're absolutely correct!

How is Israel a European country? Correct your title!
Android Central Newsletter
Get the best of Android Central in in your inbox, every day!
Thank you for signing up to Android Central. You will receive a verification email shortly.
There was a problem. Please refresh the page and try again.