Google Maps adds in-navigation voice control, elevation info for bicyclists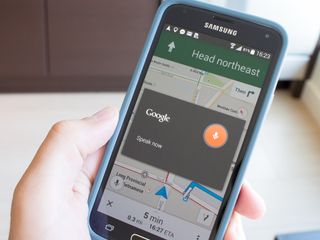 Google Maps is receiving an update to version 8.2 today, with a solid set of new features including in-navigation voice control, elevation change information for bicyclists and faster access to voice input from the main maps screen. The biggest change in this latest version is the ability to give Google Maps voice controls while you're navigating, something that hands-free driving advocates (and just frequent drivers) will be a fan of. While navigating you'll now see a small microphone button in the bottom left corner of the interface, which you can tap and then give commands to the phone with.
We've found a few different actions you can take:
How is traffic ahead?
Show route overview
What's my next turn?
Show alternate routes
When will I get there?
What is my next turn?
Navigate to [place]
After playing around with it the system doesn't seem too terribly smart just yet — for example you can't say "hide traffic" to remove the traffic display, or make other seemingly-natural language requests that deviate from the scripted queries. There also doesn't seem to be a completely hands-free wakeup phrase such as "OK, Google" that we're all used to. For now you're tapping the on-screen button, but that's miles ahead of performing several taps just to see what's coming up on the map.
Moving beyond navigation, there are also a few more tweaks. For those who use Google Maps for bicycling routes, you'll now see an overview of elevation for different routes when looking for directions. You'll get an elevation map that shows the ups and downs, along with how many feet the elevation change is. You can also compare different navigation routes based on their elevation.
In the general interface, you'll also notice an improvement to the way you can access voice control. The area to the right of the search bar, which used to have an icon to get to your profile, now has a voice control microphone (the "Your places" area can be found in the slide-in drawer instead). You can tap it to perform regular searches, but we found you can also say "show traffic" and "show satellite" to get both of those map actions to happen with just your voice. Sadly "show bicycling" and "show public transit" don't seem to work — again showing how primitive this first shot at in-map voice actions really are.
This is a pretty huge update to Maps that will undoubtedly ease some commute frustration for many people after they install it. You can grab the latest version from the Play Store link at the top of this post.
Andrew was an Executive Editor, U.S. at Android Central between 2012 and 2020.
Loving it. I just drove 30 miles within the city and all of the commands worked flawlessly except for traffic, but I'm sure it'll get fixed - ty Google!

Needs to completely touch less... But, this definitely s step in the right direction! Nexus 4 - CM10.1.3

This Posted via Android Central App

right. i hate the fact that this still needs hand interaction. like pressing start navigation.

it partially does this... for instance, if i say "ok google, drive me home" it launches nav without touching anything. pretty slick. and still growing.

I don't know why they just didn't add the "OK google" command. I mean, I appreciate what they did here, but adding the command I think would be easy. Posted via Android Central App

Because if I want to dial the phone, or send a text then I still need "OK Google" to take me to my regular screens. Maybe a "OK Maps" or something similar would work.

Awesome! I Can't wait to try it out. Posted via Android Central App

Sounds pretty good. Once they add the ability to input multiple destinations on the way, it'll be perfect to me. Posted via Android Central App

Agreed Posted via Android Central App

Sounds great, too bad that I can't use navigation here in Colombia. Posted via Android Central App

"Navigate to [place]"
Still waiting for the obvious "navigate to bob's house" or "navigate to bob's work". You can txt or email bob by voice, why not navigate to addresses stored in contact info?

Oh yes. I so wish you can have names for addresses. That'd be nice. I'd use that all the time. Posted via Android Central App

How do I perform a "search on route for coffee shops" style command? Can Google maps even do this in any method regardless of voice commands??

Nope. Not yet. Posted via Android Central App

Sill not seeing the update Posted via Android Central App

Updates always take time to roll out. Posted via Android Central App

Umm...no update for me as of yet. Posted via Android Central App

Too bad they broke the phrase "OK Google,navigate home"
*update*
Well it still works but you have to say "to home". Feels weird saying it like that but I'll take it I guess
Posted via Android Central App

"OK Google, Take me home" works if that's more natural for you.,

I say "ok google, drive me home"... toe-may-toe toe-mah-toe :) EDIT: cant wait until google actually does the driving for me!

Google is still trying to figure out how to enable "OK Map" without the Dora the Explorer references Posted via Android Central App

nothing on my lg g2. still at 8.1.1

Same here still on 8.1.1 I am in Puerto Rico Posted via Android Central App

I'm just thankful Navi works at all here! Wasn't too long ago (about a year?) that it'd refuse to navigate even tho the Maps were clearly complete and even showed traffic updates.

'Search along route' is still the key feature missing...

Good, now we need a speedometer too. Is that too much to ask!

Not exactly built in but Ulysse speedometer app works well with google maps. It has a floating speedo overlay that you can launch the same time as maps to show a constant speed readout. Posted via Android Central App

I use Ulysse speedometer when I am on my buddies bass boat. Great app Posted via a Republic Wireless Moto X using the Android Central App

Does the one on your car not work? Also, you could always just take a Snapchat and use that speedo... lol

for those who havent received the update yet, you can download the APK from xda-developers or androidpolice

All complaining about not receiving the update. Ironically, Google is your friend. Now stop complaining and download the 'some b!tich. Posted via Android Central App

Of all apps that need the "ok Google" feature, this is the one. Posted via Android Central App with my LG G3

I especially like the two voice commands "What's my next turn?" and "What is my next turn?" I can see myself using both of those.

+1 LOL, nice catch. I totally missed that in the article.

Is there anyone else that hasn't received the update yet? Posted Via AT&T Galaxy Note 3

Still no joy in NW Jersey

Not here yet either on Central NJ but I think geographical location is probably irrelevant Posted via Android Central App

Still no update here.....wonder if they ran into a problem. Side note. I was very disappointed in Maps during my vacation last week. Took a 10 hour trip and Maps shut down/crashed EVERY 45 minutes. It never lasted longer. It takes about 6 steps to re-enter your destination each time going highway speeds. Not cool. Guess it's not ready to replace a full time GPS yet.

You don't keep your destination history? Before I leave, I pull up the destination, then I exit out of it. That way, if/when Maps crashes I can still pull up where I'm going.
Android Central Newsletter
Thank you for signing up to Android Central. You will receive a verification email shortly.
There was a problem. Please refresh the page and try again.