Google looking to launch subscription music service later this year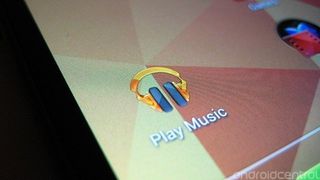 According to sources of the Financial Times, and corroborated by The Verge's own sources, Google has been talking to music labels about licensing deals for a subscription music service to launch in the third quarter. Play Music (then Google Music) has only been around since May of 2011, and only received notoriety when several major music labels finally signed on to sell music in the Play Store. If these new deals pan out, Google could be looking to offer a montlhy paid subscription music service for users that would prefer not to purchase individual tracks, with a free tier that offered unlimited play but with advertising.
If Google was able to extend its existing licenses to a subscription streaming model, it could take the likes of Spotify and Rdio head-on, furthering the amount of compelling content available in the Play Store. Details on the deals are sparse at this point, with the launch window still up in the air. The best indication right now is the third quarter of this year, but things could certainly change.
Source: Financial Times; Via: The Verge
Andrew was an Executive Editor, U.S. at Android Central between 2012 and 2020.
I hope this means a Redesign to the App also. The current app looks & runs horribly right now.

This!. The app really takes some getting used to, and even then its kind of a Kludge, does unexpected things at unexpected times. Much easier to manage things on the web, but dealing with the device app is frustrating at times. Then it will just stop playing, for no reason, even when playing music you pinned to the phone. Maddening.

This is cool. I may not listen to much music but I can see myself possibly using this. It'll probably be better than Spotify for me since it'll probably have a free mobile app and a better app (it'll probably be a web app). Those two alone make it better than spotify for me.

I can only hope that this is true as this was how I was hoping Play Music would originally turn out. As much as I love Spotify their app leaves much to be desired in terms of organizing music into artists and albums on the player outside of turning them into playlists. For a person with OCD it's a nightmare adding music to my collection and then going back to organize it. Hopefully this pans out and they have an array of music that can rival Rdio and Spotify.

This is the model I vastly prefer. I used it with the Zune and that's pretty much the model I'm after. I like that by "renting" I am free to hop to other services from time to time.

Australia. For effs sake Google. Give us Music. This has gone on for far too long.

I agree. No Google Music in Canada yet either. I'd settle for access to the music store!

Why do none of these articles ever mention Rhapsody? I find it much better than the other apps ive tried.

I'm catching up on old news but still thought it worth mentioning: I agree completely.

My entire library is up in the air with Play Music. Pretty curious where this will go with Google. i CAN say though, at first it was very difficult leaving iTunes behind cold turkey because as an early adopter GMusic had very little to offer in terms of music for sale. Now, I find the most obscure stuff I hear in the store which is amazing.

I still buy a lot of music ("lot" being specific to my scale) from Amazon. It automatically downloads to my Google Music directory and automatically uploads to my Google Music account. Been working this way since I joined Google Music. Have cake, will eat.

ALSO BRING STREAMING MOVIES LIKE NETFLIX

you can rent from google play movies and tv shows.
Android Central Newsletter
Get the best of Android Central in in your inbox, every day!
Thank you for signing up to Android Central. You will receive a verification email shortly.
There was a problem. Please refresh the page and try again.