Google's new MODE bands change the smartwatch game forever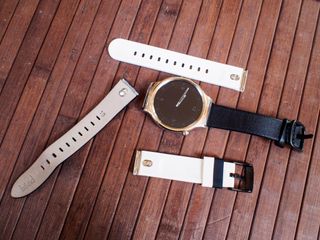 Watch any of the Android Wear commercials, and you'll see the same basic message. Take any smartwatch design you like, and the basic features will be the same. It's a great message, and a fantastic embodiment of the overall Android motto right now. It looks like Google has plans to take that idea one step further with a new watchband tech called MODE, and to help introduce this idea to the world they've partnered up with Hadley Roma to release a collection of impressively designed watchbands.
Here's a quick look at how it all works, and where you can get you hands on these bands.
MODE is an open-source replacement to the traditional method of attaching a watchband to a watch. In the past, you push a spring-loaded pin through the watchband and try to attach the pin to the lugs on your watch. If you were lucky the strap you bought would come with "quick release" pins that gave you a little lever to help make releasing the pin a little easier. MODE allows you to put the pin on the watch first, and use a simple toggle switch to lock the watchband onto the pin. The end result is a watchband that feels just like any other when attached to the watch, but is significantly faster to detach and re-attach at will.
In some ways, MODE feels like an answer to Apple's quick release straps for the Apple Watch. Apple's design works well enough for its one watch design, but MODE will work for just about everything else. The watchbands made by Hadley Roma already support 16mm to 22mm watches, and are launching on the Google Store today in an impressive variety of colors and materials. We've been testing the white silicon band and the black leather band for a couple of days, and couldn't be happier with the quality.
The silicon sport band is a higher quality than any of the sport bands that come with any Android Wear watch currently, and do a fantastic job keeping moisture away from your wrist. It's also go a nice metal clasp, unlike some of the other sport bands we've come across. Meanwhile the leather band from Hadney Roma claims to be genuine Italian leather, and the soft underside of the watchband feels great. The narrow design helps make the Huawei Watch feel a little smaller on my wrist, and is absolutely an improvement over the included leather band from Huawei.
Given the quality of the materials and the use of a new connector, these watchbands are surprisingly affordable. The silicone band we've been testing will run you $50, and the leather option is available for $60. Compared to the $40+ you'll find for replacement bands made by Motorola for the Moto 360, there's a lot to like here. Given Google's decision to open source the attachment tech, there's no doubt we'll see even more options available in the not-so-distant future.
It's a cool new idea, and if you're a fan of swapping watchbands based on your activities this couldn't be any easier or faster. All we need to know now is which manufacturer will start offering these new designs as the default, which is absolutely what should happen next.
Russell is a Contributing Editor at Android Central. He's a former server admin who has been using Android since the HTC G1, and quite literally wrote the book on Android tablets. You can usually find him chasing the next tech trend, much to the pain of his wallet. Find him on Facebook and Twitter
The Google link is broken as of this moment. Posted via the Android Central App

Amazing? Yeah, an amazing rip off. Too stiff near the watch too, not comfortable.

A) Pretty sure you responded to the wrong person. B) Have you worn them? Posted via the Android Central App

The smartwatch game is forever changed.

Nice icon :-D Posted via the Android Central App

Nice Icon dood! FTFY Posted via the Android Central App

Lol..... Posted via the Android Central App

Quick question, does it work with the original moto 360? Posted via the Android Central App

I ju=ust checked, and sadly it does not work with the 360 1st Gen or Sport.

It should work if you buy strap adapters. I've thought about getting some from SteelConnect, but my leather strap is holding up well enough for now.

This is really disapoting, I was looking forward to replace my leather strap with something fresh.

I don't own any watches, but I want to buy a set of these. These look nice. Hopefully I'm convinced later on in the year to finally get an Android Wear device.

My lg g watch was $85, these bands cost almost as much as the watch.

Damn, these are expensive, so buy few and you could be out $150 - $200, for 3+, I would rather purchase another watch. This is accessory robbery at best. Nexus 6P

Trying to turn these into a Premium Swatch Watch multi-options feature from the 80's it seems. It's just a wrist band.

Sure they're pricey but they're not even close to what apple robs... charges people.

But u can go on amazon and find a 3 pack of bands for like $25 Posted via the Android Central App

Um, I do this now with my Fossil watch. It was one of the selling points. But for everyone else, it is a very, very nice feature. One watch with straps for every setting you need.

Forever, you mean the game Apple Watch started since day one release? Google is just catching up in this case.

Interchangeable straps have been a thing since the invention of the wristwatch. All Apple did was create a proprietary connection so they could overcharge for watch bands and straps. Whooptidoo spare me that bs. At least this is not proprietary, and actually works with just about any watch, not just smartwatches. That said, I don't know how these banks change the smart watch game even a little bit. They don't.

It feels good needing to post about Apple where it's completely off-topic, right?

Yeah wow it was sure amazing when Apple invented interchangeable watch bands. Revolutionary. Posted via the Android Central App

Excellent article title. My son was just asking for help with his homework and needed an example of hyperbole. Posted via the Android Central App

Lol :) Posted via the Android Central App

So this is going to change the we look at watchbands forever, but it didn't when Pebble did the same thing over a year ago?

lol, "surprisingly affordable," when other sites are accurately calling them out as expensive. They sound great. But they're definitely not "affordable." In order to even make them useful, you'll need to have dropped over $100 on just watch bands alone. That's not nothing. Again, I think this is great, and I can't wait for third-parties to adopt this and sell bands that are ACTUALLY "surprisingly affordable." But let's be honest here. And yes, the headline's hilarious.

Uh, compared to the bands for the Apple Watch, these are a steal (The cheapest Apple Watch bands are $50, and those are silicone and nylon.. leather will run you $150). And we're talking about higher end leather and silicone, not the cheap stuff that you would get for $15 in a discount chain store. And I don't see how you need to drop $100 on the band alone to make this work? It comes with the hardware needed to replace the band (Which you honestly probably don't need, since it looks like this uses the existing spring clips that come on most watches). So if you own a watch, a $60 investment and you are done. And since this works with the existing tech, you should be able to move the band to any watch you own that doesn't have recessed clips in very little time. Also, unlike the Apple Watch bands, these should work on almost any watch I own (Minus the Moto360 v1, due to it's recessed clips). So yeah, either you've never looked at higher end watches and bands before, or your just being a troll for trolling sake.

You're using Apple as a comparison of relative value? Nope.

Apple is not a reasonable comparison point. They're not surprisingly inexpensive, they're just less expensive than their chief competitor. I'm all for the idea of there being super expensive bands as well, but that doesn't make $50-60 suddenly cheap. And the entire point of these is that they're quick to switch. If you buy only one watch band, that benefit disappears. So you need to buy two before the point is made.

It's a site about Android selling everything Android. It isn't surprising they would find this a decent deal. I am sure they are cheap, chinese watch bands that are probably worth about $2. I mean seriously...a silicone band with a couple of clasps? Google needs to try something to get people to buy these watches that have very limited use/value/longevity.

Forever changed. Lol. Posted via the Android Central App

Oh, cool... Wait $50!? Eff that, I don't even like paying that much for a watch.

Pebble is coming out with bands that provide additional functionality. That's way more impressive to me. Posted via the Android Central App

They've been saying that for a year now......whereas these ones are already available.

Open Sourced means others can use the technology correct? That should spur others, create competition, bring more options to the market, and lower costs.

Maybe I missed it, but has anyone else noticed that they don't show what it looks like on the watch from the front view, only the back? Posted via the Android Central App

I'm gonna guess it looks like a watch band attached to a watch... Posted via the Android Central App

The band's are nice,but the title of the article is way overreaching. Posted via the Android Central App

These are way cheaper than the quick release Huawei watch bands!! The leather ones start over $100 and go up from there for the mesh and steal bands. Posted via the Android Central App

Has anyone tried the Fossil quick release bands on a non fossil watch? They're pretty affordable and look really nice to boot.

Looks cool, but it appears there'll be a (probably) 1cm section of the band which will not be flexible, due to the locking mechanism. I think I still prefer Pebble's method of quick release.

The non-flexible section is a given, but should not affect the user experience. I used to spend hours in my grandfather's watch repair shop, and some watch companies would provide a small notch in the band to make it easier to change. However, I was good enough at it that it did not matter. There are a few times the pin would go flying though, lol. After looking at the design, I prefer the Pebble version as well.

Nice ordered a tan leather one for my moto 360. This along with HTC 10 will give break to my iPhone and Apple watch for a while. Posted via the Android Central App

Which version 360? Posted via the Android Central App

Meh. You really want to "Change the smartwatch game", make a smart watchband. That is, make a watchband that can vibrate and beep with different patterns, read HR/O2, have accelerometer, GPS, and connect via bluetooth which can attach to ANY standard watch. The device can be integrated into a clasp so that it can be work inconspicuously.

Those are the things I think of when someone starts tossing about "the smart watch game is forever changed".You know,something a little beyond,"hey look everybody,it's an easy change band". Posted via the Android Central App

Why not make a jacket that can turn the Smartwatch into a handset IE ASUS Transformer? Except it would cover multiple setups. Basic candybar, flip, etc...

I hope they're better than the leather ones on the Moto 360. Those are trash. Buy Hadley Roma if you want a good strap.

WOW that is frigging amazing!

Ugh horrible title. What's next "10 ways Google changed watch bands, you wont believe #7!"

Amazingly expensive as well. I refuse to spend a third of what I paid for my watch on a band. These need to go down to $29.99 for me to consider.

http://ewatchbands.com/ Great new site for Watchbands information.
Android Central Newsletter
Get the best of Android Central in in your inbox, every day!
Thank you for signing up to Android Central. You will receive a verification email shortly.
There was a problem. Please refresh the page and try again.