Google investigating 'Package File Invalid' errors at Google Play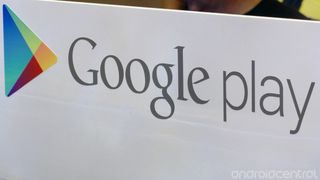 It seems that some users are seeing an error when trying to install or update applications from Google Play on their Androids. Instead of the expected behavior — tap a button and install or update an app — users are able to download the package but during install are fed a "Package File Invalid" error.
There are many user fixes floating around out there, ranging from clearing app data for Google Play to removing the proxy address from your APN (this worked for me) but none seem to be a universal fix.
Google has addressed the fact that this is an issue for some users, and is working on a fix. We imagine this has a bit of priority, so hopefully there is good news soon.
Source: Google
Senior Editor — Google Ecosystem
Jerry is an amateur woodworker and struggling shade tree mechanic. There's nothing he can't take apart, but many things he can't reassemble. You'll find him writing and speaking his loud opinion on Android Central and occasionally on Twitter.
Eeek i was getting these "package file invalid"s all day, thought it was just me! Phew

At work i was able to get around this by jumping on to the guest wifi network.
at home i was also able to get around this by trying on 4G, then on my 5Ghz wifi then 2.4Ghz wifi. changing those things around resolved it for now.

FWIW... I've noticed somewhat similar behavior. It seems that if I get the error, it's while I'm on a wifi network. Shutting off my wifi radio and letting the download come down over 4G seems to circumvent the problem.

These symptoms sound like somewhere along the route there is a caching proxy server, and it is delivering what ever version was most recently requested by that IP (which may have been for a different device). Probably on google's end but I suppose a huge hack could be involved.

That worked for me. Thanks!

Same here. On wi-fi, I had no problems but LTE was creating issues. It thought maybe there was some update that didn't work with LTE.

and now 8-15-13 I get another new Error message. I can't even Download anything from Play Store now! This is making me very upset!! No updates...No Downloading ....and I see no new replies from them at all! oh, and it also makes my Wi-Fi shut off!!!

It's everybody. My suspicion is that the new device manager broke something. Since it's the one thing everyone got. Posted via Android Central App

I've had the Android Device Manager play services update for a week or more on both my nexus 4 and 7 and haven't seen this problem. I don't think it's everybody.

I have the same 2 devices with the Android Device Manager and updated to 4.3 and have had the issue on both. Maybe it's a location based issue? Or maybe you just got lucky and none of your apps were effected. When it happens to me some apps update no problem and some get the error message. I will try to get a new app and get the error message and the next day download it just fine.

It is doing it to my PNC Mobile app when trying to update right now :P

I dont have a problem with it. dont talk for others

yes. thank his noodly appendage!!! tired of these errors. fixes don't seem to work for me.

I had the package file invalid error for SO many apps this past weekend. It was literally almost every app in the store. I managed to find a fix in Hideninja VPN after reading about it on Yahoo Answers. It was a little slow on downloading through it but it worked.

Got this when trying to install Amazon Kindle on my tablet. Oddly, finding the older version of the APK and then updating through Play worked.

So glad this is being addressed. I have been plagued with this for the past 5 days or so. I wasn't sure if it was my device specifically or on Googles end, I couldn't find an answer in the forums.

LOL... I thought it was just my personal Opera update.

It's done this to me across three devices with over 10 different apps. Has happened to my roommate as well. Posted via Android Central App

Good. I've been getting those for a few days. Posted via Android Central App

I guess I'm one of the few not experiencing this... I've updated 4 apps just today. Posted via Android Central App

Possibly those apps just weren't effected.

Ya think? Posted via Android Central App

Just clear the cache for Google play services that worked for me, or just uninstall and reinstall the app Posted via Android Central App

For me that was a temporary fix, next day just came back as new apps needed update.

Bad advice, as these were my go to solutions and niether worked.

I agree, none of the solutions I tried worked either, and uninstalling the app and not being able to install it at all kind of sucked. But that's what Titanium Backup is for... For me, what apparently fixed it was time, or one of a number of other factors that may have been different when it eventually worked on its own. I just woke up to the notification that the update had been applied at some point overnight.

I did this with Netflix a few days ago and now it wont install at all. It is happening on my Nexus 7 2013 and also on my Verizon Note 2.

I did all of that and it still would not work.

It's been happening to me for about a week, on several different devices. I think it's connection based (and by extension which Google Play server is sending you the update). See the link below: http://cafbit.com/entry/android_package_file_is_invalid So far, the only connection method where it doesn't happen for me is T-Mobile USA cellular. Either on a TMO phone, or via a TMO hotspot, or TMO tethering. Any of these are fine. Any other connection method I've tried - homw wifi, work wifi, Verizon phone, Verizon hotspot, AT&T phone - the problem happens hit or miss on ALL of these.
It's had me pulling my hair out for days. I'm glad they are finally addressing it, it's a very serious issue for many users.

I removed the Google account from my Nexus 7 and re added it and now its fine.(also I uninstalled the new version of the Play Store) my Nexus 4 never had the issue which is strange.

Also tried this method on both my N7 and N4, again temporary fixes, came back next day as new apps needed updating.

This is what worked for me Posted via Android Central App

Thanks a lot. I was experiencing this for last 2 months i guess. It worked for me thanks a lot :)

Eventually they go through. But after couple of tries. But usually bloat app so don't care. Samsung link is only one refusing at moment.

On Verizon and T-Mobile in the Baltimore/DC area I've (luckily) had no issues with any of my devices. Hope it's fixed before it decides to swing my way.

I factory reset my note 2 and downloaded over a hundred apps now just for the hell of it and I still can't get this error to occur.... Not that I'm complaining. Posted via Android Central App

Lucky you. But it is a widespread problem.

I get this randomly lol.Not alot though

I had it last night but to clear it up all I did was press and hold volume up/down and power button and it helped. It hasn't happen since.

I got around it with a few apps today by going to play.google.com and installing them through the "my apps" section in the store. Take Twitter for instance. It was giving me the error on the device, but when I went to the app in the store and selected install and the device (I have two Android devices one of which is just fine) and that seemed to override the error. Not sure if that is a fix for everyone (I've done the cache flush and service kills in the past to fix the problem on my Nexus 10), but could be worth a try.

If they could fix this and "Error 920" that would be swell for those of us who tinker a lot.

they are waking up to this now? its been an issue for more than 2 weeks! its not all the apps, most apps update/install just fine but on others like map my run, twitter, airdroid etc the install fails all the time. way to go google!!!

I noticed it earlier, but I assumed it was from hopping from 4g to WiFi. I just deleted my Google Play Cache and retried and it was fine.

Only app I've had an issue with was Google Books on my Nexus 7. Started having issues a week or so ago, disappeared after a few days. No problems with anything else.

The fix for me was to clear play cache and remove and re add my Google accounts Posted via Android Central App

Glad this finally made it as a story, I sent a tip in a week ago on this when it first started. Another solution is if you are having the issue updating/installing on WIFI try it from mobile data (and if you're having problems on mobile data, try it on wifi). This has worked for me every time. It's like the app is caching something incorrectly with the type of download and then when you change it gets it right. Posted via Android Central App

Glad I'm not the only one! whewwww. almost all my apps are saying this now.I've tried everything people here have posted but nothing works. PLease fix this 'bug' ASAP! I uninstalled my Messenger... now I can't even reinstall it :-(

Seems to only happen to me on certain apps. Box and twitter updated fine but PNC mobile, I get the error. Posted via Android Central App

I've been hit with this for about 3 days now. Any device connected to my Wifi displays this error. If I fire up my mobile hotspot on my RazrHD, and connect to that...no issues with updates. Tried all the fixes before including removing Google account and still no good. Guess the hotspot is gonna have to work till Google fixes the issue.

Some work, some don't. I did a factory reset and now cannot install Lookout. I hope they get this fixed soon as I've tried just about everything. Posted via Android Central App

I've been getting this with my 2012 N7 - funny thing is that it is with a Google app. Google Books. Posted via Android Central App

Thank you! About time! Posted via Android Central App

Just now, updating Kindle failed over AT&T HSPA, but worked on United Club wifi.

I got that error after my N7 updated to JB 4.3 but all I had to do was removed my Google accounts and add them back in and all was good again in the universe. Posted via Android Central App

Google is batting 1000.! - The new Nexus 7 GPS and Multi-Touch issues.
- The Android 4.3 OTA breaking SD Card Write permissions on I9505G (Galaxy S4 Google Edition).
- Google Play 4.3.10 "Package file is invalid" error ...

at least is not only me...
Phew!! Too bad i get notice of this until now, I restarted and reinstall my ROM several times... :@

I bought a new tablet this last weekend and had all sorts of problems getting it to load apps. Clearing the caches did not seem to help. Resetting to factory setup did not help. I was eventually able to get some apps to load but not all, but couldn't get any Google products to load or update. I did not have any problems with my Samsung Galaxy Tab though. Ended up taking the new tablet back for a refund.

Turning off WiFi and downloading via LTE worked for my s4. My Xoom which I only use WiFi hasn't had the issue except for PNC app.

Using hideninja VPN as a proxy works Posted via Lassie The Golden Retriever

I tried everything suggested short of downloading hideninja VPN. Nothing worked. It is an old phone being used as a game/music player by my son so I couldn't use data to download. I made my new cell phone a hot spot and connected through that rather than the houses wifi and it finally worked.

Suggested fixes aren't working. Nearly every package downloads about 35% and attempts to install, then fails with the "invalid package" warning.

I honestly thought it was my custom ROM that was screwing up. Good to know that there's nothing wrong with my device and my ROM lol.

I had some luck with going into the apps settings, then clearing the data for the google play store. Haven't had any problems since then, but it's only been a few minutes.

This isn't anything new. I've been seeing this for months. Usually works after a second or third try.

This is what I've noticed as well.

I just bought a Samsung Galaxy S4 over the weekend. So far, 'Seeing Package File Invalid' has been on almost every app I have, from Facebook, Instagram, Yahoo Fantasy Football and Yahoo Fantasy Baseball. I returned my phone back to the AT&T store from which I purchased it, and recovered a few apps. Do I have a Google account, of course, this is how I'm replying to this, but, do I use my Google account, only for Google Play apps, which now, nothing seems to work. Let's gets this fixed in a fast and timely manner.

I have been getting the error on multiple devices on different versions of Jellybean and just had luck installing while using a VPN. (PIA)

I had this over the weekend, I switched from Wi-fi to lte and that worked Posted via Android Central App

Switching from WiFi to 4G - worked for me. Thank you, folks...

I just download the update again. Failing that, a full reinstall works. Posted via Android Central App

Thank God. I only had this issue when doing a Samsung update Posted via Android Central App

This has been occurring on both my SGS3 and N7HD for the last week! Not all packages, but most. I've tried numerous user suggested fixes with no success. This morning, ALL IS GOOD! All 'problem delayed' updates processed succesfully on both devices. This was something on Google's end and thank you for correcting.

I've been having this problem for months. Posted via Android Central App

They'll start then lag out then just stop. When they do finish I get the message. Icon packages mostly. Please fix! Posted via Android Central App

See this video for a fix http://m.youtube.com/watch?v=FbXK-d4g03M

This definitely fixed mine .I've tried everything from uninstalling google play updates, clearing cache, clearing data, factory reset. But this DID work for me. Update (28 May, 2013) : Setting up VPN connection [100% Working] One of our reader came up with amazing tip to fix Package file is invalid error on Google Play Store. Done with following above steps? If yes, download Hideman VPN app from Play Store.
In case, while downloading Hideman from Play Store, you are still facing Package file is Invalid, then try to download Hideman apk from Google.
Now, open the app and connect with the VPN server of any country provided in the list.
Next, open Play Store and try to download any app. You'll certainly end up with the success in eradicating this error.
If above steps didn't worked for you then only follow the steps provided below. Else there's no need. Thanks Abidullah Khan for this wonderful tip :)

Love your work!!!
Got around the error nicely!!! Thanks LisaS0703 & Abidullah Khan for this wonderful tip :)

Dear Author,
I am dealing with the error "package file is invalid".please help me..either send me solutions through an e-mail or post solution commonly in this page..please..

So this happened back in Aug.... this is still happening to me now on Oct 27... Google fix this.

Friends need not worry ..best thing is to restore the factory settings of your device...That worked out for me...

Hi, I see this has been an issue for a long time. I hope there is a fix by now. I went to Google Play and saw there was an update for Google Maps Engine, do I clicked update. It downloaded started to install and then I got the green error box saying "Package File Invalid". tried cleaning cache, uninstalling and reinstalling google maps. Nothing has worked. Why has this problem been going on so long or is it fixed or a suggested work around? Thanks,
Mr. Ruff

It's still a problem. can't install twitter on my android (samsung gallaxy 4). really -- a year later and this is still a problem? wow

I was unable to install LINE app for my HTC Inspire 4G phone. The download only reached to 79% each try and started to install by itself. When the installation is done there is an error message "Package file is invalid". If there is a fix please let me know, thank you.

Hi, i deleted an app that came preinstaled on the phone, but as it was not working properly i deleted , i tried to instal back from play store but i get error msg, package file was not signed correctly uninstall the previous copy of the app and try again. Any fix yet? Thanks .
Android Central Newsletter
Thank you for signing up to Android Central. You will receive a verification email shortly.
There was a problem. Please refresh the page and try again.