Google Home vs. Google Home Mini: Which should you buy?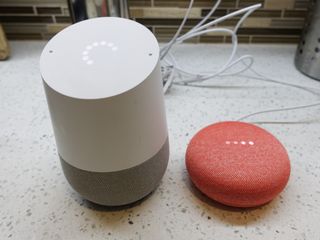 Google Home
The Google Home is the original Assistant, and it's still a great smart speaker. With excellent sound quality and generous amounts of bass, plus intuitive touch controls, sensitive microphones and a minimalist look, this OG is still the one to get if music is your thing.
Google Home
Fantastic sound with deep bass
Excellent microphone sensitivity
Nice, minimalist design
Replaceable base
Touch controls for playback and volume
Proprietary charging port
Home Mini
The Home Mini is the entry point to Google's smart speaker lineup, and it's as fun to use today as ever. If you're looking to play podcasts, listen to the news, or get Assistant to control your smart home, this is your best bet.
Home Mini
Tiny and can fit anywhere
Charges via Micro-USB
Fun colors that can fit with any decor
Anemic sound and no bass to speak of
Considerable softer at full volume than Google Home
Lacks comprehensive touch controls on top
Before you read this, read this
This article compares two older products from Google's lineup. Google has since updated the Home Mini with a newer Nest Mini that sounds much better, has improved touch controls, and costs just $50.
While Google still sells the original Home Mini at a discount, it's probably worth considering whether to pick up the newer Nest Mini even at that higher price.
We also have a dedicated comparison between the Nest Mini and Google Home Mini, just in case you're having trouble deciding between them.
Nest Mini vs. Google Home Mini: Should you upgrade?
There's a $70 difference between the Google Home and Home Mini, and for good reason: one is a true smart speaker that sounds great playing music, and looks great in any environment. The other one is tiny and fun, and can disappear into a living space. The Home Mini has a much weaker, tinnier speaker, but for podcasts or news, or just getting Assistant to do your bidding, it's a much better value.
Big in importance but small in stature, the Google Home Mini is a great addition to the company's hardware canon.
At just $30, the rounded plastic puck, covered in fabric, is an inexpensive entry into Google's burgeoning smart home ecosystem. It offers a speaker that while lacking in bass is adequate for most voice-based tasks. As it sits, its microphones listen for the "OK Google" hotword and, offers a growing number of commands through the Google Assistant, a cloud-based AI that hooks deep into Google's Knowledge Graph — the same back-end that powers the company's ubiquitous search engine.
For many people, the $30 price is right, and will likely prove to be an excellent holiday gift. But is it worth springing the extra $70 for the larger, better-sounding Google Home? Let's discuss.
Capabilities
Google Home is now over two years old, but it was built with Google Assistant in mind. It has two far-field microphones that are designed to pick up one's voice even when there is ambient noise around it. It has a touch-sensitive top area with four colored LEDs that light up and dance when activated. It's powered by a proprietary DC power connection and a has a mute button on the back for times you don't want the microphone to listen.
The Home Mini is significantly smaller and doesn't have the same number of features — for obvious reasons. It lacks the top touch controls of the Google Home (which turned out to be a critical design flaw in the hardware itself, forcing Google to permanently disable the feature), and has neither the absolute volume nor the microphone sensitivity of its larger counterpart.
It also charges with Micro-USB instead of a more power-hungry DC plug, and the mute function is a switch, not a button. Finally, changing the volume on the Home Mini involves tapping on the left or right edge of the front instead of the more tactile and, ultimately, functional way of moving one's finger over the Home's top touch panel.
At the same time, the units are functionally identical where it counts: Google Assistant. Each improvement made to Assistant — from supporting new smart home products to being better able to answer direct questions using the "OK Google" hotword — is rolled out to every unit. Both the Home and Home Mini will grow and improve in abilities over time, and neither should benefit disproportionately from software improvements made over time.
Sound quality
The main difference between the two speakers isn't functionality but sound quality. Google Home has a 2-inch driver and dual 2-inch passive radiators, which drive a tremendous amount of low-end for a speaker of this size. It's certainly better than the first-generation Amazon Echo, and very enjoyable to listen to when jamming to hip-hop, rock, or even jazz.
The Google Home Mini is a circumaural (or 360-degree) speaker, and lacks the size for a bass-generating woofer. As you can see in the video below, both sound good, but the larger Home definitely has a wider range and emphatic low-end.
Still, the Home Mini holds its own, and does so in a form factor that is less than a quarter the size of the Google Home itself. And if the sound quality from the Home Mini isn't good enough, it supports outputting music to a Chromecast Audio-connected speaker system.
Which should you buy?
Both are great, but there are pros and cons to each.
The OG
A great choice for music
It's been out for three years, but the original Google Home is still going strong — especially at its newer permanently lower price of $100.
Tiny. Fun.
Little thing with lots to love.
The Home Mini is cheap and cheerful, so buy one if you want to dip your toe into the world of smart speakers.
Sign up for Black Friday email alerts!
Get the hottest deals available in your inbox plus news, reviews, opinion, analysis and more from the Android Central team.
Daniel Bader was a former Android Central Editor-in-Chief and Executive Editor for iMore and Windows Central.