Google Home v2.6 brings huge redesign, in-app smart home controls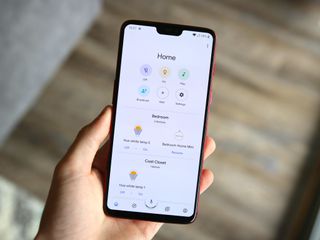 While Google's Home line of smart speakers has been outstanding ever since the first Google Home, the companion Home app has never been fantastic. Thankfully, with the v2.6 update that's rolling out now, Google's made the best version of it yet.
The new Home tab is what you'll see upon open the app, and here you've got quick controls for toggling your smart lights on/off, playing music on any speakers or audio groups, broadcasting a message, adding an item to your home, or diving into the settings.
Below these controls is a breakdown of each room and what Assistant devices and smart home gadgets are in each one. If you've got something like a smart bulb, switch, or thermostat, you'll be able to fully control them right here.
The Discover page shows recommended Assistant commands, Chromecast apps, and any available promotions while the Browse section aims to be a hub for movies, TV shows, and music Google thinks you'll be interested in. The last page, Account, offers access to your Google activity, account preferences, etc. Lastly, there's a microphone near the bottom-center that allows you to quickly prompt the Google Assistant from any page.
Google Home v2.6 is rolling out to the Play Store now, so be sure to check and see if you've got the update waiting for you.
Download: Google Home (free) (opens in new tab)
Get the Android Central Newsletter
Instant access to breaking news, the hottest reviews, great deals and helpful tips.
Joe Maring was a Senior Editor for Android Central between 2017 and 2021. You can reach him on Twitter at @JoeMaring1.
Any idea when Google Home will be able to access a paid GSuite account calendar? Two years from launch and they still cannot/will not get it to talk to their own system.

Can't you just share the calendar to your personal account?

You can share the GSuite account's calendar with a regular Google calendar account, but when you ask Google Home what is on your agenda, it won't include items on the shared calendar.

You may have to add a checkmark to that new calendar in google home settings
Google home > Bottom Right (account tab) > Settings > Calendars

This is a sweet redesign. Very nice and functional!

I just got the update and loving this new design. I hope they add a widget for the Home App with these quick access controls.

SOOOOOOOOOOOOO much better than before. The previous one was difficult to find stuff and add things. This is a massive improvement.

Anyone know where they put the shopping list?

Open Google home > Bottom right (Account Tab) > Settings > Shopping list
or... shoppinglist.google.com

Thanks for your response! Found it under the Services tab on the Settings page.

I don't understand why they have buried this link - it's the Google Home feature we use most. Anyone know if it can be added to the Google Home homepage?

Open chrome (or other browser) > Go to shoppinglist.google.com
Chrome menu > add shortcut to homescreen

If they want me to use this app over the Smartthings app, it needs a widget. So convenient to have my smart bulb controls right on the home screen. If I have to go into an app to do everything, I might as well get an Iphone.

And... RGB control...
Cant change the color of my lights using google home.
Philips hue through smartthings, same goes for philips hue direct to google home.
i only keep hue and smartthings linked normally to avoid duplicates, but i tried to re-link hue and google to test.

The one downside is you cannot change the color of RBG or Color temp of bulbs that support it.

Anyone know where the shopping list went...? There used to be a link in the menu. I know I can ask to see it or get to it in Chrome but it was handy to have a link in Home...

Someone already asked that in the comments
Open Google home > Bottom right (Account Tab) > Settings > Shopping list
or... shoppinglist.google.com

Yeah, sorry... I missed that for some reason - thanks for the reply. I've just set up a shortcut widget to the Chrome web page, it's far too much hassle to hunt through the menus for it. Strange that it's not front and centre - it's one of Home's most useful things.

I am probably looking right at it, but how do I look at the Ambient History on Chromecast in this new version?

Open Google Home > Compass icon at bottom (2nd from left) > Find the Chromecast TV > 3 dots menu > Ambient History....
pretty much same as before....