Google Home Max vs. Sonos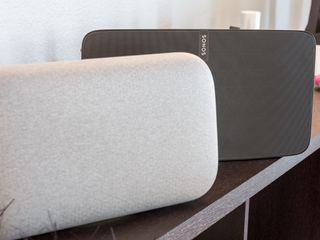 You can't help but look at Google Home Max — the large, $400 version of Google Home — and come to the conclusion that Google is sticking its nose where Sonos has been for years.
That's not to say that Google hasn't done well in the realm of wireless music. Its Chromecast protocol made it ridiculously easy to "cast" music to any compatible speaker, or a speaker affixed with an inexpensive Chromecast Audio dongle.
But Chromecast and Sonos are not the same thing. It's not meant to be Sonos. And it isn't Sonos. That's not the fault of the Google Home Max, which is a perfectly capable speaker and a great entry into the Google Home line. Conversely, Sonos — even in its new "open" incarnation — isn't Chromecast. It's way more of a closed loop, with purpose-built hardware married to a software experience that looks to bring together all sorts of audio services.
No, Chromecast isn't Sonos. Neither is Google Home. And it's not trying to be Sonos. But maybe it should, if only just a little. And here are three reason why:
See Sonos at Amazon See Google Home Max
Changing speaker groups on the fly
I have five Sonos speakers in my house. Sometimes I want them all to crank together. Sometimes I don't. What I don't want to have to do is create separate virtual groups for every possible combination, which is what I have to do for Chromecast targets in the Google Home app.
No, Sonos does this better. You just open the app, tick the checkboxes for the speakers you want active in a current group, and that's it. (Or just toggle "everywhere" to blast everyone.)
And you can do this on the fly. You don't have to start and stop what you're listening to or switch from the music app to some other controller app.
And that leads us to ...
One app to rule them all
I was never really a fan of the Sonos app until it got a major revision this fall. But the overall idea is great, and that has more to do with Sonos as a system, really.
Sonos brings multiple music sources under one roof. A whole lot of music sources. (Not just music, actually.) Consider:
Apple Music. SiriusXM. Google Play Music. Amazon Music. Pandora. Spotify. Tidal. TuneIn. Deezer. I Heart Radio. Pocket Casts. Slacker. Stitcher. ... You can find the whole list here. And it'll easily do locally sourced music, too, such as on a home server.
All of those music services — searchable — in a single app. I don't use Apple Music, but my wife does. So we have her account tied in, alongside my Google Play Music account, for starters. Don't expect the Google Play Music app to ever pull in other music services. (And as a competing service, it really shouldn't. Sonos, on the other hand, is selling hardware.)
And it's not just a single mobile app we're talking about. Sonos also brings the experience to native desktop apps — something Google never really does. That's an oversight it should at some point rectify. But it's also something I wouldn't hold my breath for.
Huge gaps in speaker quality
Google Home Max competes nicely with the Sonos Play:5. It's a good, high-end speaker, even though the Play:5 wins out in my ears. Not by a whole lot, but enough that it's noticeable when the two are side by side.
Where Google falls off is on the low end of the category. The original Google Home can't hold a candle to the Sonos Play:1, or the newer Sonos One, which has Amazon Alexa built in and will support Google Assistant sometime in 2018.
This has led to some interesting changes at the end of 2017. The original Google Home, which started its life at $129, can now be had for about $80. The Sonos Play:1 is now down to $150. And the Sonos One is $200.
Google Home just doesn't have anything near the quality of Sonos' entry-level speaker. And given the price of the OG Google Home, I'm not sure it can.
Be an expert in 5 minutes
Get the latest news from Android Central, your trusted companion in the world of Android