Google hires former Apple chip architect to lead design on custom processors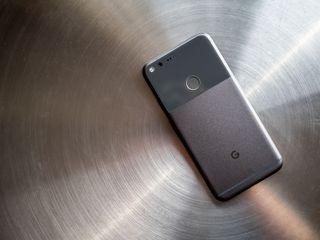 (Image credit: Android Central)
Google has made a big move towards developing its own system-on-a-chip (SoC) for its own Pixel devices with the hiring of Manu Gulati, who has been helping develop chips for Apple since 2009. As first reported by Variety, Gulati has just recently updated his LinkedIn (opens in new tab) page with his new title — Lead SoC Architect at Google.
Google has reportedly been interested in developing its own chips for Android devices for some years now, likely seeking the same success that Apple has found since it started designing its own chips for iPhones and iPads. Poaching Gulati to lead their team is a big move — a quick search of patents linked to Gulati shows 15 patents assigned to Apple related to SoCs with Gulati listed as an inventor. On top of his work at Apple, Gulati has 27 years of experience in the chip design industry having previously working for AMD and Broadcom as well.
The Pixel and Pixel XL represented Google's attempt to design an Android phone that combined hardware with optimized software. Adding the ability to custom design the SoC as well onto future Pixel devices will allow Google to better integrate and leverage all the powerful machine learning capabilities highlighted at last month's Google I/O conference.
Get the Android Central Newsletter
Instant access to breaking news, the hottest reviews, great deals and helpful tips.
Marc Lagace was an Apps and Games Editor at Android Central between 2016 and 2020. You can reach out to him on Twitter [@spacelagace.
Qualcomm needs to worry about that. the hiring of Manu Gulati, an Apple micro-architect, who worked on the Apple mobile SOC team for eight years is to replicate what Apple has been doing with their mobile SOC in a couple of years, which can't be good news for Qualcomm, to have all those companies with deep pockets competing against them. Qualcomm already have their hands full with Apple, because Apple can spend the cash on their silicons whereas Qualcomm can't for costs reasons. Why spend that kind of silicon cash if the people you are going to sell them to can't afford it.

Well... considering Samsung does it and still orders Qualcomm chips and considering every other company in north america also orders from Qualcomm, they are more than a few years from being impacted by this. Even if Google does it for the pixel, it's a small amount of chips that won't be ordered from Qualcomm. The day Samsung drops them completely, then we can talk.

It works both ways. Qualcomm just dropped Samsung as the manufacturer of the SnapDragon 845, opting to have TSMC produce it instead. That's actually very painful to Samsung's chip manufacturing business, which is quite large, and they have become more and more dependent upon it to offset a MEH smartphone market globally, for everyone.

Less dependent on Qualcomm would mean more money in Google's pockets in the long term. Just a matter of how well he will be able to get the processor to work with Android. I wonder how the experience will be with a custom processor. Either way, I can't wait.

Does he have a non compete clause with Apple?

He works in California, non compete clauses are illegal in the state.

Pixel runs buttery smooth now.. imagine how it will run with optimized hardware

It will be as smooth as ice rubbing against ice.

This is great, very much looking forward to the results.

Nice this could lead to longer update cycle ,might even be similar to apple

Good point, we can only hope.

Finally, I was hopeful Google would start designing their own processors. Look at the success Apple has with that

Finally, I was hopeful Google would start designing their own processors. Look at the success Apple has with that.

This news is not relevant until Google makes its product a competitior to Samsung's and Apples. But when they can hardly provide the supply the pixel will remain the indie device it is now. It will never succeed this way

Google will be like Apple. They'll design the chip, and have someone make it for them. While they may go with a company other than Qualcomm, but it doesn't mean that Qualcomm can't make the chip for them. This will mean better performance for Android in the long run, with Google getting more control over the hardware.

Why would Google go to Qualcomm when they know that Qualcomm will just ask Samsung to make it for them (like the SD830)?

I hope this means better software support over the long term.

Google developing their own SoC is great news. The pixel already runs smoothly with no lag just imagine how well it will run with a custom SoC! They could get Qualcomm or Tsmc to build it for them.

I really hope this turns out to be a big deal, not just some optimisation stuff for 3rd party components. Apple have a HUGE lead now in terms of silicon. Even Samsung's own chips can't compete with Apple's. It can only really be Google who have a chance to catch up at this stage.

This is definitely great news, I remember when they first rumoured the pixel devices, people were resistant to the idea that Google want to optimize their device further than the Nexus and there was also talks about processor. After the hostage of not being able to update device less than 2 years old because chip makers are not supporting the chips so readily, they came up with project treble. And now this, is definitely good news, means they can make a custom chip which is more efficient and the chip won't have to support all the configuration in the market place.