Google Currents receives update, includes increased speed support and is now available worldwide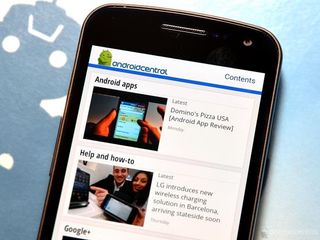 Google Currents (subscribe to AC on Google Currents!) has received a sizeable update that increases the speed of the app as well offers the app worldwide, which also widens the language support.
Here is the full change-log:
Sync speed - Dramatic (7X) performance boost
Instant online sync - No need to press "sync". Just open an edition for latest content
Offline reading - Choose favorite editions for offline images
International - Currents now available worldwide (in 44 languages)
Translate - Translate complete editions to your preferred language. (38 languages)
Trending - Local trending stories provided for US, FR, UK, DE, IT, ES, JP, AU
The increased speed will be welcomed. I love the look of Google Currents, but often find it to be slower than bringing up the actual website. With the 7x boost in speed as well as instant online sync, I think the experience will be much more fluid.
The app is free from the Google Play Store. Please find a link after the break.
It's about time, now they need to bring crome beta as well. Thanks AndroidCentral.

About time. The app hasn't been updating properly for the past few days. And not being a US resident I would have been forced to re-install from the apk. Glad to see they've fixed the app and opened it up internationally. Now if only they would do that for Google Wallet and Google Voice.

Still not updating for. For instance, i'm not seeing this article on currents. HTC EVO

Thank goodness. I love Google Currents, but that isht is SLOW! Even on wifi!

The thing is still a hog for me. Updating put me into "Phone Space Low" territory (an issue with ICS ports to Galaxy S devices) even with the app located on the SD card. That isn't supposed to happen... I'll give Currents another go when I have a newer phone with the extra internal storage.

That instant sync sounds really nice. It took a bit for the app to update but I'm checking it out now.

Its definitely not updating instantly! Google has some of the most talented engineers in the world. And they still can't get this right. I just can not understand it. Even Google reader updates faster! The only thing I can think of is that Google is so far under the sheets with the Carriers that they refuse to provide instant sync for fear of putting too much strain on the networks. I hope this is not the case. Pulse is still my news reader of choice.

Meeh, still no night reading mode (aka dark theme), it doesn't always pull full articles (Cracked.com articles for example), the text is either too big or too small, and it takes me longer to read my feeds compared to Feedly and Pulse since i need to swipe like a cat on ecstasy.

I wasn't a heavy Currents user before due to my impatience at the slow synching. I notice with this 1.1.0 update that after you hit "Sync now", it's definitely a lot faster to finish. But once you go into a particular Library, it takes a few seconds to fetch. I don't remember that it did this before? Did Google adopt an IMAP model of header downloads and folder refresh as needed? Not that I'm complaining...it's definitely much more usable than before.

Can someone summarize why would someone want to use currents over a news reader?

For me, I use Currents on my Prime and News Rob on my 4-inch phone. Why the different apps for the same articles? Because Currents is awesome on a 10.1 inch tablet. On my little 4-inch phone, not so much. It's just not as efficient for viewing and reading my RSS feeds. News Rob does a much better job at that on the smaller phone screen, without any eye candy. Currents = beautiful eye candy and fun for tablets.
Android Central Newsletter
Thank you for signing up to Android Central. You will receive a verification email shortly.
There was a problem. Please refresh the page and try again.