Google Calendar is soon getting a Material Design overhaul on the desktop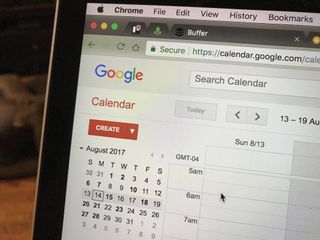 The Google Calendar app for Android first received Material Design way back in 2014, but the same cannot be said of the website. It has been over three years since Google first introduced the Material Design language, but the company has yet to roll it out to its web properties such as Gmail and Calendar.
That will soon change, at least for Calendar. Reddit user xDawnut has shared images over the new UI, released as part of the Trusted Tester program. The new layout looks very similar to the Google Calendar Android application, as one may expect. There are new designs for day, week, month and list view as well as the settings menu.
The current (left) and Material (right) New Event pages
The differences between the old and new design (as seen above) are...drastic. I'm not sure why it took Google this long to get the Calendar web site updated, but it's good that it's almost complete. Most importantly, it seems Google hasn't deprecated any functionality while rolling out this new design. Here is a gallery of the new design:
Image 1 of 8
Looking forward to the design improvements to Google Calendar? Let us know down below!
Android Central Newsletter
Get instant access to breaking news, the hottest reviews, great deals and helpful tips
thank goodness. Calendar was starting to 'show its age' a bit!

A bit? It looks like a 1990's design.

Thank God! Finally Google comes to their senses. I have been waiting for this for so long.

Good! Aside from Gmail and Hangouts, this is the Google service I use the most on the desktop, and its desktop browser version has looked badly dated for a long time.

Yes! Hoping this comes to Gmail as well soon!

There is kinda already Gmail with Material Design by Google and it's called Inbox. Check it out ;)

Yeah I already tried it several times and I don't like it at all. Not the interface mind you but the way it works. So I'll wait for Gmail ;)

I don't want the smart management of my email box.

@Tom Westrick: Exactly. I have my labels and I manage my emails myself.

Wonderful!! Gosh, I've been wondering when Google would do this. Using web apps like Inbox and Contacts with material design is so much nicer than using Calendar with it's old look and style.

It is about time. The calendar and Gmail both look quite dated.

Now when will they add the "Copy to another calendar" function to the Android app?

Or how about just the ability to duplicate an event in the Android app........

I was actually wondering when they would do this. Pretty much everything else has been updated to material design. What took so long? Nevertheless, it's happening so I'm grateful.

Dropping in just to say those red censors are ugly and reducing the impression of beautiful material design. I don't think using work account for this kind of thing a good idea.

Looks just like the calender on my s7 edge
Android Central Newsletter
Get instant access to breaking news, the hottest reviews, great deals and helpful tips
Thank you for signing up to Android Central. You will receive a verification email shortly.
There was a problem. Please refresh the page and try again.