Google+ app updated in Android Market, brings UI changes, new features, and bug fixes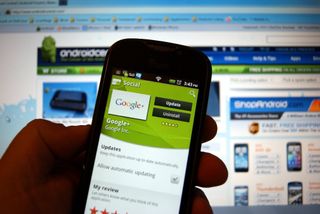 The Google+ app has just received a pretty major update that brings bug fixes, some UI changes, and new features to Googles new social media venture. From the changelog in the Android Market:
Customize the main stream view to show streams from individual circles
Fixed some issues encountered by users with the Swype keyboard
Set permissions for who can start a huddle with you (Anyone, Your Circles, Extended Circles)
If someone you've never huddled with before invites you to a group huddle, you can now dismiss the invitation
New UI allows adding multiple people or entire circles to a huddle
Set photo as wallpaper
Performance improvements and bug fixes throughout the app
This addresses the biggest gripes I've been hearing about the mobile app -- a way to add entire circles to a huddle, and a way to customize which circles are visible in your main stream. I'm sure the Google+ team is still hard at work and things will only get better. If you don't have your Google+ invitation yet, be sure to hit the forums and sing out -- invites seem to be wide open. Download links for the Market are after the break.
If you don't have an Android phone, you don't have a Google+ app.
Jerry is an amateur woodworker and struggling shade tree mechanic. There's nothing he can't take apart, but many things he can't reassemble. You'll find him writing and speaking his loud opinion on Android Central and occasionally on Twitter.
The which circles to show in a huddle is excellent. I'm glad they're taking feedback and making changes quickly based on it.

Anyone else with the new Market app not able to update?

FWIW..I have the old Market and get a server error when trying to update G+

Ive got the new market and ive been able to update apps (Droid 2)
Though so far all my updates have been batches, havent tried a singular app update yet. So off to the market i go i guess

You're right. Cant update on an individual basis. But batch updates work fine though

New market told me there was an update but when I clicked it I only had the option to Open or Uninstall...then I clicked back and it no longer had an update available shown.

New market, and I can see the update but it won't update yet. FB did that to me yesterday and after a few hours it was able to update.

I'm having the same problem. I'll try again later and see if it works like fb did for you

EVO 4G with New MArket, I also Can see the Update but unable to Update can only Open or uninstall. I tried updating with the QR Code it says already installed

My experience with this update and the new market:
QR Code took me to the Google+ page where I saw Open or Uninstall. Opened my New Market directly and saw Google+ had an update, along with 2 other apps. Clicked the "Update all 3" button and successfully got the Google+ update.

I wonder if you uninstall it and reinstall it would that work the kink?

Didn't work. is it me but when you look at what version it is on the market it says Version 1.0.2 and it was updated last on june 28th 2011...

No problem with the download using the QR Code. Still using old Market. Smoooth!

No... I just tried uninstalling and reinstalling. Didn't work. What did work was uninstalling the market update, then update as usual.

Using the old Market version may be the key for this one.

Yeah, that new market isn't ready for release yet. You sort of have to expect major bugs when installing a leak.

Has anyone found settings in the Google+ app or on the website itself to start arranging Nearby posts in the Stream by date instead of what seems to be random? I find posts from hours ago below posts from days ago & it bothers me. I would also like an option to turn off my location from posts. I was on WiFi in my house the other day & it showed my EXACT home address instead the usual neighborhood approximation. Hopefully that is coming in an update or I am just overlooking a setting.

Not sure what happened but it works now in the New Market.

It works in the market now!

It works in the market now!

It works in the market now!

It works in the market now!

It works in the market now!

bummer, my new market seems to be bugged as well, as i have also been unable to update the app and then after closing and going back a few min later it doesnt even show there is an update

I THINK I'VE GOT IT! I left my phone on that app page for a few minutes and an update button appeared. Maybe its just a bit of a lag... try it out

Anyone got the apk for this? Still not available outside US... :(

Downloaded just fine for me. I have the new market with a DInc running cm7

For the love of Crumb Cake, Google--let me leave/end a 2 person chat!

Updated fine on new market.. Rooted mytouch 4g

Updated with new market on unrooted Evo 3d

Thanks for the reports! Lookin into it. If you continue to have trouble, maybe try installing the new version from the Desktop version of Market? +EVAN, Google Community Manager (+profile: https://t.co/QBxEf0y)

Also, FYI for some reason this new version and the previous version are both 1.0.2. If you see 'Open' and not 'Update,' it's possible that the update just may not have made it to you yet. It should be coming soon though...

So. I still can't end one on one huddle hmmm.

now if theyd only add video uploading other than through instant upload

Am new here, can I get an invitation to googleplus pls? Thanks in advance

Go to the thread in the Forums & ask for one.

I just keep getting a "Package file was not signed correctly" error. Anyone just have the apk? Edit: Nevermind, just went over and got it from XDA.

Should I be able to use this? Ive scanned the bar-code but cant get it...

Im sorry if this is a stupid or obvious question, but Im just not sure what to do and any help would be greatly appreciated. Thank you!

are you using a QR code scanner?
on some apps, make sure your scanner is set to 'QR code' instead of 'Bar code'. attempting to scan it through the 'Bar Code' option will not be successful. (see app "QuickMark" for a bar code/qr code scanner)
Android Central Newsletter
Get the best of Android Central in in your inbox, every day!
Thank you for signing up to Android Central. You will receive a verification email shortly.
There was a problem. Please refresh the page and try again.