Google adds real time traffic data in maps to 130 new U.S. cities, expands global coverage, too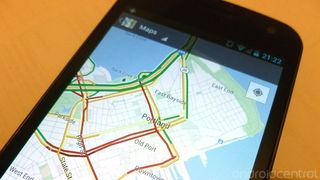 Real time traffic information is a real day saver, and todays news from Google brings the service to a further 130 U.S. cities within Google Maps.
These smaller cities such as Kalamazoo, Michigan and Portland, Maine, will now benefit from traffic information and estimated travel times around the arterial routes within the cities. Hit the source link below for more information on which cities have been added.
The United States isn't the only place to see expanded coverage either. Panama City, San Jose (Costa Rica) and Bogota all join in for the first time too. Additionally, the coverage is being expanded throughout parts of Brazil, Canada, China, Czech Republic, France, Germany, Italy, Mexico, Russia, Spain, Sweden, and the United Kingdom. Good work, Google.
Source: Google Lat Long Blog
Android Central Newsletter
Get instant access to breaking news, the hottest reviews, great deals and helpful tips
Also works in NAV. It's a bird's eye view (3D like) of the roadways, color coded for traffic.

I wish it would show the color coding in the zoomed in shots as well. Sure I might only be able to see that I'm already in traffic, but at least I'd know if I was coming to the end of the traffic jam soon.

WOW....I live in Kalamazoo and never in a million years would I think we would need traffic information. All traffic around here means is that it takes 5-10 minutes longer to get anywhere. I guess the only real benefit would be a wreck on the highways or something.

i was born in kalamazoo O: lol

Grew up there and got the heck out to GR. lol although i am impressed the good Ol' Zoo got the mention.

I gotta gal in Kalamazoo. (thanks, Tex Beneke!)

Great, my town made the list of updated cities...but we still can't access Navigation ¬¬' Ironic, since the message you get when included in the traffic-enabled cities list is 'use Google Navigation to improve the service'...

hurray portland! now when i go bar hopping in the old port i will have traffic info!!

Hmmm... I just recently (~1 week ago) saw a Google Maps Street View car driving throughout Kalamazoo/Portage area with large cameras on the top of the car. I wonder if this was the reason why? Nice to see the Zoo get some Google love!!!
Android Central Newsletter
Get instant access to breaking news, the hottest reviews, great deals and helpful tips
Thank you for signing up to Android Central. You will receive a verification email shortly.
There was a problem. Please refresh the page and try again.