Goat Simulator coming to wreck things soon on Android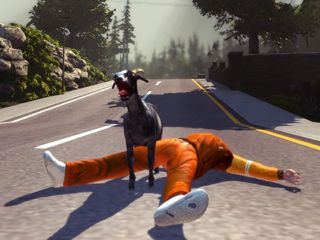 Goat Simulator, which began as a bit of a joke project from developer Coffee Stain Studios, is now heading to Android devices after a highly successful launch on the Windows, Mac and Linux platforms.
The game, which puts the player in control of a goat who just wants to wreck and crash into things and people, launched on April 1 (April Fools Day, get it?). However, even with a ton of bugs that Coffee Stain even admits to being in the game, Goat Simulator has now sold nearly one million copies in less than five months. Today, Microsoft announced that Goat Simulator will also be coming to the Xbox One console.
There's no word on when the mobile version of the game will be released but we are certainly more than ready to crash our goat on those devices soon. What do you think about Goat Simulator's upcoming launch for Android?
Source: Coffee Stain Studios on Twitter
Oh dear god no, it's already sucked enough of my life away. Also the controls will be even worse than on PC.

Wow, this game barely runs smoothly on my high end gaming PC. This thing will make phones explode when you start flinging things around like crazy. Not to mention controls, oh god the controls.

Actually, in the android version, the goat eats your phone from the inside out.

11/10 would still play. Posted via the 64 GB OnePlus One

Sounds fun as hell. I can't wait. Hope it gets controller support. Posted via Android Central App

YESSSS. Posted with my Nexus 7 2012 or Moto X via the Android Central App

This app will render phones completely useless, lol. It lags so much on my PC, and the specs on the machine are decent.

Is this like Carmaggedon but with Goats???

I don't get it, there's only 1 tiny level.... My best guess is that 900,000 downloads are fake which the developer bought himself, to trick the other 100,000 into buying this, I wonder if they'll use the same scam on android? Posted via Android Central App

Why have I never heard of this game??

You must've been in a hole if you haven't heard of this game. Tons of YouTubers made videos of it, and it's been all over gaming sites. Best April Fools ever. Posted via Android Central App

This looks fun. I wonder if it has a level where you can ride the goat? :-D Posted from my LG LS970 via "The Force"

You play as the goat, so sadly no. Posted via Android Central App

nice. Posted via the Android Central App

My kid will be pumped. I won't download. Posted via Android Central App
Android Central Newsletter
Thank you for signing up to Android Central. You will receive a verification email shortly.
There was a problem. Please refresh the page and try again.