Get ready for the 2013 football season with these essential apps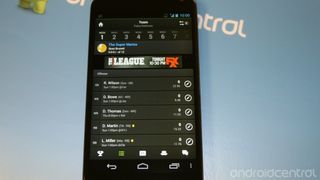 The 2013 football season is upon us. College games started last weekend and the NFL kicks off tomorrow night, so we wanted to provide you with some essential apps for getting you through the season. Whether you're a fantasy junkie or just want to keep up with league scores on-the-go, we've got you covered. Enjoy! Now onto the list, after the break.
Yahoo! Fantasy Sports Football (free)
I recently featured Yahoo's new weather app because of it's gorgeous design and masterful simplicity. While not quite as pretty, the Fantasy Sports app has received some great updates that once again displays the direction that Yahoo! wants to go; and it's a good one. A feature in particular that I absolutely love is to be able to draft directly from the app. One of my drafts was not scheduled during a great time for me, but because I could just pull up the app and draft when I needed to, I drafted on-the-go. It was remarkable. Other than that, the redesign is good and very welcome. Upon opening the app, you see a list of your teams and leagues, are able to make roster moves, propose trades and write in the message boards. For all of you playing Yahoo! Fantasy Football, this app is a must have and much improved from years past.
Download: Yahoo! Fantasy Sports (opens in new tab)
ESPN Fantasy Football (free)
For all of you who choose to play their fantasy football on ESPN, this is the app for you. It's also newly redesigned but I think the biggest change you'll notice is the icon.It's a different color and displays a different icon. The rest of the app is as you remember but seems smoother and faster than last year. Hopefully it stays that way once the season starts. It includes roster moves, trades, live scores and stats as well as message boards.
Download: ESPN Fantasy Football (opens in new tab)
NFL Sunday Ticket (free with subscription)
If you're a Sunday Ticket subscriber, you'll have to check it out on your mobile devices to take all of the NFL action with you on-the-go. If you're a DirecTV subscriber, there is an addition to Sunday Ticket called Sunday Ticket Max, which allows you to enjoy all of the games on tablets or phones. If you're not eligible for DirecTV because of a certain location, there's a great deal where if you buy the 25th Anniversary Madden Edition for $100, you get the game and Sunday Ticket Max this year. That's what I'm doing and am looking forward to trying it. Since there haven't been any regular season games, I haven't been able to try it out yet, but I'm excited to see the video quality.
Download: NFL Sunday Ticket (opens in new tab)
NBC Sports Talk (free)
If you're looking for an app that will give you fast access to credible sports news, NBC Sports Talk is a good way to go. NBC owns the properties such as ProFootballTalk and ProHockeyTalk, so it gives you a simple way to read the latest articles on those sites. When you open the app, you'll see a grid of icons with the latest articles on their family of sites. ProFootballTalk is the first listed and clicking on an article will bring it up in an easy-to-read fashion (just the text). You can also share articles you like and comment on the stories. Very well done app if what you're looking for is the latest news.
Download: NBC Sports Talk (opens in new tab)
CBS Sports (free)
There are some apps that just do better than others in certain areas. My favorite app to provide scores used to be SportsTap, but it is being retired. Not to fret, though, as CBS Sports does a great job at this and takes advantage of Android's left navigation bar features. When the app opens, you'll see the schedule and scores for the latest games (you can customize this). By clicking the left corner will bring up the main menu, where you can access information about My Teams, a section that allows you to follow certain teams. Live Games will show you progress in any game regardless of sport, it just has to be happening when you're in the app. The major leagues are also listed, so you can access scores from just the NHL or the NFL. It's an app that I use specifically to check scores because it allows me to do so in a simple and fast manner.
Download: CBS Sports (opens in new tab)
ESPN College Football (free)
ESPN's College Football app is perplexing. Formerly known as Bowl Bound, it's a fantastic app, both highly functional and designed very well. However, it seems to be incompatible with the latest phones and tablets. I have it installed on my Nexus 4 but it lists it as incompatible for my fiancee's HTC One. I have also seen people complaining about not being able to install it on their Samsung Galaxy S4. This means that ESPN just hasn't tested it on certain phones and probably doesn't want to release it in case the user experience isn't the greatest. It's time to get their act together. When two of the most popular phones right now, the Samsung Galaxy S4 and the HTC One, can't install your app, that's an issue. Now I'm sure plenty of you are thinking that you can sideload it and I'm sure many can, but this isn't the right solution. As far as the app is concerned, it's great. Opening the app will give you a list of the top stories with videos and beautiful HD stills. You can set a favorite team for a more customized experience, view scores from all around the NCAA, evaluate the latest Gameday location and analysis and take in the Stream, which provides the latest highlights from games around the country. The app is great and I hope ESPN updates it soon so more people can experience it.
Download: ESPN College Football (opens in new tab)
NFL Mobile (free)
The official app from the NFL used to be a Verizon exclusive. Now, there is an option for Verizon customers to upgrade to exclusive premium features, but at least everyone else on different carriers can access the app now. The app gives you news from NFL.com writers, live scores from around the league, fantasy information and a nice customized experience once you choose your favorite team. You'll be able to click on the team you've selected and you can see the schedule, latest news about the team, recent videos, rosters and injury reports. That's my favorite part of the app and recommended for those who are looking for something to give them just information related to their favorite team.
Download: NFL Mobile (opens in new tab)
I use the Yahoo Sports app or ScoreMobile on my SGS4GPE and they both work perfectly!

You've got a typo in there, it's "Let's go Pats!!"

You mean "Let's go Raiders!" Posted via Android Central App

Most Raider fans, on reading that, would ask "Go? Go where? Where we going?"

lol, exactly, theyre not going ANYWHERE

Pats baby Posted via Android Central App

Maybe someday they'll win a Super Bowl without cheating...

Week 1 loss for the Pack...GO NINERS!!

No question...but you still got the answer wrong.

This year belongs to Da Bears! Posted via Android Central App

Carrier exclusives SUCK!
I have an NFL gameday subscription, I want to be able to access it on my GD phone, not just my laptop!

Everybody bow down to your Superbowl Champion Baltimore Ravens as we embark on another title run, starting on the road! SEE YOU IN NEW YORK! Posted via Android Central app

Ravens are gonna get blown tomorrow

Can that even be shown on television? Posted via Android Central App

... and their murdering linebacker. At least the Pats had the sense to cut the homicidal maniac on their team.

If the Ravens are going to be in New York, they'll miss out on the Super Bowl...in New Jersey.

Had a chance to test Sunday Ticket last Thursday when they did a test run for the final week of preseason (they did the same last year) and I thought the video quality was better than the previous year. Go Broncos! :)

Yes! Go Broncos! Posted via Android Central App

I agree, the quality was better and smoother than last year.

ESPN should have to pay you to use their awful Fantasy Football app. Unfortunately it's the only option that I'm aware of.

I feel ya. Yahoo's fantasy app is the best by far. Unfortunatly my league is on ESPN. Commish doesn't care about apps so I have to suffer with this God awful ESPN app!

Patriots 2013 App is where its at. Only because its an official app even though its an iPhone port. Posted via Droid RAZR M on the Android Central App

Not a fan of the writing. Also, I personally prefer redheads.

Who's not a fan of redheads?

Fantasy drafts are completed. Preseason is over. Bring on the real football! (and I don't mean that p#@$y soccer stuff) Go GMEN! Posted via Android Central App

(insert trolling Dallas Cowboys comment here in hopes the Cowboys actually beat the Giants at home) Posted via Android Central App

Don't forget Google Now. Great sports updates. And now I believe with up to the minute scores. Don't Panic - Posted via Android Central App.

That ESPN app is terrible. Really wish my fantasy league was on Yahoo. Posted via Android Central App

While I do think the ESPN College Football app is nicely done, I can't help but think it's really just a bit redundant...... at least as far as the notifications are concerned. I'm sure I'm not alone as a sports fan who also happens to have the ESPN Score Center app and after I installed it, I get the same notifications that I've setup in Score Center popping up from the College Football app also. I've personally become quite partial to the Sportscenter "nahnahnah nahnahnah" as the notification tone rather than the marching band tone from the college app. Posted via Android Central App

Thuuz is perfect for football. It alerts you when great games are happening. Posted via Android Central App

I can't wait to see the NFLST app. The quality was not the best last year, but this wasn't app-centric; it was the whole service in general. I hope DTV fixes that for this season's edition of ST, or you'll find a new provider for it in a couple of years, be it the cable companies, or Google, or somebody else.

Go Colts! Posted via Android Central App

I've no shame! GO DOLPHINS!

I noticed the NFL fantasy football app is not listed here. That is probably because it needs a lot of work. Unfortunately, those of us that are in leagues using NFL.com have no choice. It is extremely slow and sluggish, and has no widget for monitoring your team's progress on game day.

Why didn't Bleacher Report make the list. Posted via Android Central App

None of those apps work for me, I've tried them all. Twitter and Google Now are good enough for my needs

For sports scores, I used the crappy ESPN ScoreCenter app. Always found it kinda frustrating. A couple months ago, I tried the CBS Sports app reviewed above. It rocks! It's just plain simple with up to date scores during the game, and the lines before the game. Highly recommended!
Android Central Newsletter
Get the best of Android Central in in your inbox, every day!
Thank you for signing up to Android Central. You will receive a verification email shortly.
There was a problem. Please refresh the page and try again.