Get Photosphere on non-Nexus devices with the 'Google edition' camera app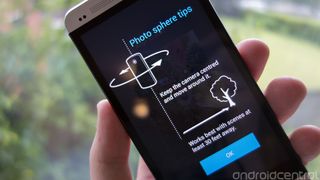 Camera app from Google Play GS4, HTC One can easily be loaded onto other phones
Yesterday we covered the new camera application in the "Google Play edition" Galaxy S4 and HTC One — a slightly redesigned stock camera app that's a little easier to get around. In the past day we've been digging around in the devices' system partitions and we've discovered that the app, as it exists on the Google Play edition devices, can be installed directly onto other devices running Android 4.0 or higher.
Unlike earlier methods for getting Photosphere — Google's 360-degree panorama tool — on non-Nexus handsets, you don't need to root your phone, or manually push it to the /system/app directory. To install it, it's just a case of downloading it directly via the web, or putting it on your device's internal storage and selecting it from a file manager. Of course, bear in mind that you're using the app on a phone it wasn't designed for, so proceed at your own risk.
Once it's installed, you'll see the stock Gallery and Camera apps available in your app drawer, as the two apps are part of the same package. Photosphere images can be shot just like on the Nexus 4, and viewed in the stock Gallery app. So far we've tested it on the non-Google Play Galaxy S4 and HTC One, the Sony Xperia SP and Tablet Z, and the LG Optimus Vu, and it's worked on all of these devices. (On the Nexus 4, it installs over the top of the existing Camera/Gallery apps, but can be removed using the "Uninstall updates" button in the app manager.)
A few caveats — we're seeing some discrepancy in image quality compared to the built-in camera apps on some of these phones, and for the best-looking photos you're probably going to be better off using the app that was designed for your device. But if nothing else, it's an easy way to get one of the coolest Nexus features on just about any current Android device.
You'll find the APK linked for download over on the AC forums. Let us know how you get on!
Android Central Newsletter
Get instant access to breaking news, the hottest reviews, great deals and helpful tips
Alex was with Android Central for over a decade, producing written and video content for the site, and served as global Executive Editor from 2016 to 2022.
Sooo... how long before this hits Google Play like Keyboard, Calendar etc?

Lol, are you getting the question out of the way before EVERYONE starts asking and complaining?

Yay, it works on my nexus 4. Now my thumb is not on my way or making me think there are more settings behind it. I can sleep in peace knowing my phone is still just as good despite minor details.

Has anyone tried it on the Nexus 4? How is it running on that? Degraded picture quality?

I've had it on my Nexus 4 for about an hour now. No degraded picture quality as far as I can tell. Although I had previously flashed the zip to improve picture quality and record videos in better quality too. Both of which still look to be about the same to my eye.

So does it run separate from the Nexus Stock Camera App, or does it replace/update it? It is kind of confusing because they are both Google stock camera apps.

Replaces/updates it. Just install it as a normal app. Root not necessary.

It works well, but as you can imagine, it doesn't have any serious difference in photo quality. One thing I was hoping the new gallery would do is manage Picasa and Photo back up better. It doesn't. You still can't hide Picasa albums or delete from the phone. There are a couple of new navigation buttons when you are editing, but that's about it. The settings navigation for the camera is much improved. It's far more intuitive and easy to use swiping up with one thumb. You still have to use two fingers to zoom though. They really need a slider for that. Posted via Android Central App

Oh, and my phone is a Nexus 4. Posted via Android Central App

Sweet. Definitely going to try it tonight.

Running fine on my Nexus 4. So less annoying than not knowing what was behind my thumb and me checking all the time even thou there was nothing.

No, it doesn't run separate. It replaces/updates it. Ditto the Gallery app. It's actually much easier to use than the one that hid everything, although it took me a second to realize there were 'layers' to the settings menu once you're ready to select it.

On the LTEVO, it doesn't offer similar resolutions to the stock app. For instance, 16:9 (2MB) on this app results in a picture about (1920 x 1088 @ 857kb). 16:9 (High) on the LTEVO app results in an picture (3264x1840 @ 2.31mb). There is an 8M pixel setting, but it results in a 4:3 ratio image.

Installed on my N4. At first, the editing features killed the app, but I installed another .apk (the one from here) and it worked fine. Picture quality seems as good as ever. You can also use the volume keys as a trigger, and the editing features are improved, with new options such as being able to move around the focus of the vignetting.

Just downloaded it, about to give it a try.

Yes, I'm also curious about how it would work on a Nexus 4. Posted via Android Central App

And let's not forget that the Volume rocker now acts as a shutter button.

WORD UP! Thanks for that, since I didn't even notice! Posted via Android Central App

OK, that's a big deal in my book. Updating my Nexus 4 now, that's one thing I really got used to on my iPhone that I wished they'd incorporate.

Sweet. Finally we get "hardware" shutter. While it's not always necessary, it is nice to know that sometimes I can control it without having to look.

Works perfectly on the Galaxy S3, will do a photo quality check later.

Where did you get the app, I can't seem to find it? For the S3

It is at the end of the article labeled
DOWNLOAD: Android Central Forums
It is not in the Play Store as of yet.

Installed it on my rooted Unlocked HTC One running Cyanogen and the Photosphere function is no better than trying any of the other extracted stock cameras for when this first came out for Nexus devices. They overlap horribly and don't stitch well. I used to rock a Nexus 4 before I got my HTC One and this is the feature I miss the most... by far. [Update] After more playing around it is working better. Seems I need to take closer to 180 to 360 degrees before it learns to stitch correctly. First few had a problem with being out of focus though. Fixed that by switching to still camera, focus, switch to Photosphere, then go. Worked like a charm. I am VERY happy now. =)

I'm in the same boat as you--rooted and unlocked HTC One. Does the new camera app live peacefully with the stock One camera? Or if you load this apk it overwrites the stock camera? I'd love to have both, the stock camera with Zoe for "production" pictures and the other with photosphere for dev/tinkering.

I'm not running the stock HTC Rom, I'm running Cyanogen so I do not know. With that said, I've read through an XDA topic where people said that it was installing side by side without losing their Sense 5 camera app. Hope that helps.

I'm running a stock, non-rooted HTC One Dev Ed. and installed this onto my phone today. It installed fine and now I have both the HTC Camera app and this camera app on my phone. I also have 2 Gallery apps showing in my App Drawer as well. So looks like both apps can coexist just fine. (At least I haven't run into any issues so far...)

I noticed one glaring flaw. There is no share to messages option :( Posted via Android Central App

Can tell you it's running ok on the Note 2. Just need to take a photosphere to try it out on. Posted via Android Central App

Have it installed on my galaxy s4... seems like there's no HDR mode and and video don't seem to be working properly also no ability to save to SD card by default.

When you installed on your S4, does it just run side-by-side with the TW camera/gallery apps then? So you can swap between the two if you want? Or does it overwrite it?

it doesnt overwrite it. they are both on the phone and can be used side by side.

Can be used side by side ... seems like video isn't working with this app and no HDR.. The stock gallery is so much faster but still prefer the tw camera...

Yep, video looks horrible on the S4. But man have I missed the speed and simplicity of the stock Gallery app!

Only reason am keeping it installed is for the gallery... Camera not a deal breaker, the main thing in wanted was photosphere which works fine..

video on the S4 is horrible, and doesnt have a way to change storage location

Thank you lol thought it was only happening to me as no one else or even ac didn't report it...

Seems to be running ok on stock AT&T HTC One X

On my note 2 on att stock ROM it forces closes when I try to take a picture.

Photosphere crashes to home when it snaps the first pic. Unrooted AT&T One X+ Posted via Android Central App

Same here on HTC One X, international version. All parts of it work, except the photosphere crashes as soon as you get it aligned. Might be because I'm in my office, and not in the 30 foot free-space recommended.

same here For LG Optimus 4X HD ( not rooted ) every thing works fine Except the
Photo Sphere it takes the first shot and then force close :( to bad
i think it's not optimized for tegra 3 devices :(

Make sure you're not pushing the blue button to "take" the picture. I was doing that for a second, thinking I need to push the "shutter" button just like a normal pic. If you look, that's actually the "stop" button and I just didn't notice :) Not having any trouble with it on my Sprint Note 2.

I have the same issue (xolo q800 -unrooted) and I am not pressing anything

It will not install on my Galaxy S3 running Cyanogenmod 10.1

Likewise. I'm running 10.1 on T-Mobile variant. Tried to install the APK on the phone, tried to install zip with it in internal storage, and then the zip aagin with sideload.

Same with my s3 cm 10.1 Posted via Android Central App

I think I worked it out! You'll have to backup, then delete, the original Gallery2.apk from /system/app. Next, reboot. Finally, install the new APK like it ain't no thang.

Worked like a charm, thanks!

Works great on my Sprint GS3 running CM10.1 just tested it
https://plus.google.com/117298302156830298818/posts/LEzjRnHaVAv Posted via Android Central App

Running on the Droid DNA stock not rooted.

I just downloaded this and have no idea how to install it. GS4 Love

Get a file explorer from the play store.. I use es explorer(free) and then using that just locate the zip file which should be in the download folder and open the zip and there should be a apk file called gallery Google just tap that and install... Make sure in settings>security you have unknown sources ticked otherwise you won't be able to install it.

download it to google drive and install it from there

Thanks guys, I actually had to move the folder destination thats all. Gallery app is so much better, and camera app still playing with it. There seems to be no 16:9 is that right? GS4 Love

The option for Photosphere doesn't show up on the Droid Bionic running stock, uprooted software. Posted via Android Central App on my Nexus 4

I'm pretty sure its because our bionic does not have a gyroscope, which is needed for the Photosphere

Wouldn't you know it. Just flashed the 4.2 camera to my N2 this morning...

Won't install for me. Posted via Android Central App

Works great on Sony Xperia ZL. Thanks. Posted via Android Central App

Seems to work fine on my Vzn Samsung Galaxy S3. Great that I still have the option of the stock cam as well. Posted thru Android Central App

That app is SOOOO SOOOO cool. Just installed it on my S3. i hope Samsung gets it to work nativly on the S3, well even if they don't doesnt matter now. is really fun.

One of the coolest features of the nexus line finally available to many. Let's get some of these photospheres on G+. Posted via Android Central App

Installed to a Galaxy Nexus on Slimbean JB422 build 5... Works but it's noticibly slower to do everything, and there appears to be a glitch in the toggle settings, some options are kinky and don't set until you try switching back and forth in the exposition and flash settings. Posted via Android Central App

I love how suddenly I'm getting closer and closer to a stock experience on my GS3 thanks to things like this.

You could root and install an aosp ROM. That's what I did with my S3 and what I'm currently doing with my S4. Lol Posted via Android Central App

Stock EVO LTE. Holy geebus it works. Photosphere is good, Video crashed once when I first tried that, but it worked the second time through. Worked with both 1080 and 720p. Photosphere is good. Gallery is good. Awesome!

There is also new preview and animation for the last photo taken. It also has a time lapse feature for the video- is that new? Posted via Android Central App

There is also new preview and animation for the last photo taken. It also has a time lapse feature for the video- is that new? Posted via Android Central App

Help Please. Cant get past the instal screen. The instal button is unresponsive. I have "unknown sources" checked in settings. DROID DNA stock

Seems to be working well on my evo 3d running ics. Posted via Android Central App

Works on my GS2! very nice =)

I loaded this on my S4 as an extra camera app. Will likely only use it for phoneshere as the S4 has a great camera app. Curious about something though... Does the Nexus and/or GE phones not take widescreen pictures? I'm not getting widescreen options and I recall always having to wait for a modified camera app on AOSP ROMS to get widescreen. If this is the case Google needs to wake up as widescreen in an industry standard. I don't care if I lose some resolution, I want to use the entire screen on my phone, tablet, and HDTV when viewing my pictures. And no I'm not going to crop all my pictures by hand....

Thanks. It works on my T-Mobile Sensation 4G running Android 4.0.3 unrooted. Google should have made it a standalone app in Google Play. Still want PhotoSynth for Android though.

You can also localize brightness, contrast, and saturation now in the gallery app. For example of a certain part of the photo is washed out, you can increase the color for just that part of the photo without affecting the rest. There is a new animation for last photo taken, and a preview as well. There is a new time lapse feature and they added a few more "picture frames" in the editing choices. Posted via Android Central App

Want install on my Skyrocket running Slim Bean 4.2.2 build 6.8. Downloaded and installed and got an app not installed? Posted via Android Central App

I have been doing this for a long time with the old camera app on my SGS3. Good to know it can be done with the new app

Works great on OneX+ and HTC One. Does not replace the original camera and galley app. To bad you can't hide albums in gallery. Besides that really great. Picture quality is good, PhotoSphere works great as well. HDR does not work on the HTC One with Google camera.Thanks

Doesn't seem to be installing on S3 Liquid smooth 2.7 Posted via Android Central App

Galaxy Tab 2 7.0 installs, but when I opened the camera the first time it was very laggy. Now it opens with no picture from the camera, just the UI.

Works on GS3, will have to try on my Nexus 7 later tonight.

I installed it. It works on mine but no Photospheres and that's a good thing.

Will this work in Evo 4 g lte Posted via Android Central App

Running cm10.1 Posted via Android Central App

Runs great on my EVO 4G LTE

I can't get the initial alignment to work?!

Works perfectly on my TMO GS2! Haven't install the app on my Nexus 10 because Nexus 10 will be getting those camera features officially soon. (Probably) :) Posted via Android Central App

Btw, I don't see any difference of picture quality compare to my stock camera. But when I do 360 panorma, the image is blurry... i don't think the camera is focusing when I do that... Posted via Android Central App

Works great on my Vzw GS4 running a TW rom. Love this !

Works perfect on my T-Mobile SGS4, this is awesome!

Video didnt work on my nexus 4.
I tried to go to video mode, then settings, tried 720p, didnt work, tried 1080p didnt work, then i tried "Timelaps mode" after enabling that, the camera app just keept crashing. I tried uninnstalling updates on the camera/gallery app, but even the old version didnt connect to the camera, i cleared the data and rebooted, that seemed to fix it

It works on my Razr Maxx with CM10.1 but I don't get Photospheres u.u
Just the updated UI and that's all.

Same experience with my stock Razr. However it is a significant upgrade over the stock camera app. The 3 second delay when taking a picture is gone, and the gallery is much more responsive.

Works great on my stock Razr Maxx as well. Much more responsive. Only wish I could change it to save to the SD card. EDIT: Just disabled the stock (built-in) camera app, and now my lock-screen shortcut has changed to this one. :D EDIT 2: Just installed on my Xoom. Installed as an update to the Camera/Gallery app. Even has Photosphere. :D

Won't install. Asus Transformer TF300T. Help? Posted via Android Central App

You need to uninstall the stock Gallery2.apk first, reboot and then try installing the new apk. Installed today on my Asus Transformer TF300TL and everything works except the Photosphere option. Lets me click on Photosphere but FCs before actually getting in. Not a big issue for me though since I typically use my Nexus 4 for taking photos.

This is awesome. Installed to my EVO 4gLTE and it works like a charm. Very cool. No I have to go out and test the sphere feature. THANK YOU!

I can"t get the spots to align for the initial shot?!

works Great on my HTC DNA, i have used this alot on my N10, it seams to move a little quicker on my DNA.

Would not install on Asus TF700T, Hisense Sero 7 Pro, or Samsung Galaxy player 5 (YP-G70). Did install on HTC Evo V 3D.

For LG Optimus 4X HD ( not rooted ) every thing works fine Except the
Photo Sphere it takes the first shot and then force close :( to bad
i think it's not optimized for tegra 3 devices :(

I just installed it on my Verizon GS3. Works AMAZINGLY. Happy to have Photosphere finally!!

Photosphere working on Razr HD

Link is blocked at work and tried from my phone, looks like the link has been temporarily disabled due to too much traffic. Go Figure... Update: Went back and found that a link the APK had been provided. Got it now...

Didn't install on SGS3 running CM 10.1.0

Works on my S3, thanks! Posted via Android Central App

Works great on rooted S3 (custom ROM). Great work. Posted via Android Central App

The camera works well on Tmobile galaxy s3. However, there is a bug! The app freezes when you want to take videos from your front camera! If you change to video from the rear view camera it doesn't happen, but if you are using the front camera, and then you change it to video the app freezes.

The same thing happens to me. I'm on Verizon Galaxy S3 with CyanogenMod 10.1 (CM10.1) and as soon as I try to take a picture with the front facing camera the screen turns black and I hear 2 vibrates as the phone reboots.

For Verizon Galaxy Note 2: Camera works fine in photosphere mode. Took several dozen shots already. However, in regular camera mode(single-shot), it frequently hangs and/or crashes completely. Samsung's stock has anti-shake function. The Google camera doesn't seem to have this function

Working beautifully (at least with rear-camera) on stock Sprint Galaxy Note 2. This and the stock app seem to have no trouble co-existing on the device either. AC FTW! :)

Working fine on my aging Galaxy S2 i9100, the lens is fucked up but that is a different story, hardware issue ... :)
Stock 4.1.2 Touchwiz Posted via Android Central App

So nice on galaxy s3 Posted via Android Central App

After backing up and uninstalling the old version it worked fine, finished my first photosphere just now. Thank you, Androidcentral Posted via Android Central App

Keep getting app not installed message on my asus tf 300t. Is this because the gallery is already "stock" or "Google edition"? Or will it not work on tablets at all? Posted via Android Central App

Photosphere works great on my stock Rezound (ICS). General photo aspect ratio is 16:9 (or whatever the screen is my phone), which is odd and I can't seem to change it. Video crashes the app. Gallery isn't as smooth as QuickPic. Still definitely hanging onto this if only for Photosphere.

Works great on LG Optimus G. Great quality too. Thanks AC! Posted via Android Central App

works on my note 2 (international version running 4.1.2 unrooted) files do get save in sd crad
although if u want you can open the preview and then share it to either google drive or dropbox or any other service that u use

This is great. Really wanted to try photosphere. Will probably still use regular camera app otherwise on OG Note.

works great on my GS4 I9500

Seems to work fine on the Optimous G Pro

Works with my gs4 stock rooted Posted via Android Central App

Works great on my S2.
Does anyone know if this app also has ability to upload photospheres to Google Maps? I couldn't find it.

It doesn't give the option on my phone. I can't speak for any of the others.

Just installed it in my Galaxy SIII, it doesn't display the option to upload to Google Maps :(, any workarounds?

Works just fine on my GS3 Posted via Android Central App

Will not install on my VZW GS3 running LiquidSmooth 2.1

Works perfect on AT&T Samsung Galaxy S4 (SGH-i337). Thanks for posting the .apk

Works like a charm on my Galaxy Nexus. Posted via Android Central App

I like the camera app way better than the one that was on my PenTech flex P8010 . Take better image with this camera app. Posted via Android Central App

Anybody know where the apk is? The link in the forums downloads a zip but no apk..I must be missing something

Editing the build.prop would also be effective, but this method is great for those not too keen on tinkering with their $500 electronic toys. Posted via Android Central App

Installed and works on my Rezound but not on my Sero 7 Pro.. Posted via Android Central App

I just installed it on my GS4 and my first Photosphere was the best I have ever taken, they must have really improved it... no broken light posts/trees. This is really good and probably the only feature I will be using with this camera apps as I love my stock Samsung Camera app - but Samsung needs to bring back the shortcut to the Flash. I live to turn on/off the flash easily.

Tmobile GS3 rooted running CM 10.1 Stable. Installed but photosphere does NOT work. Gallery closes out. Also, Recording video with front camera causes app to freeze and phone reboot.

I have just spent ages trying to find a link in the forums. Can anyone give me a hint please? Posted via Android Central App

Works for my Galaxy Note 2

Works great on my (aging) Samsung Galxy S2 !
I do feel it is a shame you cannot share a sphere to Facebook, only to Google+.
But i just love having a hardware shuttor button now :-)

Will not align dots on HTC EVO LTE any thoughts out there?

Just downloaded it on my LG Optimus Vu (p895, the international unlocked version), and it downloaded fine, and everything works on it... except Photosphere, the one thing I wanted! Which Optimus Vu did you try it on Alex?

Download Free Cracked apk of Fireball SE...visit
http://www.windroidblog.blogspot.in/2013/08/download-free-cracked-apk-of...

Google Play won't allow me to install it on my HTC One M7. It says my phone isn't compatible. Any ideas?

Photosphere crashes in HTC One X. Will this bug be fixed?
Android Central Newsletter
Get instant access to breaking news, the hottest reviews, great deals and helpful tips
Thank you for signing up to Android Central. You will receive a verification email shortly.
There was a problem. Please refresh the page and try again.