Gboard update adds a floating keyboard, cursor control, and GIF suggestions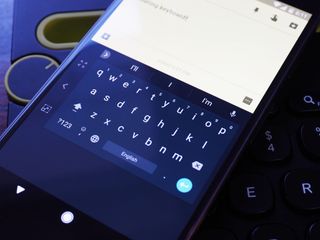 (Image credit: Android Central)
Gboard has picked up a significant update to version 6.2 that introduces a slew of new features. In one-handed mode, you now have the ability to resize and reposition the keyboard, allowing you to move the keyboard to a location where it's comfortable to use. All you have to do is switch to one-handed mode, select the pop-out icon from the bottom left (or right, based on the orientation) of the keyboard, and move it around the display.
You can also rearrange the toolbar (the icons that show up when you hit the short arrow to the left of the keys) to fit your oft-used actions in the top row of the keyboard. The toolbar now has an action menu next to the voice dictation icon, and selecting it allows you to move the icons around.
Other new additions include a text editing tool that gives you fine-grained control for selecting, cutting, copying, and pasting text. You're not going to need it for chat conversations, but if you're editing a large document on your phone, the new utility comes in handy. The tool has arrows that let you quickly select large portions of text, and there's also a Select All button if you want to copy the entire contents of a document to another location.
Finally, Google is bringing GIF suggestions to Gboard. You'll now see GIF recommendations for common phrases, which will presumably liven up your conversations. The update is now live for those on the beta track, and should be rolling out to all Gboard users shortly.
Harish Jonnalagadda is a Senior Editor overseeing Asia at Android Central. He leads the site's coverage of Chinese phone brands, contributing to reviews, features, and buying guides. He also writes about storage servers, audio products, and the semiconductor industry. Contact him on Twitter at @chunkynerd.
May this update hit my phone!

How is this New GIF recommendation different from what I've been using on Gboard for the last month or so?

I deleted gboard app.... texting was slow and at most times unresponsive

Interesting. The whole reason I switched from SwiftKey to Gboard was that Gboard was so much more responsive than the progressively laggier SwiftKey. Which keyboard did you switch to?

Same here. I still believe Swiftkey has better word prediction, but not worth it anymore. Gboard in my opinion is the best out there right now.

Yeah, I was really disappointed with SwiftKey's decline in quality. I started using it right after I got my first Android phone, so it had a good six years of input data for me, which led to *great* prediction and autocorrect accuracy. And as much as I thought the themes were a gimmick at first, it really was pretty cool to be able to make the keyboard match whatever wallpaper and icon pack I was using at the time. Can't complain too much, though. Google's really knocked it out of the park with Gboard.

Swiftkey still working fine for me on a Galaxy S7e. No lag except on very rare occasions.

Has the beta fixed the issue with "I" not being capitalised? That seems to be happening for quite a few users since a recent update. Apparently it might only affect some languages (e.g. UK English), although some people with other languages have also seen similar issues.

I've heard some people say it happens because you've accidentally removed "I" from the suggestions; apparently through dragging it off the suggestion bar. Whether that's true or not, I can't say. I've seen it happen to me but that was because I'm bilingual and it for some reason switched language mid-sentence.

Hmm, I don't think that I have done that, I rarely press the suggestion bar at all, particularly not for a single letter word. "I" (capitalised) actually still appears as the middle suggestion when I type "i" (lowercase), it's just not used when I press space, unless it's the first word of a sentence.

I still think the BlackBerry Keyboard is the best because you can flick words to what you are typing! Why cant Google or Samsung keyboard do that instead of reaching to the top of the keyboard to pick your word to insert, BlackBerry has a lot of cool things but they dont exploit them so no one knows. I use the BB KB on my Note 5 and have tried the GBoard but keep going back to the BB KB

Search for blackberry manager by cobalt232.

Sounds like a nice update.

Looking forward to this! My only complaint with Gboard is that I wish I could make the shortest height even a bit shorter, and that text predictions would be better when fast typing (Swiftkey still does better for me with sloppy typing). Getting annoyed like others with the lagginess of Swiftkey but also because I haven't really seen a decent update to the keyboard - seems like all the updates are mostly languages.

I still prefer the options SwiftKey gives me.. Lag or not. It's just easier to use for me. If Gboard adds arrow keys on the bottom row I might be in though..

Nothing comes close to SwiftKey, tried the new Gboard, it's nice, but still has issues, like auto capitalization after using a period.

I've never had issues with a space after periods. The issue I have is no space after a comma,which is really annoying. Other than that, I love it and never went back to Swiftkey.

Might have to try when it rolls out to full release. Intrigued by the text editing tool. It's so hard to get a cursor where you want it.

my gboard now has a feature where you slide your finger along the SPACE bar and it puts the cursor where you want it. thats why i switched to gboard.

That feature has been out for quite awhile already. But awesome none the less. :)

This is the first I've heard about the cursor control feature, which I like a lot because I'm so used to arrow keys (and the predictions) with the HTC Sense keyboard. I prefer the Gboard emojis, though, so I'll give it a try again.

Just trying the recently updated a1 keyboard… it's very impressive

I was a Swype user, very happy until recently, when it started doing strange things. Changed to Gboard, and, so far, have been very happy. The only problem is that, on my iPad, it doesn't seem to do all the things mentioned in the article. I would really like to have the ability to change the keyboard size. On my Android Note 8 with Swype you had the option to change the keyboard in various ways. Sadly, Swype on the iPad doesn't have these options. I'm struggling a bit with the width of the iPad keyboard. Is there any way I could get this, or is it confined to the phone app? Or is there another keyboard out there...?

I gave it a shot once again, and decided that the aging Fleksy is still better than Gboard. It's heavy, slow and still won't support unicode emoji on my device.
Android Central Newsletter
Get the best of Android Central in in your inbox, every day!
Thank you for signing up to Android Central. You will receive a verification email shortly.
There was a problem. Please refresh the page and try again.