Galaxy S9+ vs iPhone X: A MrMobile/TechnoBuffalo Collab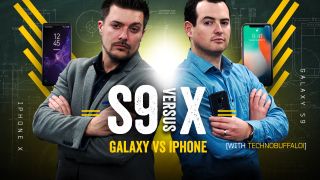 To anchor a collaboration years in the making, Jon Rettinger and I chose a comparison that never seems to get old. That's right: for the ninth year running, it's Galaxy vs iPhone time as we put Samsung's Galaxy S9+ head to head with Apple's iPhone X! In this break from the traditional MrMobile format, I visit the TechnoBuffalo offices for a podcast-like debate with Jon Rettinger on the merits of iOS vs Android, FaceID vs iris scanning, and simplicity vs customizability. We evaluate the iPhone X and Galaxy S9+ across five separate categories -- and in keeping with TechnoBuffalo tradition, there are no cop-outs allowed: every category gets a score, and an ultimate "winner" is indeed crowned! At the end of it all, we flip the objective into the subjective with our own choices for which would find a home in our own pockets.
A comparison this big takes two videos to tackle, so brew up a pot of something hot and plant your phone in front of your face for Galaxy S9+ vs iPhone X Part 1 over at TechnoBuffalo, and Part 2 at MrMobile! Then be sure to subscribe to each channel so you don't miss the next big smartphone reviews from each!
Stay social, my friends
A great pair of videos, excellent job by these guys as always, highly recommended. 👍🏻👍🏻👍🏻

Jon likes the iPhone X cause it matches his hairline.

Man, what happened to technobuffalo? It used to be the only tech site I would ever visit until they redesigned and moved to facebook comments. Looking at their online traffic, it looks like I wasn't the only one either.

Forget S9+ & iPhone, we need P20 pro & OnePlus 6 ! When it's released

This guy knows whats good!

I really liked that format!

One big intangible that was missed is the Edge panel, specifically The Edge apps panel. I'm coming from a Galaxy S6, I've never had an edge phone before. I watched one of mr. mobiles videos about the S9 Plus soon after it came out, and you said words to the effect of I Revisited The Edge panel and it can be sort of useful.. I find it incredibly useful. I like a very clean home screen, not more than one home screen. To that end I have my frequently used apps on the edge app panel, many of them in folders to save space. It makes it so simple, that way I do not have to reach all the way across or up to the corner of the S9 plus screen which is quite a stretch, I simply slide out the edge panel and tap what I'm looking for. Easy peasy! I'm thankful that I watched the Mr mobile video where you mentioned the edge panel, otherwise I probably would have taken your colleague Andrews advice and disabled the edge panel.

Hey Mr. Mobile! Sam here with Echobox Audio. You did a review of our Explorer a while back, and we have been trying to get in touch with you to answer your questions. Please shoot me an email to ops at eboxaudio, or leave a comment on our website and I will be happy to answer any questions you have!
Android Central Newsletter
Thank you for signing up to Android Central. You will receive a verification email shortly.
There was a problem. Please refresh the page and try again.