Samsung Galaxy S8 vs. Galaxy S6: It's time to upgrade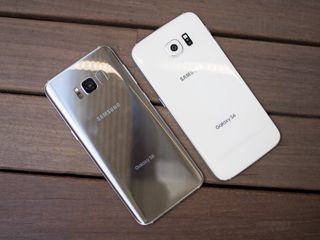 Holding over from the days of two-year phone contracts, most people choose to upgrade their phone on the same path today, even though financing plans have made it even simpler to move on to the latest devices every 12 months. The Galaxy S6 just had its second birthday, and while its hardware actually still feels quite modern, there are many parts of it that likely haven't aged well and will have longtime owners looking for an upgrade.
The question is, will you make the jump from a Galaxy S6 to a new Galaxy S8 and keep it in the Samsung family? We've put the phones side by side and have the information you should keep in mind when considering the move.
Hardware, specs and features
Image 1 of 5
For all of the gripes about some of the internal spec choices on the Galaxy S6, you can't argue that its hardware design has held up nicely over two years. That metal and glass exterior was a complete change of direction for Samsung in 2015, and you can clearly see its influence in the Galaxy S8 today. Of course, some things have changed and for the better: The Galaxy S8 has small bezels to fit even more display in a compact frame, the body has been rounded off to be easier to use, and the camera bump on the back has been eliminated. Samsung also moved to waterproofing and reintroduced the SD card slot right after the Galaxy S6, which were key differentiators in 2016.
The Galaxy S6's 5.1-inch QHD AMOLED display actually still looks great today, but display technology has continued to advance and Samsung has done an even better job on the Galaxy S8. What hasn't changed are the characteristics of its AMOLED displays — they're crisp, low on glare, great in bright sunlight, and exhibit punchier colors than the competition. If you have the Galaxy S6 and not the S6 edge you may be worried about the curved screen on the Galaxy S8, but there's reason to look at this with fresh eyes as Samsung has nicely tweaked the design since 2015.
More: Samsung Galaxy S8 and S8+ preview
After two years of increasingly heavy apps and a few software updates the internal specs on the Galaxy S6 don't seem quite as state-of-the-art as they did in 2015. The Galaxy S8's new processor (a Snapdragon 835 or Exynos 8895) will beat the GS6's chip, and the extra gigabyte of RAM helps with multitasking. Perhaps the biggest spec jump is the battery, which was a critical flaw of the GS6 — the Galaxy S8's 3,000mAh cell, partnered with a more efficient processor and display, will outlast the GS6's 2,550mAh.
The camera is another key differentiator in the hardware. The Galaxy S6's 16-megapixel camera with an f/1.9 lens was a huge step up from anything the company had done before, but just like the rest of the hardware, that formula has now been applied to more modern components with improved results. The Galaxy S8's 12MP sensor has a better auto focus mechanism, larger pixels, and sits behind a faster f/1.7 lens. If you like what the Galaxy S6's camera can do (and it definitely still takes great photos), you'll love what the GS8 can do with the same ideas applied to new hardware.
Software and experience
If your Galaxy S6 has been updated to Android 7.0 Nougat, you're actually getting a great feel for the software experience on the Galaxy S8. While Samsung may take a long time to get its big platform updates out, it does do a pretty good job of bringing all of the new software design and features (within reason) back to older models with an update.
Sure, the Galaxy S8 has a few tricks up its sleeve with the camera interface, new icons, and a redesigned launcher, but the core Nougat experience is very similar between an updated Galaxy S6 and a brand new Galaxy S8. While that means you won't have to upgrade just to see an updated interface, it also gives you the comfort to know you can get a new phone and not have to re-learn how to use its core features.
The thing is, even though you may be happy with what Nougat has brought to your Galaxy S6, there's a good chance that that's the last big update the phone will ever receive. At two years old, the Galaxy S6 is hitting the age where Samsung is going to cut it loose from major platform updates and perhaps only support it for a while longer with security patches. That means that going forward, if you want to stay on Samsung's radar for updates, you're best making the jump to the newest phone.
Moving to the Galaxy S8, you'll also get to check out Samsung's latest features that won't be coming back to other phones via updates. The Bixby voice assistant is all new for the Galaxy S8, as is the new DeX desktop dock that lets you turn your GS8 into something approximating a light workstation with a keyboard, mouse and monitor. You may not be entirely sold on these features, but if you want to give them a try you'll be going to the latest phone to get them.
Bottom line
After two years using a Galaxy S6, you know it's about time to upgrade — the only question is whether or not you want to stick with Samsung or move elsewhere. There are definite synergies in moving to the Galaxy S8, including familiarity with the software, consistency with the services if you've been using anything tied to a Samsung Account, and of course just brand loyalty. Chances are if you kept your Galaxy S6 for two years, you actually like what it offers.
If you move from the Galaxy S6 up to the Galaxy S8, you're going to get that same high-quality metal and glass build you're used to, now caressed into a more ergonomic curved shell with a much larger display in not much more body. You're also getting up to speed with Samsung's new default features, like an SD card slot and waterproofing, while also keeping wireless charging, fast charging, and a high-resolution AMOLED display. The camera has also notably improved since the Galaxy S6, with a real emphasis on being able to take great low-light photos.
Moving to a Galaxy S8 gives you the familiarity of staying with a Samsung phone, while also bringing you up into the future in terms of battery life, performance, hardware features, and of course future software updates. This is a great move to make, so long as you're happy with Samsung and want to stay on that path.
Sign up for Black Friday email alerts!
Get the hottest deals available in your inbox plus news, reviews, opinion, analysis and more from the Android Central team.
Andrew was an Executive Editor, U.S. at Android Central between 2012 and 2020.