Samsung Galaxy S8 vs. Galaxy S6: It's time to upgrade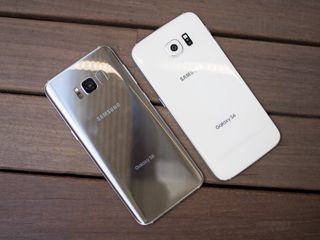 Holding over from the days of two-year phone contracts, most people choose to upgrade their phone on the same path today, even though financing plans have made it even simpler to move on to the latest devices every 12 months. The Galaxy S6 just had its second birthday, and while its hardware actually still feels quite modern, there are many parts of it that likely haven't aged well and will have longtime owners looking for an upgrade.
The question is, will you make the jump from a Galaxy S6 to a new Galaxy S8 and keep it in the Samsung family? We've put the phones side by side and have the information you should keep in mind when considering the move.
Hardware, specs and features
Image 1 of 5
For all of the gripes about some of the internal spec choices on the Galaxy S6, you can't argue that its hardware design has held up nicely over two years. That metal and glass exterior was a complete change of direction for Samsung in 2015, and you can clearly see its influence in the Galaxy S8 today. Of course, some things have changed and for the better: The Galaxy S8 has small bezels to fit even more display in a compact frame, the body has been rounded off to be easier to use, and the camera bump on the back has been eliminated. Samsung also moved to waterproofing and reintroduced the SD card slot right after the Galaxy S6, which were key differentiators in 2016.
The Galaxy S6's 5.1-inch QHD AMOLED display actually still looks great today, but display technology has continued to advance and Samsung has done an even better job on the Galaxy S8. What hasn't changed are the characteristics of its AMOLED displays — they're crisp, low on glare, great in bright sunlight, and exhibit punchier colors than the competition. If you have the Galaxy S6 and not the S6 edge you may be worried about the curved screen on the Galaxy S8, but there's reason to look at this with fresh eyes as Samsung has nicely tweaked the design since 2015.
More: Samsung Galaxy S8 and S8+ preview
After two years of increasingly heavy apps and a few software updates the internal specs on the Galaxy S6 don't seem quite as state-of-the-art as they did in 2015. The Galaxy S8's new processor (a Snapdragon 835 or Exynos 8895) will beat the GS6's chip, and the extra gigabyte of RAM helps with multitasking. Perhaps the biggest spec jump is the battery, which was a critical flaw of the GS6 — the Galaxy S8's 3,000mAh cell, partnered with a more efficient processor and display, will outlast the GS6's 2,550mAh.
The camera is another key differentiator in the hardware. The Galaxy S6's 16-megapixel camera with an f/1.9 lens was a huge step up from anything the company had done before, but just like the rest of the hardware, that formula has now been applied to more modern components with improved results. The Galaxy S8's 12MP sensor has a better auto focus mechanism, larger pixels, and sits behind a faster f/1.7 lens. If you like what the Galaxy S6's camera can do (and it definitely still takes great photos), you'll love what the GS8 can do with the same ideas applied to new hardware.
Software and experience
If your Galaxy S6 has been updated to Android 7.0 Nougat, you're actually getting a great feel for the software experience on the Galaxy S8. While Samsung may take a long time to get its big platform updates out, it does do a pretty good job of bringing all of the new software design and features (within reason) back to older models with an update.
Sure, the Galaxy S8 has a few tricks up its sleeve with the camera interface, new icons, and a redesigned launcher, but the core Nougat experience is very similar between an updated Galaxy S6 and a brand new Galaxy S8. While that means you won't have to upgrade just to see an updated interface, it also gives you the comfort to know you can get a new phone and not have to re-learn how to use its core features.
The thing is, even though you may be happy with what Nougat has brought to your Galaxy S6, there's a good chance that that's the last big update the phone will ever receive. At two years old, the Galaxy S6 is hitting the age where Samsung is going to cut it loose from major platform updates and perhaps only support it for a while longer with security patches. That means that going forward, if you want to stay on Samsung's radar for updates, you're best making the jump to the newest phone.
Moving to the Galaxy S8, you'll also get to check out Samsung's latest features that won't be coming back to other phones via updates. The Bixby voice assistant is all new for the Galaxy S8, as is the new DeX desktop dock that lets you turn your GS8 into something approximating a light workstation with a keyboard, mouse and monitor. You may not be entirely sold on these features, but if you want to give them a try you'll be going to the latest phone to get them.
Bottom line
After two years using a Galaxy S6, you know it's about time to upgrade — the only question is whether or not you want to stick with Samsung or move elsewhere. There are definite synergies in moving to the Galaxy S8, including familiarity with the software, consistency with the services if you've been using anything tied to a Samsung Account, and of course just brand loyalty. Chances are if you kept your Galaxy S6 for two years, you actually like what it offers.
If you move from the Galaxy S6 up to the Galaxy S8, you're going to get that same high-quality metal and glass build you're used to, now caressed into a more ergonomic curved shell with a much larger display in not much more body. You're also getting up to speed with Samsung's new default features, like an SD card slot and waterproofing, while also keeping wireless charging, fast charging, and a high-resolution AMOLED display. The camera has also notably improved since the Galaxy S6, with a real emphasis on being able to take great low-light photos.
Moving to a Galaxy S8 gives you the familiarity of staying with a Samsung phone, while also bringing you up into the future in terms of battery life, performance, hardware features, and of course future software updates. This is a great move to make, so long as you're happy with Samsung and want to stay on that path.
Android Central Newsletter
Get instant access to breaking news, the hottest reviews, great deals and helpful tips
Andrew was an Executive Editor, U.S. at Android Central between 2012 and 2020.
Thanks for the reminder AC. All that's left is for you to ship me the $$ and I'll gladly upgrade

i went with a pixel over another galaxy bloat. does the s8 get as hot as the s6?

The s7e barely gets warm. Even in vr.

I doubt it. Though Samsung went with their own Exynos SoC instead of the Snapdragon 810, that was just a terrible year for CPUs.

My S6 Edge has never gotten hot.

Whoever has owned an S6 for 2 years, how's the 1 hour of screen on time?

I'm using the same S6 I bought at launch two years ago, and my battery life is still decent, but i don't do a lot of traveling or other scenarios in which I'd be away from a charger or external battery for a long stretch.

Hey, I toughed it out. Got the S6 at launch in April 2015 and did a two-year contract. THAT is why I owned it for two years. :P But yes, I think the max SOT I ever had was about 2.25 hrs. Most of the time it is the 1-1.5hr range. The 2550mAh battery in it was just too puny.

If I owned an S6, I would've likely bought a Mophie battery case right off the bat. I am not easy on batteries.

I had/have the S6 edge. Battery was bad at first. My usage and MM made it better and now it looks good on nougat. It was on AT&T. I moved to project fi and true to use it after unlocking but no mms. Still using nexus 5x whose battery is like 2 hours mote (as a whole) than s6. I used to her 2.5 hours sot in s6.

That's just beyond terrible.

Battery life in the S8 will be about 45 mins with the screen on full , will have to darken the screen and run on 1080 to get two hours screen time, Chinese phones have almost 5000 mah and can last two days as well as jump off your car, Sammy gets smaller and smaller, they just can't figure it out

I wouldn't know.. I'm never buying one of those either.

Never had an issue worth screen on time even after hours of watching streaming video while commuting/traveling

I'm amazed people are still using S6s considering they had abysmal battery life.

Well, those still on a 2 year contract or with device payments and without the cash to pay it off or upgrade would explain it, :)

I still see a lot of them.

Don't have any battery life issues on my G6 Edge. But I don't live on my phone either. But even when I've traveled it holds up perfectly fine. If I know I'm going to have a long day, I just put it in battery saving mode and I can go into the wee hours.

Still using an s5. Preordered an s8.

I loved my S5. Great phone when it came out.

I'm using the same S6 I bought at launch two years ago, and I think your premise on some of these statements is wrong. My experience with Samsung is the OPPOSITE of brand loyalty--I appreciate the hardware, but only after I rooted the phone and got rid of all the POS bloatware did my satisfaction with it allow me to stick with it for two years. I've been toying with the idea of an LG G6, but am waiting to see what the Pixel 2 brings in the fall. No WAY am I EVER buying a Samsung phone again until it's been out for at least 6-12 months. That way, the device will have been rooted with a decent selection of alternative ROMs. Screw Samsung bloat. Bixby, especially, seems like a great way to slow down everything on the handset while providing a half-ass excuse for Google Now/Assistant.

Sill using my S6 edge, but battery life has become more of an issue now that the phone has aged. My S8 + is pre-ordered and can't come soon enough. I had been tempted to upgrade earlier to a Note 7 before they started having issues and were recalled.

I was using an S4 until 4 months ago. Hopefully my S7 lasts at least 2 years!

No, it's not. The S8 is a half baked product. It offers NO real advantage over the S7.
For someone with the S6 the smarter move would be to either wait for the S9 where they'll fix things like the idiotic fingerprint placement or go with the S7 for half the price the S8 costs.

So is everyone required to agree with you?

Anyone on an S6 would be better served by upgrading to whatever device the choose and can afford.

S6 looks better than everything except the newer Samsung phones. I wish they kept the white for the s7. But yes I agree but S6 I'd probably get one over a iphone 7 even with the terrible battery life. It's still a pretty good phone.

Another person complaining about price. That same guy will be here in September telling people not to buy the Note8 wait till the s9. It's pretty when people truthfully buy nothing but come here just to leave baseless comments.

Yes because he's a Nokia fanboy and knows phones /s

then you may as well wait for the S10 so they can fix what is wrong with the S9

Looks like Chevrolet is going to demand royalties for the name

S10 got replaced by the Colorado

I'll bet in those countries that GM can sue for the use of S10, they'll simply call the device S9+1.

they might call it the SX just to avoid that dilemma...but who knows

Or wait for Note 8, which has always been the flagship for Samsung

Or just get what you want. Because if you want the best, you're always going to be waiting endlessly.

Well, since people in the US will most likely get the S8 off a carrier and pay it off monthly, they may be more likely to get the newer device.

You're assuming that the fingerprint placement is important to every consumer. For me, I rarely ever use the fingerprint sensor, so I could care less where it is.

So, you still care - at least a little - if you could care less.

I'm still on my S6. While it's still a capable phone, I'm now having to charge it up twice throughout the day and again at night. I was going to move to the Note7 about the time that the first reports of issues started to surface. I held off and now I'm more than ready to get a new phone. I didn't want an iPhone7 or a Pixel. My pocket/wallet/body is ready for the S8.

The HTC Pixel is Android's IPhone.

I don't miss getting to 40% battery by 10am. That phone's battery life was the worst I've had on a phone.

S6 Active. 3500 mAh. No battery issues, larger then the reg S8.

Stop with the 'it's time to upgrade BS'. Unless your phone is broken or no longer meeting your communication needs, it's not time to upgrade. I'm still using my Note 4 daily in 2017. Ok I have an LG V20 and S7E too, but that's because I have a phone addiction that I'm working on 😔

No need to feel ashamed, lol, I still have the Note 4 in my asernal, great device especially since it's still getting security updates. It's running the 01 March security patch right now and it's still fast.

Exactly. My mom's GS3 was dying quicker than usual, and she planned on upgrading. I told her she probably only needed a new battery. After the battery swap, phone's like new, and still does exactly what she wants it to do.

I have an S6 Edge+ and have loved this phone. The question for me is should I keep my pre-order of the S8+, or wait for the Note 8 in a few months?

The Note8 won't be out till September/October so you're looking at another 6/7 months.

While in general I liked my S6 for the past two years, some things in it were terrible. Most notably the battery life. It has always been really poor. 1 to 1.5hr SOT most days! And then like some other early adopters, the OIS of my camera has been flakey and requires me to violently shake the phone to get it to wake up and focus when I want to take a pic. I tried the S8 at Best Buy and honestly, I really really don't like the rounded screen edges. Or the fingerprint sensor location. Or the dedicated Bixby button. I'd have to make a lot of compromises to get it. So instead I'm leaning towards the LG G6. No, it isn't as flashy as the S8, but going from a 2550mAh battery to a 3300mAh one alone will make my day.

If u care about battery life above all, the Mate 9 easily beats any galaxy and LG, my mate battery is lasting so long, it cured my battery anxiety.

Any phone will be an upgrade in terms of battery life coming from the S6

So the S8 battery is only 450 mah larger... how much better is the S8 battery life? How many hours more than the S6? My S6 battery was horrible and even though the 835 is more efficient the S8 is pushing a larger screen.

The area on the screen might be large but in terms of GPU processing it still has the same resolution as the S6, so the new SoC efficiency will go a long way.

I have an s6 that I'll be replacing soon but probably not with an s8. Looking more at mid range phones lately. Anybody know how snapdragon 625 equipped phones compare to the s6 perfomance wise? After a year and a half with this phone is really want something with good battery life. Just worried that it might be a downgrade in perfomance.

It performs just fine in regular use.

Looking forward to the S8, but will miss the IR blaster on the S6.

Me too!!!! That's what's keeping me from getting another phone, to be honest.

That was a pretty cool feature that made finding shows and jumping between channels easier.

I have zero problems with my S6... Except I'd like more battery. That's my only complaint. Is the S8 going to give me 2 days of light use? 1 full day of medium to heavy use? I'm actually thinking none of today's flagships offer any really good battery life. And I wrong? My Note 3 is horrible on battery as well. Just not really seeing any upgrades to battery life these past few years and I'm very disappointed.

I can't speak for all phones or users but I upgraded to the Pixel XL and it made a HUGE difference. I don't think about my battery at all anymore go to sleep with about 30% left. I'm a medium user.

Yep, I recently went to an unlocked moto and found the same thing. My S7 I would charge twice a day. The Moto with the same size battery does everything just as well and lasts all day. Samsung puts to much stuff on their phones for the batteries to last long.

I'm still on my S6 from when it launched. I just can't see any real reason to upgrade. For the battery I charge it up in the afternoon and again at night but charging is fast and it doesn't bother me. TW does have its hiccups now and then but whatever I would rather spend the money on something else. I will wait until the S6 isn't working anymore.

I got an S6 Edge last November. People are still amazed by the design and quality of the pictures from the camera. Personally it serves all my needs just fine.

Well, I'd do it just for the battery.

I've been following the leaks for a long time now and I would love to be the one with this magnificent phone

Went from the Note 4 to a S7.
S6 wasn't an option because of no sdcard, non removable battery, and loss of IR blaster.
S7 didn't bring back the blaster, but wireless charging and external SD and waterproofing​ made sense.

About to make the final payment on my S6 Edge. Still feels as gorgeous as the day I unboxed it 2yrs ago. Most importantly, it's as smooth as ever - this thing amazingly hasn't slowed down or gotten janky like all my previous smartphones. I'll see how it takes to Nougat, but except for battery life I can't think of a single thing lacking, and the size is great, along with the traditional fingerprint sensor placement. Plus it'll be nice to save $30 a month. Perhaps I'll look into the Pixel 2 or see what deals come Black Friday time for the S8, but I see no need to jump on a new phone right now.

This has pretty much been my experience with my S6 as well. I see no need to rush into anything else right now. I'm bummed though, I WANTED the S8 to be THE ONE, but sadly I don't think it is. We'll see.

I would have said that a month ago myself. In the last month though the battery had begun to swell and pushing againstthe back is separating on one side. I'm wondering if it'll last until the Pre-Ordered S8+ arrives, every day the gap gets wider.

Ouch, I don't think I've ever seen that. Sounds like a safety hazard to me. You might not want to wait to get that looked at. I don't think you'd have to pay anything considering it's obviously a manufacturing issue and not caused by you.

No, just no. Do yourself a favor everyone. Go buy a pixel, a Moto Z, Moto G or a One Plus 3T, even an HTC 10. Stop feeding the machine. You know why you need a new phone to replace your S6? Because the software is poorly designed and there's to much of it which is compounded by the carriers. Buy something unlocked with good minimal software, you won't regret it. I did this last week and I'm running a Moto G4 that is faster than my S7, get 3 times the battery life and I have no duplicate apps and no carrier bloat. These big expensive flagship phones need high end processors because of all the software they bog these things down with. No, the camera isn't quite as good, but it's not that far off and certainly doesn't justify the huge price difference. I can actually get through a day with power to spare on this Moto G4, the S7 I had to charge twice a day. The S7 will use 5-10% an hour sitting not being used, and I have all my same apps on the G4. I'm done with high end over priced expensive bloated carrier phones. Buy a used unlocked phone for cheap on swappa and you'll see what I mean.

i will still use s6 for another year

I think the real question is, "should I upgrade from a GS3?"

Yes, your missing out on Samsung Pay. I love never having to open my wallet in public. Sometimes I don't even carry credit cards with me anymore, just use my phone.

I'm waiting for my contract to be up in August to upgrade to the S8+. While I might like where the finger print sensor is I appreciate the alternate ways on unlocking. The eye catching facial recognition seems very appealing. I'm guessing samsung did want to put the FP sensor on the front because it wouldn't be ready and I'm good with that decision. However maybe they should have placed it lower in the centre-considering they are the best on design. Anyways ill work around it. My major issue was battery problem(+waterproofing) so that solved in the S8 im ready to dive in. See u soon S8+

Wish Samsung would have stayed with using the Emerald Green color the overseas S6e offered. What a beautiful color.

I'm going to wait a month or 2 to see what the battery is like the S8. I lovey s6 edge but let be honest the battery isn't the best. You could leave it your desk to 2 hours not touching it and the battery would somehow go down 20%. Personally i don't think the 3000amp will last too long.

Two years in the battery in my S6Edge has swollen and pushed the back nearly off the phone. I've already pre-ordered an S8+ wish I had a gold option. The Platinum/Gold S6 edge was gorgeous. Will be rocking Orchid/Gray in a few weeks. Going from a 64GB to a 64GB plus sdcard, honestly I rarely hit my head on 64GB

...soooo it swelled and just stopped huh - no big BANG.....(rolls eyes) - not to mention who the heck would continue using an electronic device with a swolled battery o_0 oh wait you are an american aww ok...huemans...(sucks teeth) /s

No evidence was given of continued use. However, it was instead stated that another phone was ordered.

The Note 5 is better than this trash device - Samsung is so boring, if it weren't for the S-Pen & SPay I wouldn't use this device - but the reality is simply - they need to work on software turn around time I HATE it takes nearly a year for the BASIC updates - inflated egregious pricing, and end user freedom - if I don't use SAMSUNG internet LET ME REMOVE IT, the bleep is a disable - heck Lookout is 'disabled' and occasionally it STILL shows up in my notification shade very randomly, which tells me these so called disabled permissions and disabled apps are just a rouse !! So sick of these dishonest companies I wish they would all burn in the lake of fire
Android Central Newsletter
Get instant access to breaking news, the hottest reviews, great deals and helpful tips
Thank you for signing up to Android Central. You will receive a verification email shortly.
There was a problem. Please refresh the page and try again.