Gadgets of the week: ZenWatch 2, Roku 4 and more!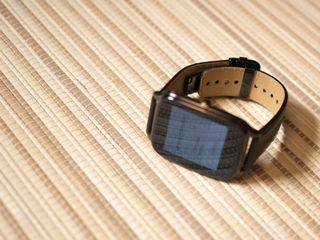 It's another week, which means another batch of excellent connected home devices, wearables, and other gadgetry that works with your Android phone. We're rounding up the best new releases we've found right here. The ZenWatch 2 refines an already-excellent form factor for Android Wear, and the Roku gets an update for 4K streams. Want more? Keep scrolling!
Logi Circle
Logitech is aiming to get in on the connected home camera game with the Circle. Though Dropcam may be a natural choice if you're erring on whatever Google's working on, the Circle is particularly interesting because of its mobile charging base. The Logi Circle camera can rest there and enjoy 12 hours of recording without needing to be plugged in. It's magnetic and wall-mountable, so you can pop a couple of them around the house. Currently, having to keep your camera plugged into the wall is the biggest hurdle for connected security systems, and this is a neat way of getting around that. The usual mobile features are there, including live streaming with two-way audio, historical playback, and cloud-stored videos.
$199.99 from Best Buy (opens in new tab)
Roku 4
The much-beloved smart TV set-top box Roku has been updated with 60 FPS 4K streaming capabilities. Since content at that crisp of a resolution can be a little tricky to find, a new featured section helps you find great 4K shows. The Android app has enjoyed an overhaul alongside the launch of the new Roku 4 box. This baby starts shipping on October 21.
$129.99 from Amazon (opens in new tab)
ASUS ZenWatch 2
ASUS released a modest update to their admittedly solid Android Wear watch. The ZenWatch 2 adds a hardware button on the side to wake and sleep the device, but physically you'll find few changes. There are models that support 22 mm bands and 18 mm bands, silver, gold, and gunmetal finishes on the face itself, not to mention a wide variety of bands. It's not the flashiest smartwatch out there, but if Phil's review is to be trusted (it is), you're getting good bang for buck.
$149.99 from Best Buy (opens in new tab)
LoonCup
I know we're mostly guys here, but it's important to have a good attitude towards menstruation. The lady in your life may be interested in hearing about LoonCup. It's a Bluetooth-enabled reusable feminine hygiene product that, via Android Wear and phone apps, communicates current flow levels, color, and dates. The whole thing is made of medical-grade silicone, so no worries there. The Kickstarter for LoonCup just launched this week with a few early bird tiers still available. Shipping is expected to start in January.
Fugoo Tough XL
The Fugoo Tough XL just hit stores recently, and it is one behemoth of a Bluetooth speaker. Besides offering big, bassy, 360 degree sound, the Tough version of the XL layers on extreme impact protection and a wealth of mounting options on top of the core speaker's own waterproof capabilities. If you don't need all that extra bulk, the speaker itself can be removed from the enclosure. The 38 hours of playback ain't nothing to sneeze at, either.
$329.99 from Best Buy (opens in new tab)
Your favorite new Android gadgets?
Have you found a sweet new piece of gear that just came out this week? Drop a link in the comments, son!
Simon has been covering mobile since before the first iPhone came out. After producing news articles, podcasts, review videos, and everything in between, he's now helping industry partners get the word about their latest products. Get in touch with him at simon@futurenet.com.
Nice roundup. Posted via the Android Central App

So if I get the girlfriend the LoonCup I can get updates to my watch? This could be the most useful AW feature yet. Posted via the Android Central App

Wow, that use case hadn't occurred to me... Takes possessiveness to a whole new level! Posted via the Android Central App

That LoonCup seems like a solution to a problem that doesn't exist... I'm sure it's the kind of thing that will get used twice, then spend a decade at the back of a bathroom cabinet, then get thrown in the bin. But hey, they've made a shed load of cash, so good on em. It's certainly better than a regular connected cup! Posted via the Android Central App

Well maybe all the women out there that are tracking their menstrual cycles for ovulation prediction so they can "family plan" will be incredibly interested in this. I know my wife is definitely curious. Posted via the Android Central App

Being a long time Roku 3 owner, I'm a bit disappointed in the Roku 4 especially since the voice search feature is actually identical to what we have now with the Roku app. Am sure it loads a bit faster but the Roku 3 is pretty fast, has an Ethernet port and is a better value. I think Roku will succeed with this but the market grows crowded especially with the Apple TV and Amazon products which in some ways are superior. Where Roku wins is the channels available rather than forcing you into the Apple or Amazon ecosystem.

I don't really understand what all the "hoopla" is about.
Android Central Newsletter
Get the best of Android Central in in your inbox, every day!
Thank you for signing up to Android Central. You will receive a verification email shortly.
There was a problem. Please refresh the page and try again.