Gadgets of the week: DJI Osmo, August Doorbell Cam, and more!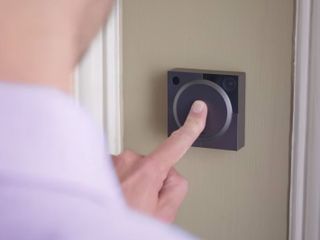 We're gathering up the best new product releases over the last week, spanning the gamut of connected home, wearables, wireless audio, and whatever else plays nice with your Android phone or tablet. With the new DJI Osmo rig, you can shoot super-steady videos with an electric gimbal stabilizer. Your Android phone acts as a viewfinder to make sure everything stays in frame. August's new Doorbell Cam lets you see who's at your front door, and if you're rocking their smart lock, you can let them in easily from your device. There are plenty more goodies in our weekly gadget roundup, so take a look!
DJI Osmo
The DJI Osmo is a slick-looking 4K video system that uses your Android device as a viewfinder and sharing system. A three-axis electric stabilizer virtually eliminates all shake, and simple hardware controls allow you to pan while on the move. With a quick flip, you can hold it like a flashlight parallel to the ground, or go underslung to shoot close to the ground. A suite of of accessories allow you to easily mount it on the side of a car, a bike, or get some extra reach with a monopod or tripod. The DJI Osmo starts shipping on October 23.
$649.00 at Amazon (opens in new tab)
TiVo Bolt
TiVo's latest set-top box includes a fancy new SkipMode feature that lets you jump over ads painlessly. The new Bolt box also adds 4K support and an interesting new QuickMode, which lets you watch your shows 30% faster than normal. Their established OnePass system continues to offer a combination of on-demand TV programs as well as content from online streaming services. The Android app turns your phone or tablet into a remote control with a full program listing, detailed show information, and remote recording utilities. 500 GB and 1 TB models are available, depending on how voracious a viewer you are.
$299.99 at Amazon (opens in new tab)
Vicks SmartTemp
Vicks, the guys behind the vapor rub we're all familiar with, have released a new Bluetooth-enabled thermometer in time for flu season. The SmartTemp Thermometer connects with your Android device over Bluetooth to deliver detailed data for multiple kids over an extended period of time. The app helps remind you about medicine dosages and keep tabs on new symptoms as they occur. Once you have all of your data, you can export and e-mail it to your doctor if things get serious.
$24.99 at Amazon (opens in new tab)
August Doorbell Cam
August has expanded beyond their smart lock to include a new connected doorbell camera for even better remote access control. With the push of a button, you can get notified on your phone of a new visitor, see them, and have a voice chat. You can then use the app to let them inside with the August deadbolt control system. The August Doorbell Cam will even record motion events even if someone doesn't ring the doorbell; a handy addition for the security-conscious. August also announced a new keypad accessory (opens in new tab), so there's no worry about dead phones or lost keys. If you happen to have an iOS device in your life, these new toys are HomeKit-enabled. The August Doorbell Camera ships in the next 6 - 8 weeks in black or silver, with red and copper versions available down the road.
$199.99 at Amazon (opens in new tab)
Kevo Plus Smart Lock
Kwikset released an upgrade to their smart lock system that allows for remote access from your Android device. They'll ship you a Bluetooth gateway, and with it your existing lock can be flipped from anywhere you may be. You'll also get notifications when your door is opened and assign temporary keys to visitors. Of course, you'll need a Kevo smart lock (opens in new tab) already in order to take advantage of the upgrade, but that in and of itself isn't an awful idea. It officially works with Nest products, and has a full-featured Android app. It's also pretty cool how the lock is touch-sensitive, so you can open your door with a tap, provided your phone is nearby to authenticate. The upgrade units are currently sold out, but you can sign up for notifications for when they're back in stock.
Your favorite Android gadgets of the week?
Sing out in the comments if you've spotted any particularly sweet Android gear being released. You think you'll snag any of the stuff above?
Simon has been covering mobile since before the first iPhone came out. After producing news articles, podcasts, review videos, and everything in between, he's now helping industry partners get the word about their latest products. Get in touch with him at simon@futurenet.com.
Thinking of all the fun things I could say through the doorbell camera to Jehovah's Witness and Mormons.

My favorite is "Sure, strip down and come on in!"

Can I just say this gadgets of the week thing that you guys do is actually really cool? I just really enjoy it is all :) Sony Xperia Z2
Nvidia Sheild
Xperia Z3 Tablet Compact

How does this doorbell compare to Ring? I see it compliments their lock offering so that's nice if you have their locks. https://ring.com/

So if some dumbass leaves the door open I'm pretty much screwed until I get back.
Android Central Newsletter
Get the best of Android Central in in your inbox, every day!
Thank you for signing up to Android Central. You will receive a verification email shortly.
There was a problem. Please refresh the page and try again.