G Data Secure Chat is the newest way to encrypt your texts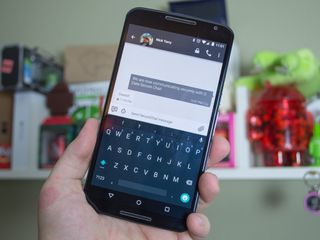 G Data, an internet security company based out of Germany, is releasing its own SMS client that hopes to bring the highest level of security to your private messages with its app, Secure Chat. This new application wants to keep your messages private from any outsiders who might try to gain access to them using end-to-end encryption.
When you first setup G Data Secure Chat, you will be asked to verify your number as it will use this to identify you if you happen to install the application on another device and so that other Secure Chat users can message you. It will first send an SMS to your number but if it doesn't verify correctly — it didn't like my Google Voice number — you have the option to verify over a voice call. That is all that it takes to create your account and now you are ready to securely message people.
While G Data Secure Chat looks and feels like a typical SMS client, its baked-in security features are what make it stand out. One of these stand-out features is the ability to set a timer for messages to auto delete from both the sender's and receiver's cell phones. This is useful if you do not want a certain text or image to stick around for too long and end up on some form of social media.
There are a ton of other useful features such as group messages, full encryption protecting every piece of data you send through G Data Secure Chat, and being able to secure the application using a password so people can't easily get into your messages. Additionally, if you purchase a G Data internet security license for Android, you will have access to premium features such as phishing filters for any URL sent to you through SMS and being able to hide messages from certain contacts.
G Data Secure Chat is free in the Google Play Store and is worth downloading if you are worried about anyone looking through your private messages.
Press release:
G DATA Releases Encrypted Chat Mobile Messaging Application
Security Firm Offers SECURE CHAT in Celebration of its 30th Anniversary
Free version available to consumers with premium features added for G DATA Internet Security for Android users
Atlanta, GA – September 17, 2015 – Over two billion smartphone owners worldwide use mobile messaging. To prevent private communication from being tapped into and to enable users to retain their full digital freedom simply, quickly and securely, G DATA has released its messaging application, SECURE CHAT. The app is initially available for Android and offers highly secure, multiple-encrypted SMS and chat communication that also includes sharing of files such as images or graphics. SECURE CHAT protects the privacy of the user against data leaks and cyber eavesdropping, and offers the freedom of exchanging chat messages and data securely. G DATA has opted for the secure Axolotl protocol for SECURE CHAT which is available now for free in the Google Play store.
"In today's world, the privacy of the individual as well as businesses is in constant peril with the growing ability of hackers to tap into and steal data," said Andy Hayter, security evangelist, G DATA. "We created the SECURE CHAT app with the strongest encryption protocol possible, to offer users the ability to easily communicate with each other without having to worry about the security of their conversations and data"
Privacy guaranteed
G DATA SECURE CHAT offers multiple-encrypted SMS and chat communication and guarantees the secure exchange of photos, videos and other media. Users retain the rights to their images and texts without fear of third party exploitation or re-use. Thanks to the self- destruct timer in SECURE CHAT, the sender can specify when images or messages are deleted – even on the recipient's device.
Encrypted communication
Due to its elliptic curve cryptography process, the Axolotl protocol is internationally considered to be practically impossible to hack. G DATA insisted on a method that allows the servers for SECURE CHAT to be located on company premises. This lets G DATA guarantee its customers' adherence with the German data protection act.
G DATA SECURE CHAT is now available for free in the Google Play store, with full encryption functionality for SMS and chat communication.
G DATA SECURE CHAT at a glance:
Secure end-to-end encryption for individual and group chats
Send images and photos quickly, simply and, above all, securely via cryptography
Messages with self-destruct timer
Backup of local chat history on an SD card
Encryption of local chat history using a password
Premium Features (valid G DATA INTERNET SECURITY FOR ANDROID license required):
Phishing filter for URLs in chat messages
Filter for incoming and outgoing messages and SMS
Hide SMS messages from specific contacts
G DATA turns 30: from a garage start-up to a global business
In 1985 Kai Figge and Andreas Lüning visited the Hanover trade fair. Both were fascinated by the new Atari ST that was presented at the show. From the very beginning, there was great demand for this computer and the associated software. The young men decided to take the plunge and started developing software that they marketed under the name G DATA. It did not take long for the first viruses for the Atari to show up, spreading themselves from diskettes via the boot sector. At the time, no software existed that offered protection against this type of malware. This inspired Andreas Lüning to develop software in 1987 that scanned diskettes for viruses - the first commercial security solution in the world.
About G DATA
IT security was invented in Germany: G DATA Software AG is the antivirus pioneer. It was more than 28 years ago that the company, founded in Bochum in 1985, developed the first program to combat computer viruses. These days, G DATA is one of the world's leading providers of IT security solutions. Test results prove that IT security "Made in Germany" offers Internet users the best possible protection. Stiftung Warentest has been testing Internet security products since 2005. In all seven tests performed between 2005 and 2014, G DATA achieved the best virus detection rate. In comparative tests by AV-TEST, G DATA regularly demonstrates the best results in the detection of computer malware. Internationally, G DATA INTERNET SECURITY has also been awarded best Internet security package by independent consumer magazines – in countries such as Australia, Austria, Belgium, France, Italy, the Netherlands, Spain and the USA.
The product range comprises security solutions for end customers as well as medium to large- sized enterprises. G DATA security solutions are available in more than 90 countries worldwide.
For more information about the company and G DATA security solutions, see www.gdata-software.com.
Sign up for Black Friday email alerts!
Get the hottest deals available in your inbox plus news, reviews, opinion, analysis and more from the Android Central team.